BATTLE ISLAND STATE PARK
This park derived its name from a battle which took place on a nearby island on the Oswego River in the mid-1700s. In 1916 most of the land owned by F. A. Emerick was deeded to the state. Battle Island officially became a state park in 1938 when the remaining land was turned over.

The popular course near Fulton lies adjacent to the Oswego River and offers golfers magnificent views from a number of its fairways and greens. The 18-hole course is a challenging one for the "budding professional" and amateur player. The park also is used in winter for cross-country skiing.
---
Battle Island State Park is located near Baldwinsville, Clay and Fulton
---
---
---
Oswego Salmon Shop
357 W 1st St
Oswego, NY
(315) 342-2778
Harry's Bait Boat & Tackle
157 Water St
Oswego, NY
(315) 342-1801
Little Whip Fishing Charters
162 Joe Fultz Blvd
Oswego, NY
Unverified listing
Sunset Cabins & RV Park
61 County Route 89
Oswego, NY
(315) 343-2166
K & G Sport Fishing Charters
1881 County Route 1
Oswego, NY
(315) 343-8171
K & G Lodge Twin Pines Cabins
1881 County Route 1
Oswego, NY
(315) 343-2475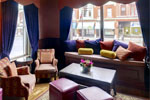 Hotels/Motels
The newly restored Hotel Clarence builds upon its rich history of social importance in the Finger Lakes Region with a unique and fresh feel. This modern boutique hotel and its exceptional restaurant have again become a vibrant social center and premier destination for guests.
36.1 miles from park*