BIG MEADOWS CAMPGROUND
BIG MEADOWS CAMPGROUND
Skyline Drive
Stanley, Virginia   22851
(lat:38.5282 lon:-78.4366)

Phone:
540-999-3500
Secluded in the thick trees and rolling hills of Shenandoah National Park, the Big Meadows Campground is the ideal spot for an outdoor family getaway.This expansive campground offers more than 200 campsites, including sites that can accommodate larger groups. Picnic areas are provided, as well as modern conveniences like flush toilets, showers and dump stations create a comfortable camping experience.Shenandoah National Park spans 300 square miles of the Blue Ridge Mountains in the southern Appalachians. The park rises above the Virginia Piedmont to its east and the Shenandoah Valley to its west.

The scenery at Big Meadows Campground never disappoints, with a stunning array of colors in the fall and a blanket of bright wildflowers in the spring. This green and shady campground is a wilderness paradise for outdoor enthusiasts.Two visitor centers with bookstores and exhibits are located in the park milepost 5 and milepost 51. Byrd Visitor Center is a short one mile walk by either trail or sidewalk if you choose not to drive. There are concession managed restaurants, gift shops and lodging facilities scattered throughout the park. Big Meadows Lodge and Restaurant is a 5 minute walk from the campground and Big Meadows Wayside is located beside Byrd Visitor Center.Shenandoah National Park has over 500 miles of trails, including 101 miles of the Appalachian Trail. Some trails lead to a waterfall or viewpoint while others wind deep into the forest and wilderness.

Big Meadows is near many of the major facilities and popular hiking trails in the park. Three waterfalls are within walking distance, and the Meadow, with its abundant plant growth and wildlife, is an ideal nearby attraction.

Wildlife viewing is also a popular pastime, with black bears, wild turkey, deer, birds and countless other animals thriving in the park.

The campground is also located right off the famous Skyline Drive, which runs 105 miles north and south along the crest of the Blue Ridge Mountains. Stunning views are visible from any of the 75 scenic overlooks.
---
Big Meadows Campground is located near Elkton, Luray
---
---
---
Shadow Mountain Escape
1132 Jewell Hollow Rd
Luray, VA
(540) 843-0584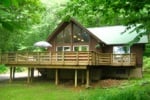 Cottages and Cabins
An amazing getaway from hustle and bustle of everyday life. What do you have in mind A romantic weekend A family vacation Or, a weekend getaway with friends We recommend escaping to the Blue Ridge Mountains in the beautiful Shenandoah Valley.
29.9 miles from park*
From Washington, D.C., metro area, travel west on Interstate 66 to exit 43A. Take US Highway 29 south to Warrenton, Virginia, then merge onto US Highway 211 west to Shenandoah National Park and Skyline Drive Thornton Gap Entrance. Take Skyline Drive south approximately 19 miles and turn right into the Big Meadows area. Follow the signs to Big Meadows Campground.

br/br/

From Richmond, Virginia area, travel west on Interstate 64 to exit 136 for Zion X-Roads, Virginia. Take exit to US Highway 15 North, then turn onto US Highway 33 west and follow 28 miles to the Shenandoah National Park and Skyline Drive, Swift Run Gap Entrance. Take Skyline Drive North approximately 15 miles and turn left into the Big Meadows area. Follow the signs to Big Meadows Campground.