CAESAR CREEK STATE PARK
CAESAR CREEK STATE PARK
8570 OH-73
Waynesville, Ohio   45068
(lat:39.519 lon:-84.0245)

Phone:
(513) 897-3055
Reservations:
866-644-6727
Caesar Creek State Park is highlighted by clear blue waters, scattered woodlands, meadows and steep ravines. The park offers some of the finest outdoor recreation in southwest Ohio including boating, hiking, camping and fishing.
The park area sits astride the crest of the Cincinnati Arch, a convex tilting of bedrock layers caused by an ancient upheaval. Younger rocks lie both east and west of this crest where some of the oldest rocks in Ohio are exposed. The sedimentary limestones and shales tell of a sea hundreds of millions of years in our past which once covered the state. The park's excellent fossil finds give testimony to the life of this long vanished body of water.

The forests of the area are comprised of over 65 species of plants. Several major communities thrive in the area. A northern flood plain forest is found in the valley, while mixed associations of oak-hickory and beech-maple woodlands clothe the ridges and hillsides. Red-tail hawk, white-tail deer, raccoon, red fox and box turtle make the park their home.
The wooded lands of the park were home to several early Ohio Indian cultures. While the Hopewells inhabited several sites in the state, their earthworks (known as Fort Ancient) on the nearby Little Miami River are among the largest and best known. This hilltop enclosure used for ceremonial gatherings is surrounded by three miles of earthen walls, constructed using animal shoulder-blade scoops and hides for transporting dirt. This Indian race lived in the region during a period from 300 B.C. to 600 A.D.

A later group, living on the site from 1200 A.D. to 1600 A.D., were known as the Fort Ancient Indians. These people lived in villages along several river systems in the region including Caesar Creek. Displays about the Hopewell mounds and the later cultures can be seen at the Army Corps of Engineers' Visitor Center.

Woodland Indian tribes such as the Wyandot, Miami and Shawnee also called southwestern Ohio home. Old Chillicothe where the famous warrior Tecumseh was said to have been born was located in Greene County, just north of the park. The Caesar Creek area was named for a black slave captured by the Shawnee on a raid along the Ohio River. The Shawnee adopted Caesar and gave him this valley as his hunting ground. Caesar lived in this area during the time Blue Jacket was war chief and was said to have gone on many raids with him.

Many of these Indian villages were located along an ancient Indian trail, part of which follows the ridgeline on the eastern side of the Caesar Creek valley. The trail was used by white settlers in the early 1800s, who named it Bullskin Trace. Later the trail became part of the Underground Railroad used by runaway slaves to reach safe houses run by area Quakers.

The Caesar Creek valley was impounded in 1978 by the Army Corps of Engineers to assist with flood control in the Little Miami River watershed. The 4,700-acre park and adjacent 2,500-acre wildlife area were dedicated that year.
Ohio does not have an annual pass and does not charge entrance fees to state parks.
Nearby Wildlife Area, acres
2,959
Mountain Bike Trails, miles
9
Swimming Beach, feet
1,300
Boating
Boating Limits
Unlimited HP
Camping
Electric Sites, #
283
Youth Group Camp, capacity
75
Winter
Cross-Country Skiing
yes
The family campground has 287 shady and sunny sites equipped with electrical hook-ups. The campground offers showers, flush toilets, and pet camping in designated areas. A horseman's camp with 25 sites is available for overnight trail rides.
Caesar Creek's clear waters and 1,300-foot beach offer excellent swimming opportunities. A beach concession area and changing booths are provided.
Water recreation on the 2,830-acre lake is the park's largest attraction. Unlimited horsepower designation allows for an exciting day of boating and water skiing. Five launch ramps are situated around the lake for easy access.
---
Caesar Creek State Park is located near Bellbrook, Cincinnati and Dayton
---
Picnic areas with tables, grills and drinking water are offered. Four of the park's five picnic shelters may be reserved in advance. A day lodge, offering a meeting room and kitchen with outdoor tables and grills, can be rented for family reunions and club meetings.
Forty-three miles of hiking trails lead hikers to the interesting areas of the park with many scenic views along the way. For horsemen, thirty-one miles of trail and a horsemen's camp are offered. A five-mile mountain bike trail is located between Harveysburg Road and Center Road.
Nearby attractions include the Blue Jacket outdoor drama, King's Island amusement park, Waynesville Sauerkraut Festival, Fort Ancient State Memorial, and Little Miami Scenic State Park and Cowan Lake State Park.

The Little Miami Scenic River offers many canoeing opportunities and spectacular scenery.

A history of Ohio's pioneers is illustrated throughout the Caesar Creek region. Remnants of their lifestyles are reflected today at the Pioneer Village situated around the Levi Lukens cabin built in 1807. Other buildings dating from 1790 are reconstructed on the site.

Caesar Creek Gorge, a state nature preserve operated by the Division of Natural Areas and Preserves, features a 180 foot deep gorge displaying unique geologic formations. Visitation during daylight hours only.
---
---
Cork-N-Bottle Minit Market
881 E Franklin St
Dayton, OH
(937) 433-5611
Tackle Town USA
6329 State Route 380
Wilmington, OH
(937) 382-7627
Spillway Party Supply
7646 Oregonia Rd
Waynesville, OH
(513) 897-9334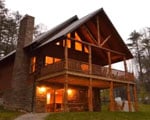 Cottages and Cabins
Trickle Creek offers luxury cabins in Hocking Hills. The cabins are situated on nearly 236 acres of secluded cabin rentals in the deep wooded ravines in the foothills of the Appalachian Mountains in Hocking County, Ohio.
80.2 miles from park*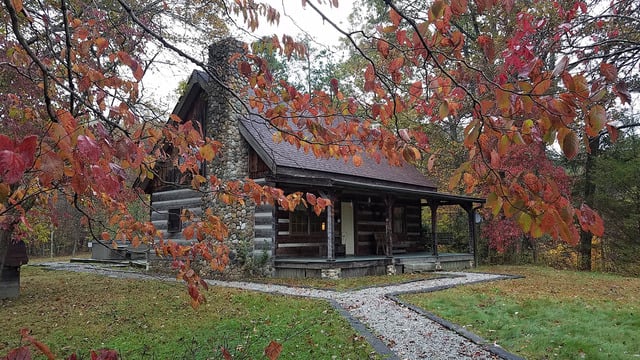 Cottages and Cabins
Hidden Cave Cabin is an authentic log cabin with 2 bedrooms in a private wooded setting. It is located on one of the most scenic drives in Hocking Hills and just 3.6 miles to Rock House and less than 10 miles to Conkle's Hollow and Old Man's Cave.
76.4 miles from park*
From Cleveland, Ohio: I-71 South to State Route 73. Turn right on State Route 73, park entrance is approximately 6 miles on the right. Campground: Left on State Route 73, left on State Route 380, left on Center Road.

From Columbus, Ohio: I-71 South to State Route 73. Turn right on State Route 73, park entrance is approximately 6 miles on the right. Campground: Left on State Route 73, left on State Route 380, left on Center Road.

From Cincinnati, Ohio: I-71 North to State Route 73. Turn Left on State Route 73, park entrance is approximately 6 miles on the right. Campground: Right on State Route 73, left on State Route 380, left on Center Road.From Toledo, Ohio: I-75 South to State Route 73, turn left (East), follow through Waynesville, the main park entrance will be on the left.

From Lebanon, Ohio: State route 42 North, turn right on State Route 73, follow State Route 73, the main park entrance will be on the left.