CLEVELAND LAKEFRONT STATE PARK
CLEVELAND LAKEFRONT STATE PARK
8701 Lakeshore Blvd
Cleveland, Ohio   44108-1069
(lat:41.542 lon:-81.629)

Phone:
(216) 881-8141
Reservations:
866-644-6727
In the heart of one of Ohio's largest cities, Cleveland Lakefront State Park provides natural relief to the metropolitan skyline. Sand beaches, tree-lined picnic areas and panoramic views of the lake are found within the park along the Lake Erie shoreline
Ohio has been truly blessed by the presence of Lake Erie on its northern border. Lake Erie is one of the largest bodies of freshwater in the world. When considering nearly 99% of the world's water supply is either frozen or saltwater, the Great Lakes are a tremendous resource most Ohioans take for granted.

Lake Erie is shallow allowing for violent storms with high waves. The lake is divided into three basins: west, central and eastern. The west is most shallow at 25 to 30 feet average depth. The central basin, wherein lies Cleveland Lakefront State Park, has an average depth of 61 feet. The eastern basin is deepest at 210 feet average depth.

Lake Erie, because of its higher nutrient levels and warmer temperatures, produces greater numbers and varieties of fish than any other great lake. The annual Erie fish catch nearly equals the combined catches of all the other great lakes. Dominant species are perch, smallmouth and white bass, channel catfish, walleye and freshwater drum.

Sand beaches are scattered along the main shoreline. Coastal plants such as sand cherry, beach grass, beach pea and others are rare in this urban environment. Common trees include cottonwood, willow and ash with vines of wild grape, Virginia creeper, bittersweet and poison ivy among the branches.
The first pioneer settlers arrived in the area in 1796. In 1827, the Ohio Canal was completed as far south as Akron, and by 1832, it was in operation from Lake Erie to the Ohio River resulting in great prosperity and a rapid population increase for Cleveland. Cleveland was a noted center of the stagecoach lines between the East, West and South until the railroads came about 1850 replacing the stagelines. When the Cleveland and Mahoning Valley Railroad was completed, it extended into that valley's great coal fields laying the foundation for Cleveland as an industrial giant. With the availability of coal and iron ore, great iron furnaces and rolling mills soon lined the banks of the Cuyahoga River.

As early as 1865, lands were set aside in Cleveland to be developed as recreation areas. In 1977, the city of Cleveland leased its four lakefront parks to the state of Ohio. The four parks became Cleveland Lakefront State Park in 1978. In 1982, the Euclid Beach area was added to the state park property. The Villa Angela area consisted of two separate land purchases. The first 30 acres was bought by the city of Cleveland and turned over to the state in 1984. ODNR and the Cleveland Public Library purchased the remaining 13 acres in May 1991. While each area appears to be a separate park, they are administered through a single park office located at Gordon Park.
Ohio does not have an annual pass and does not charge entrance fees to state parks.
Mountain Bike Trails, miles
3
Boating
Boating Limits
Unlimited HP
---
Cleveland Lakefront State Park is located near Aurora, Bay Village and Beachwood
---
Headlands Beach State Park is located east of Cleveland near Fairport Harbor. Headlands Beach has the longest natural sand beach in the state and offers picnicking and swimming opportunities. The adjacent state nature preserve, Headlands Dunes, is one of the last and finest examples of Lake Erie beach and dune communities remaining in Ohio, with rare plant species normally found only on the Atlantic coast.

Just south of Headlands Beach is Mentor Marsh State Nature Preserve, a national natural landmark. The 644-acre marsh-swamp forest contains unique plant and animal life. East of Cleveland off S.R. 174 is Hach-Otis State Nature Preserve, a remnant mature forest in the Chagrin River Valley. Punderson State Park in Geauga County is a resort park offering a lodge, cabins, campground, golf course and winter recreation area.
---
---
Parma Bait & Tackle
5341 Broadview Rd
Cleveland, OH
(216) 398-9877
Frank's Tackle Co
10802 Madison Ave
Cleveland, OH
(216) 961-4000
Travelrods Limited
14600 Detroit Ave
Cleveland, OH
(216) 221-3993
Shine's Live Bait
1287 E 55th St
Cleveland, OH
(216) 431-9090
Ted's Bait & Tackle
4417 Detroit Ave
Cleveland, OH
(216) 651-5321
Weldon Tackle
18613 Saint Clair Ave
Cleveland, OH
(216) 531-2907
Pier Grill
3224 Cleveland Memorial Shrwy
Cleveland, OH
(216) 281-4900
JT Sport Fishing Charters
3618 E 65th St
Cleveland, OH
Unverified listing
Bluegreen Vacation Club
5595 Transportation Blvd # 110
Cleveland, OH
(216) 750-1100
Cleveland Marriott East
26300 Harvard Rd
Cleveland, OH
(216) 378-9191
Marriott Hotels & Resorts: Cleveland Marriott Downtown at Key Center
127 Public sq
Cleveland, OH
(216) 696-9200
Hyatt Regency Cleveland
420 Superior Ave E
Cleveland, OH
(216) 575-1234
Radisson Hotel At Gateway
651 Huron Rd E
Cleveland, OH
(216) 377-9000
Boston Mills Brandywine Ski Resorts
Cleveland
Hudson, OH
(330) 656-4489
Holiday Valley Ski Resort
Cleveland, OH
(216) 556-3700
Marriott Hotels & Resorts
Cleveland, OH
(440) 542-2349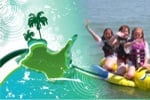 Conference Center
Week long youth camps. Located on the shores of Kelleys Island. Guests will learn to sail, wakeboard, waterski while enjoying the beauty of the Lake Erie island.
55.7 miles from park*
Use Mapquest and the address provided below to create a custom set of directions from your location to the Park:

8701 Lakeshore Blvd., NE Cleveland, OH 44108-1069