CODORUS STATE PARK
CODORUS STATE PARK
2600 Smith Station Road
Hanover, Pennsylvania   17331
Phone:
717-637-2816
Toll Free:
888-727-2757
Reservations:
888-727-2757
Email:

The 3,329-acre Codorus State Park is in the southwest corner of York County, about three miles southeast of Hanover, Pennsylvania, along PA 216. A prime attraction of the park is the 1,275-acre Lake Marburg, which has 26 miles of shoreline.
The impoundment of Codorus Creek is the result of a cooperative project between the Commonwealth of Pennsylvania and the P. H. Glatfelter Paper Company of Spring Grove, Pennsylvania. This undertaking is the first of its kind in the Commonwealth and is designed to serve the water supply needs of a private industry and the town of Spring Grove, and to provide a public recreation area.

The P. H. Glatfelter Company paid approximately $5.5 million to construct an earth fill dam, 109 feet high, 1,690 feet long and 750 feet thick. The dam itself is on Glatfelter property and is not owned by the park. The gates at the dam were closed to impound water in December 1966. The Commonwealth acquired the park land under the ?Project 70? land acquisition program during 1965-1966. Originally the park was known as Codorus Creek State Park. Lake Marburg is named for the small community of Marburg that is covered by the lake.

The design and construction of the park facilities were funded by the ?Project 500? bond program and the federal government?s Land and Water Conservation Fund.

The main launching area, off of Sinsheim Road, was the first project in Pennsylvania completed for public use under the ?Project 500? Program. This lighted facility, open 24 hours a day, year-round, was dedicated for use on May 9, 1970.
Camping: modern sites, some with electricity

The 198-site campground opens the second Friday in April and closes the third Sunday in October. The sites are suitable for tents or recreational vehicles up to 50 feet in length. Thirteen walk-in sites are available for tents only. Hot showers, flush toilets and a sanitary dump station are available. Many campsites have electric hookups. Eight campsites with electricity can accommodate people with disabilities. From Memorial Day to Labor Day the maximum stay in the campground is 14 consecutive nights. All camping equipment must be removed from the park for 48 hours before returning.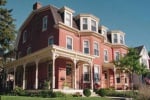 BBs / Inns
Gracious accommodations and in-town convenience are the perfect combination for your stay in Gettysbug. 1898 brick Victorian in historic district. Walk to battlefield, restaurants, shops.
16 miles from park*
A large swimming pool is open 11 a.m. to 7 p.m. from Memorial Day weekend to Labor Day, unless posted otherwise. The pool has a ramp for people with disabilities. A seasonal snack bar has hot and cold foods and beverages. Fee charged for pool use.
Boating Activities up to 20 hp motors permitted:

The 1,275-acre Lake Marburg has seven boat launch ramps around the lake. All are open to the public, but the campground launch is only for the use of registered campers.

Motorboats must display a boat registration from any state. Non-powered boats must display one of the following: boat registration from any state; launching permit or mooring permit from Pennsylvania State Parks that are available at most state park offices; launch use permit from the Pennsylvania Fish and Boat Commission.

Mooring spaces may be rented from April 1 to October 31:

18 canoe rack spaces

42 sailboat rack spaces

146 sailboat dry storage spaces

108 marina slips for boats up to 16 feet long

272 marina slips for boats up to 24 feet long