MALABAR FARM STATE PARK
MALABAR FARM STATE PARK
4050 Bromfield Rd
Lucas, Ohio   44843-9745
(lat:40.6522 lon:-82.3991)

Phone:
(419) 892-2784
Reservations:
866-644-6727
Malabar Farm in Pleasant Valley was the dream of the Pulitzer Prize-winning author, Louis Bromfield. Today, visitors can see the house and farm existing just as they did in Bromfield's time. The outbuildings and pastures still house chickens, goats and beef cattle. The hills are ribboned with strips of corn, wheat, oats and hay while the scenic trails are adorned with nature's bounty.
The natural features of Malabar Farm are representative of the diversity of the glaciated Appalachian Plateau region of Ohio. This area is renowned for its interspersion of woodlands, lakes, streams and bogs along with villages, fertile valleys, dairy and grain farms. Located in the Pleasant Valley of Richland County, Malabar's forests and fields offer visitors a glimpse of both the cultural and natural history of the area. The rolling countryside and fertile farmlands of Malabar recreate the pleasure of life on the farm while the wooded ridgetops support an abundance of natural wonders.

Glaciers pushed up and over the hills of the area depositing rich soils in the valleys. The woodlands are diverse with beautiful stands of beech and maple along with remnant stands of eastern hemlock in the ravines. Sandstone outcroppings adorn the slopes covered with ferns and mosses. Trillium, spring beauties and wild blue phlox carpet the forest floor. The woodlands are home to the wood thrush, barred owl, fox squirrel and raccoon while the fields support populations of bluebird, red-winged blackbird, cottontail rabbit and red fox.
In the rolling countryside of Richland County, Louis Bromfield, Pulitzer Prize-winning author and dedicated conservationist, created his dream -- Malabar Farm. Inspired by his love of the land, Bromfield restored the rich fertility of the farmlands and preserved the beauty of the woodlands. He built a 32-room country home, where his family, friends and neighbors could share the pleasure of life on the farm.

In his book, Pleasant Valley, Bromfield wrote, "Every inch of it (the house) has been in hard use since it was built and will, I hope go on being used in the same fashion so long as it stands. Perhaps one day it will belong to the state together with the hills, valleys and woods of Malabar Farm." Bromfield's prophecy came true in August 1972, when the state of Ohio accepted the deed to Malabar Farm. The state pledged to preserve the beauty and ecological value of the farm.

Earlier that year, Bromfield's legacy to future generations came close to being extinguished. Malabar Farm, owned and operated by the Louis Bromfield Malabar Farm Foundation for 14 years, was threatened with foreclosure. But the Noble Foundation, which held the mortgage, agreed to erase the mortgage and accrued interest -- about $280,000 -- when the state of Ohio accepted Malabar Farm as a gift to the people of Ohio.

From 1972 to 1976, Malabar Farm was operated jointly by Ohio's Department of Natural Resources and Department of Agriculture. Then in 1976, Malabar became one of Ohio's state parks. As a park, Malabar Farm is dedicated to perpetuating Bromfield's farming philosophies, preserving the Big House and its many artifacts, and providing a place where visitors can explore life on a farm and the beauty of nature.
Ohio does not have an annual pass and does not charge entrance fees to state parks.
Accommodations
Restaurant
yes
The Pugh Cabin is a day-use facility for groups up to fifty people. This building can be rented for meetings and group functions from 8:00 a.m. - 11:00 p.m. Reservations are required.
The Pugh Cabin is a day-use facility for groups up to fifty people. This building can be rented for meetings and group functions from 8:00 a.m. - 11:00 p.m. Reservations are required.
A fifteen-site horseman's camp offers primitive camping for horsepeople as well as family campers. Fire rings, picnic tables, drinking water and latrines are offered.
Good catches of bluegill and catfish can be caught from the farm ponds at Malabar. A valid Ohio fishing license is required.
---
Malabar Farm State Park is located near Ashland, Mansfield and Shelby
---
A picnic area with tables, grills, drinking water and latrines is available.
Malabar Farm reflects the agricultural tradition of Ohio while focusing on Louis Bromfield's life and philosophies. The 32-room Big House, designed by Bromfield and architect Louis Lamoreux, is a blend of Western Reserve architectural styles and was built to appear as if it had been added onto over the years. Tours of the mansion, preserved just as Louis left it in 1956, are offered year-round. Contact the park for daily hours. Fees are $3 for adults, $1 for students ages 6-18, with children under five admitted free. Farm Wagon Tours are available May-October, weather permitting, for $1.00 per person.
There are twelve miles of trail for the hiker or horseperson to enjoy. Trails traverse scenic fields and forests.
The park, located in Ohio, offers a variety of birding options for enthusiasts. It is home to numerous species including the Eastern Bluebird and Red-tailed Hawk which can be spotted year-round. During spring migration season (April-May), visitors may see warblers while summer brings sightings of Indigo Buntings and Baltimore Orioles among others. The area's diverse habitats such as wetlands, woodlands and meadows attract different types of birds making it an ideal spot for birdwatchers.

Malabar Inn Restaurant, located within the park, is a restored "stagecoach" inn built in 1820. Today, the inn is state-owned and offers home-cooked meals (click for menu), Tuesday through Sunday, May 1-October 31. The inn is also open on weekends in March and April. Group reservations are available April-December.

Nearby are Mohican State Park, Mohican Memorial State Forest, and Pleasant Hill Lake. For information on attractions in Richland County including Kingwood Gardens, Renaissance Theatre and Mid-Ohio Sports Car Course contact Mansfield/Richland County Convention and Visitor's Bureau, 52 Park Avenue West, Mansfield, Ohio 44902, (800) 642-8282.

Malabar Farm's Youth Hostel, administered by the Hostel International Organization, offers limited overnight accommodations. For information call (419) 892-2055.

Fowler Woods State Nature Preserve, north off State Route 13, is a mixture of mature beech-maple forest and swamp forest. Spring wildflowers are abundant. Visitation is during daylight hours only.
---
---
Milt's Quick Stop
518 Mansfield Lucas Rd
Mansfield, OH
(419) 522-1040
Mifflin Lakes Trading Post
60 Maine St
Ashland, OH
(419) 368-3956
Big Pines of Pleasant Hill Inc
3911 State Route 95
Perrysville, OH
(419) 938-3474
Walley World Resort Inc
16121 County Road 23
Loudonville, OH
(419) 994-4828
Snow Trails: Ski Resort
Mansfield, OH
(419) 774-9818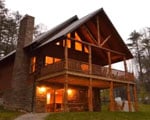 Cottages and Cabins
Trickle Creek offers luxury cabins in Hocking Hills. The cabins are situated on nearly 236 acres of secluded cabin rentals in the deep wooded ravines in the foothills of the Appalachian Mountains in Hocking County, Ohio.
74.4 miles from park*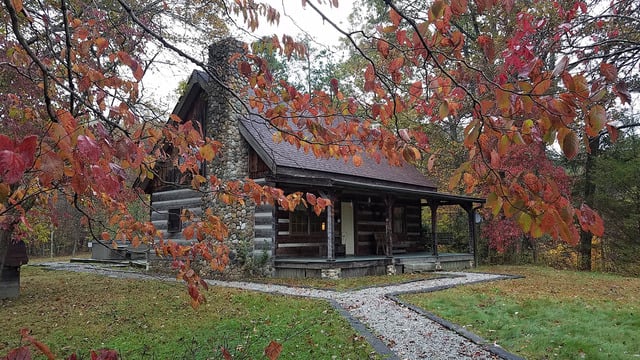 Cottages and Cabins
Hidden Cave Cabin is an authentic log cabin with 2 bedrooms in a private wooded setting. It is located on one of the most scenic drives in Hocking Hills and just 3.6 miles to Rock House and less than 10 miles to Conkle's Hollow and Old Man's Cave.
78.8 miles from park*
4050 Bromfield Road Lucas, Ohio 44843