NEHANTIC STATE FOREST
Visit Nehantic State Forest and discover what the first forest in New London County has to offer.
Nehantic was the first state forest in New London County, and has all been purchased since 1925. Considerable difficulty was experienced in selecting the site. Although there is a great deal of wooded land in the county, it is so cut up by open farm lands that large areas of forest in one block are difficult to find. The land is mostly covered with a second growth of hardwoods. There are a number of good trout streams in the forest.

The forest takes its name from the Nehantic Indians, whose ranging grounds once extended from Wecapaug Brook, in what is now Rhode Island, to the Connecticut River. Shortly before the settlers arrived the Pequots had invaded Nehantic territory and annexed about half of the land claimed by the tribe.
BBs / Inns
Located in the shoreline village of Madison, CT, the Inn offers a cozy and elegant atmosphere of antiques and estate furniture.
19.5 miles from park*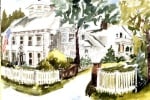 BBs / Inns
Located along the CT Shoreline midway between New York City and Boston, and only one hour from Hartford, with tons of local attractions both on the Long Island Sound and the Connecticut River.
4.9 miles from park*
---
Nehantic State Forest is located near Clinton, Colchester and East Hampton
---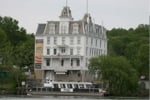 Boating
Explore the Connecticut River aboard the R/V River Quest, an environmentally friendly 64', 60 passenger vessel docked at Eagle Landing State Park, Haddam, CT.
15 miles from park*
---
---
From I-95: Take Exit 70 and go straight at bottom of exit. Take a right at the intersection of Route 156 and Route 1. Follow Route 156 for approximately 3 miles. Forest entrance is on the left.