OXBOW LAKE WILDLIFE AREA
OXBOW LAKE WILDLIFE AREA
9 Schick Road
Defiance, Ohio   43512
(lat:41.3457 lon:-84.4343)

Phone:
800-945-3543
The Oxbow Lake Wildlife Area is located in northwestern Ohio near the city of Defiance. The 416-acre area is situated in the glaciated lake plain of Ohio and has a slightly rolling topography. Some steep land lies adjacent to Mud Creek, which bisects the area. Large cottonwoods and sycamores are found along Mud Creek. The upland woods consist mostly of oaks and hickories.
Originally, the entire area was forested. During the latter part of the last century, the virgin woods were cut down to utilize the moderately fertile soil for agriculture. The wildlife area was purchased by the state of Ohio in 1948. The 38-acre Oxbow Lake was constructed in 1953. In 1954, the area headquarters was established. A smaller, 4.5-acre impoundment, called Little Oxbow Lake, was constructed in 1958.
The operation of watercraft with any motor is permitted but at idle speed only without creating a wake.
Fishing is popular in the area. Northern pike are taken during early spring and late fall, but winter ice fishing is best. Pike fishing techniques involve the use of tip-ups and large minnows. Largemouth bass fishing is best during the spring, using spinners, artificial worms, and minnows for bait. Summer and fall bass fishing is especially good with top-water baits. Bluegills are taken throughout the year on worms, insect larvae and artificial flies. Bass and bluegill fishing is most productive in the fallen tree and stump areas. Bullheads are caught throughout the year, especially during April and May. Good bullhead baits are night crawlers and cut baits fished on the bottom.
---
Oxbow Lake Wildlife Area is located near Bryan, Defiance and Napoleon

Independence Dam State Park
---
---
---
Kyushyk Wilderness Lodge
15412 County Road C
Bryan, OH
(419) 636-3430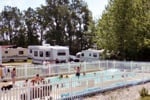 Campgrounds
Enjoy Southeast Michigan's Best Family Camping experience at our clean, quiet, friendly campground. Jumping Pillow, WiFi, Paddle Boats, Minigolf, Swimming, Bicycling and more
53.6 miles from park*
The Oxbow Lake Wildlife Area is located in Defiance County, Ohio. Here are the directions to get there:

1. Starting from Defiance, Ohio, head north on State Route 15 (N Clinton St).
2. Continue on State Route 15 for about 4 miles.
3. Turn left onto State Route 281 (Williams St).
4. Drive on State Route 281 for approximately 8 miles.
5. Turn right onto Domersville Road.
6. After about 3 miles, turn left onto Oxbow Road.
7. Follow Oxbow Road for about a mile until you reach the wildlife area entrance on your left.

Please note that these directions are approximations, so it's always a good idea to double-check with a map or navigation system for the most accurate route. Enjoy your visit to the Oxbow Lake Wildlife Area!

Independence Dam State Park