PACHAUG STATE FOREST
Pachaug State Forest is the largest State Forest in Connecticut encompassing 24,000 acres, in 5 towns. There are two areas, the Chapman Area and the Green Falls Area.
Pachaug State Forest began with a land purchase in Voluntown, in 1928. At present, Pachaug covers about 24,000 acres in six towns, and is the largest forest in the State system. The word "Pachaug" is derived from the Indian term meaning bend or turn in the river. The Pachaug River, running from Beach Pond to the Quinebaug River, runs through the center of the forest.

Indians of the Narragansett, Pequot, and Mohegan tribes in habited this area in great number. During the last half of the seventeenth century, the Narragansetts and Pequots were defeated by the combined force of the Colonists and the Mohegans, when in 1700, a six mile square tract was granted to the Indian War Veterans. Eventually, the central portion of this land grant became "Volunteer's Town," incorporated as Voluntown in 1721.

Old cellar holes and miles of stone fence winding through the woods give evidence that the entire forest was once farmed or pastured. Abundant water encouraged the establishment of a mill industry as early as 1711. Nearly every brook has several old mill sites and dams. Homestead farming and small industry succumbed to advancing modern technology; the forest reclaims its land.
Connecticut has made state parks, forests, trails, historic sites and beaches more accessible to our residents so they can enjoy the many attractions and beauty they offer. Under the Passport to the Parks program, parking fees are now eliminated at Connecticut State Parks for those with Connecticut registered vehicles. You can view the
CONNECTICUT PASSPORT TO THE PARKS
web page to learn more.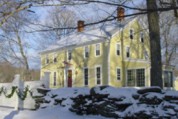 BBs / Inns
A Bed Breakfast in the Quiet Corner of Northeast Connecticut on Route 169, a National Scenic Byway.
12.9 miles from park*