PRINCETON BATTLEFIELD STATE PARK
PRINCETON BATTLEFIELD STATE PARK
500 Mercer Road
Princeton, New Jersey   08540
(lat:40.3319 lon:-74.6758)

Phone:
609-921-0074
On January 3, 1777, the peaceful winter fields and woods of Princeton Battlefield were transformed into the site of what is considered to be the fiercest fight of its size during the American Revolution. During this desperate battle, American troops under General George Washington surprised and defeated a force of British Regulars. Coming at the end of "The Ten Crucial Days" which saw the well-known night crossing of the Delaware River and two battles in Trenton, the Battle of Princeton gave Washington his first victory against the British Regulars on the field. The battle extended over a mile away to the College of New Jersey (now Princeton University).

The famous Mercer Oak, once stood in the middle of the battlefield, not far from the spot where General Hugh Mercer fell during the Battle of Princeton. The Clarke House, built by Thomas Clarke in 1772, witnessed the fierce fighting and served as sanctuary for General Mercer, who died there nine days later. The house contains period furniture and Revolutionary War exhibits.
---
Princeton Battlefield State Park is located near Belle Mead, Bensalem and Bordentown
---
Ajacent to the park, the Institute Woods is comprised of a 588 acre mixed hardwood, wetlands and agricultural land with a variety of trails. Most trails are level to slightly graded. There are no specific ADA trails but many level trails.
Princeton Battle Monument

The monument, designed by sculptor Frederick MacMonnies and dedicated by President Harding, is located on park property at Stockton Street and Bayard Street in Princeton.

Princeton Battlefield, the Clarke House Museum, Offspring, Mercer Oak, the Ionic Colonnade designed by Thomas U. Walter (architect of the US Capitol Building), a stone patio marking the grave of 21 British and 15 American soldiers killed in the battle. A poem was written for the site by Alfred Noyes, Poet Laureate of England.
---
---
H L Live Bait & Tackle
78 E Bridge St
Morrisville, PA
(215) 295-1400
Clover Rod & Gun Club Inc
18 Dover Ave
Trenton, NJ
(609) 883-2408
Fishing and Hunting Licenses: Division of Fish Game & Wildlife
501 E State St # 3
Trenton, NJ
(609) 292-2965
Lafayette Yard Marriott Hotel
1 W Lafayette St
Trenton, NJ
(609) 421-4000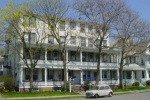 BBs / Inns
The Manchester Inn, The Ocean Grove New Jersey Bed Breakfast and The Secret Garden Restaurant are steps from the white sandy beach and the gentle surf of the Atlantic Ocean. Enjoy the cooling ocean breezes from our rocking chair porch while overlooking Ocean Pathway, Ocean Groves finest avenue
36.3 miles from park*
Located on Mercer Road (Princeton Pike). 1.5 miles south of Princeton University and 3.8 miles north of Interstate 295/95.