PUNDERSON STATE PARK
PUNDERSON STATE PARK
11755 Kinsman Rd
Newbury Township, Ohio   44065
(lat:41.4613 lon:-81.2193)

Phone:
(440) 564-2279
Punderson State Park with its natural lake, resort manor house, family cottages, golf course and scenic campground, provides myriad recreational opportunities for visitors. Punderson is also Ohio's premier winter sports park. Sledding, snowmobiling and cross-country skiing are all at their best.
Punderson State Park is located in the glaciated plateau region of Ohio. During the Ice Age, this area was buried under glacial ice. The last glacier to enter Ohio's boundaries, the Wisconsinan, receded about 12,000 years ago. Punderson Lake, one of Ohio's few natural lakes, owes its origin to this massive ice sheet. It is a kettle lake which was formed when a large block of ice broke off the glacier creating a depression which filled with meltwater. Punderson is the largest and deepest kettle lake in Ohio.

The aquatic environment of the lake combined with the surrounding woodlands give Punderson a diverse array of natural wonders. The lake is home to a variety of shorebirds and waterfowl including great blue herons, Canada geese and wood ducks. Ohio's largest rodent, the beaver, can also be spotted around the lake. Great horned owls, white-tailed deer, opossum and raccoons can be found within the park boundaries.

In the park, the vegetation is as diverse as the animal population. Wild geranium, buttercup, blue-eyed grass and pennywort are just a few of the wildflowers that inhabit the area.
Both the park and the lake take their names from Lemuel Punderson, a young enterprising land agent who became Newbury Township's first permanent settler in 1808. Punderson constructed a small dam on the south side of the "big pond," as he called it, and used the outflowing water as the power source for a grist mill. The Punderson family developed a small estate on the edge of the sparkling blue lake, and their home became a popular gathering place for family and friends.

The area surrounding Punderson Lake developed into a quiet resort providing a get-away from the bustling Cleveland setting. Summer cottages and even a small hotel were built on the hills surrounding the lake. In 1929, construction began on the English-tudor manor house, but the facility was not completed until 1948. That year, the ODNR Division of Wildlife purchased the land and lake for hunting and fishing. In 1951, the area was transferred to the Division of Parks and Recreation for development as a state park. The manor house was completely remodeled and opened to the public on November 15, 1956. A structural renovation was completed in 1982.
Ohio does not have an annual pass and does not charge entrance fees to state parks.
Camping
Electric Sites, #
196
Accommodations
Lodge Rooms, #
31
A championship-rated, 18-hole public golf course challenges even the expert golfer. Reservations are always advisable and required for weekend play. The pro shop stocks all necessary merchandise and has a snack bar.
Twenty-six cottages sleep six persons each. They have two bedrooms, bath with a shower, living room, complete kitchen, dining area and screened porch.
Situated on the site of a former Indian village, the 201-site campground offers shower houses, flush toilets, electricity and pet camping. Two full hookup sites also include water and sewer service. Three fully equipped Rent-A-RV units are available for daily and weekly rental in season.
Overnight accommodations are available in the manor house. Thirty-one guest rooms provide a warm, intimate atmosphere. The manor house features a dining room, meeting rooms and outdoor and indoor swimming pools.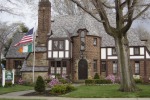 BBs / Inns
Magnificent 16-room French Tudor. You will be charmed by its unique castle-like architecture and the Irish hospitality. Four guest rooms, each with private bath. 30 mi E of Cleveland.
18.4 miles from park*