SALT FORK STATE PARK
SALT FORK STATE PARK
14755 Cadiz Rd
Lore City, Ohio   43755
(lat:40.0828 lon:-81.4624)

Phone:
(740) 432-1508
Reservations:
866-644-6727
The landscape of rural Guernsey County appears as a patchwork of forested hills, open meadows and misty valleys threaded by numerous streams. At the heart of this region is Salt Fork State Park, encompassing the woodlands and fields flanking Salt Fork Reservoir. As Ohio's largest state park, Salt Fork boasts recreational facilities to suit nearly every taste.
Before settlement, Ohio lay in the heart of a vast forest wilderness stretching from the Appalachian Mountains to the Great Plains. None of the world's hardwood forests surpassed this one in variety and size of trees. Ohio's forest was a magnificent sight and an enormous challenge for settlers determined to clear and till the land. Towering oaks, hickories, beeches, maples, walnuts, ashes and chestnuts, some over 150 feet tall, rose from the rich fertile soil below. By 1900, most of Ohio's original forest was decimated. In its place stood wheat, corn, oats, hay and thriving cities.

Through conservation efforts over the past few decades, a magnificent regrowth has occurred. Today, nearly 30 percent of the state is once again supporting a thriving forest. This is most evident in the rugged, unglaciated hill region of southeastern Ohio including Salt Fork State Park. Salt Fork contains a blend of rich woodlands and rolling meadows. The park contains diverse populations of plant and animal life. White-tailed deer, wild turkey, ruffed grouse, red fox, gray squirrels and barred owls are well established within Salt Fork. Songbirds such as the scarlet tanager, cardinal, goldfinch, Kentucky warbler and others provide delight for birdwatchers.

Spectacular wildflowers such as wild geranium, large-flowered trillium, violets, asters and goldenrod line the forest floor and meadows. In spring, the melody of wood frogs, chorus frogs and spring peepers echo through the park.
Salt Fork is said to have derived its name from a salt well used by Native Americans which was located near the southeastern corner of the park.

Historically, this part of southeastern Ohio was one of the first areas of the state to be settled by the pioneers emigrating westward from the crowded eastern seaboard. Some of these settlers may have followed Zane's Trace into the Ohio wilderness -- a route that led a few families into the Guernsey County area. From Zanesville east to the Ohio River, the Trace became part of the National Road, a major east-west transportation route constructed in 1811. Today, the old National Road is known as U.S. Route 40 and passes near Salt Fork State Park.

One of the early residents of Guernsey County, David B. Kennedy, constructed a beautiful stone house overlooking Sugar Tree Fork in 1837. Built from locally-quarried stone cut into 3' x 1' x 1' blocks, the Kennedy Stone House is a sturdy reminder of bygone days. Because of its unique and enduring construction, the house is listed in the National Register of Historic places and can be visited throughout the year.

While the southeastern U.S. was the most important staging area for many Civil War battles, southeastern Ohio saw a few skirmishes, too. Morgan's Raiders, a small group of Confederate soldiers, made excursions into the Salt Fork area under constant pursuit from Union Troops led by General Shakelford.

As the 19th Century progressed, industry continued to develop in Ohio, and many of the southeastern Ohio counties came into prominence as coal-producing areas. Responding to the demand for this important fuel source, Guernsey County became one of Ohio's leading coal producers. Abundant reserves of clay allowed the development of a thriving pottery industry in the county as well. The present impoundment at Salt Fork dates back to 1956 when planning for the lake was begun. The reservoir was originally slated to become a water source for the city of Cambridge, but the potential for the area to become a major recreation area in the state was so great that, in 1960, land acquisition was begun to create a state park. The earthen dam was completed in 1967, and construction of recreational facilities began in mid 1968. The spacious Salt Fork Lodge was opened in May 1972.
Ohio does not have an annual pass and does not charge entrance fees to state parks.
Swimming Beach, feet
2,500
Boating Limits
Unlimited HP
Camping
Electric Sites, #
192
Accommodations
Lodge Rooms, #
148
Thirty-seven two-bedroom vacation cottages in hillside and lakeside locations offer fully furnished living and dining areas, kitchen equipped with cooking and eating utensils, bath with shower, and screened porch. Seveteen chalet cottages also feature gas log fireplaces and hot tubs. All cottages are available year-round.
The modern campground has 212 sites, all with electricity. Other features include heated shower houses, flush toilets, dump station, a separate beach, boat launching and docking facilities for campers. Eighteen sites are wheelchair accessible. In addition, a group camp and horsemen's camp are available. Pet camping is permitted on designated sites.
Salt Fork Lodge, scenically overlooking the lake, has 148 guest rooms. Lodge features include a dining room, coffee shop, snack bar, gift shop, lounge and lobby areas, indoor game area and meeting rooms accommodating up to 450 people. In addition, guests can enjoy indoor and outdoor swimming pools, sauna, the tennis, volleyball, basketball, and shuffleboard courts, 400-foot swimming beach, as well as boat launching and docking facilities.
The 18-hole golf course includes a golf shop, snack bar, driving range and putting green. Tee times are recommended, and a pavilion is available by reservation for outings. Call (740) 432-7185 for tee times and reservations.
The two marinas include 469 rental docks, comfort stations, gasoline fuel stations, parking facilities, concession areas and a variety of rental boats.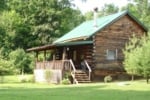 Cottages and Cabins
Situated at the heart of Salt Fork Lake, our cabins all offer privacy and seclusion,with hot tubs, decks, grills, private bonfire pits and beautiful rock wood burning fireplaces. All cabins are extremely clean, well furnished and equipped. Wonderful for all occasions. Hunters are welcome at our cabins
2.2 miles from park*