STEPHENS STATE PARK
The Musconetcong River, an excellent freshwater fishing spot, flows over and around boulders through Stephens State Park. An easy walking, but rocky path follows the river with places for picnicking in shaded areas.
Less than one mile east along Waterloo Road at Saxton Falls are the remains of one of the Morris Canal?s twenty-three locks and a section of the old canal?s towpath. The original canal was 90 miles in length, stretching from Newark to Phillipsburg, and was used to ship coal and iron across the state. However, the canal could not compete with the development of the Morris and Essex Railroad in the late 1800s, and the canal was eventually abandoned.
Campsites: Forty tent and small trailer sites with fire rings and picnic tables. Flush toilets are within walking distance. Open April 1 through October 31.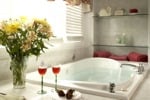 BBs / Inns
Nestled in the beautiful Skylands Region of New Jersey, the house now known as The Whistling Swan Inn was built in 1905 by Justice of the Peace, Daniel Best, for his wife, Sarah. Come visit Northwest NJ's finest Victorian Inn Voted Top Ten BB in US by Inn Traveler Magazine
6.7 miles from park*
Electric motors and gas motors boats are allowed to be on the Musconetcong River. Each person must have on a wearable Coast Guard approved Personal Floatation Device (PFD). Alcoholic beverages are prohibited.
The Musconetcong River provides excellent trout fishing. During the spring the Division of Fish and Wildlife stock the Musconetcong River with brown, rainbow and brook trout.

Approximately 400 of the total acreage is designated a NO HUNTING area.
---
Stephens State Park is located near Basking Ridge, Budd Lake and Denville
---
Picnic sites are available along the scenic Musconetcong River and at the upper picnic area. Tables, charcoal grills and sanitary facilities are provided. Playground equipment and a small open play field are available at the upper picnic area. All picnic facilities are on a first come first serve basis, except for the group picnic shelter which can be reserved. Alcoholic beverages are prohibited.

For larger groups, we also offer a Group Picnic Shelter. It may be reserved for a fee:

Group Picnic Cancellation Fee: 50 percent of Fee

*Groups of 20 or more people shall reserve picnic facilities at least five days in advance. Such group use is not permitted on Holidays except as authorized by the Superintendent. Reservations for picnic areas are handled by the individual park area offices.


The Rock Climbing area is located near Waterloo Village on Waterloo Road A waiver is Required. Contact park office for specific information.
There are six miles of marked trails at Stephens State Park for walking, hiking, mountain biking and horseback riding. The trail surfaces range from flat to steep and rocky.

A 2-mile section of the Highlands Trail runs the length of Stephens State Park.
Park Programs

Stephens State Park invites you to participate in our Summer/Fall Interpretive Nature Programs. Naturalist Lori Tournillon will be presenting a variety of informative and educational programs. These programs are sponsored by the park free of charge and attendees meet at the end of the main parking lot at 1:00 pm. In case of inclement weather, you are urged to contact the park office to determine if a program has been canceled or rescheduled. Check the Calendar of Events for Stephens State Park's current programs.
Waterloo Village

Waterloo Village takes the visitor through time from a 400-year old Lenape (Delaware) Indian village to a bustling port along the once prosperous Morris Canal. This early 19th-century restored village contains a working mill complex with gristmills and sawmills, a general store, blacksmith shop and several historic houses.
---
---
Willow Grove Street (Route 604), 2 miles east of Hackettstown or 7.5 miles west of Route 206 on Waterloo Road (Route 604).