STONY BROOK STATE PARK
STONY BROOK STATE PARK
10820 Route 36 South
Dansville, New York   14437
(lat:42.5264 lon:-77.6973)

Phone:
585-335-8111
Stony Brook State Park features a rugged gorge in the rolling hills of Western New York. You can enjoy the park's rich scenery while camping, picnicking, swimming or hiking.

The North Entrance for day use visitors features a picnic area with tables, grills, restrooms, playground, natural stream-fed pool, and entrance to the hiking trails. The park offers a variety of play fields that include Playgrounds, Tennis Court, Baseball Field, Volleyball Court, and Basketball.

During the winter season, most areas of the park are closed to the public including the South Entrance, playgrounds, playfields, and all hiking trails. These areas remain closed until the following spring after cleanup and safety inspections are complete. The North Entrance is open year round and visitors may enjoy walking through the picnic area.


88 campsites, 1 group campsite, and 8 rustic cabins are scattered in the woodlands above the gorge in the South Entrance to the park. The campground does not offer electric or water on campsites or in the cabins, but there are comfort stations in each loop and a dump station.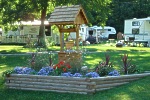 Campgrounds
Holiday Hill Campground, located just 40 miles south of Rochester, in the western Finger Lakes Region of NY, has what youve been looking for. At Holiday Hill you can enjoy great camping and also visit nearby attractions such as Widmer Winery and other attractions nearby.
9.5 miles from park*