WELLINGTON STATE PARK
Located on the shore of Newfound Lake in Bristol, 204-acre Wellington State Park boasts the largest freshwater swimming beach in the New Hampshire State Park system. Hiking trails and picnic areas along the shore afford views of one of the deepest and clearest lakes in the state. Two group picnic pavilions, available for reservation, are located just off the beach in the picnic areas. The park also maintains volleyball and horseshoe courts. The Snack Bar offers a variety of snacks, ice cream, cold drinks, beach and picnic items, and souvenirs. Within the park, the peninsula nature trail features picnic areas, designated fishing areas, plant identification markers, and spectacular views of Newfound Lake and Cliff and Belle Islands. A well-marked hiking trail leads from the park and provides hikers access to Goose Pond, the Sugarloafs, Bear Mountain, Welton Falls, and Mt.Cardigan. A developed boat launch operated by N.H. Fish & Game adjoins the park, providing boaters free access to Newfound Lake. Boat lanes along the beach allow boater access to the park for the regular admission price.

Organized youth group camping is offered on both Belle and Cliff Islands. Reservations are required for and may be made from mid-May through the summer season by calling the park directly .

The Park is open daily from mid-May to Columbus Day. Admission is $3 for adults; $1 for children ages 6-11; children ages 5 and under and NH residents age 65 and over are admitted free.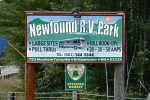 Campgrounds
New Hampshire's newest Big Rig Park is situated just a few miles from Wellington State Park , which is on Newfound Lake, one of the cleanest inland lakes in the United States. Your recreational opportunities are varied and we are the perfect base camp for your explorations.
2.2 miles from park*