OIL CREEK STATE PARK
The Oil Creek Valley is the site of the world?s first commercial oil well. Oil Creek State Park tells the story of the early petroleum industry by interpreting oil boomtowns, oil wells and early transportation. Scenic Oil Creek carves a valley of deep hollows, steep hillsides and wetlands.
The primary purpose of Oil Creek State Park is to tell the story of the changing landscape. The early petroleum industry?s oil boom towns and important oil well sites are in contrast with clean trout streams and forested hillsides seen today throughout the park. The events of the exciting 1860s, the time of the original oil boom, receive special emphasis.
April 22
FULL MOON FAMILY NATURE WALK AND OWL PROWL
Grab the family and join us for a family nature walk and owl prowl. We will explore the early Spring forest and observe what secrets we discover. As the sun sets and it becomes dark we will try to locate some night time animals by their calls. Meet us at the Cross Country Ski Area at Oil Creek State Park. Dress for the cool weather, bring a flashlight, and bug spray if you wish. For more info and directions, please call (814) 676-5915
April 23
Outdoor Photography Workshop
Join us for an introductory course on outdoor photography. The course will include learning about cameras, lenses and accessories and their functions. Technical language will be kept to a minimum. In addition we will deal with composition, (what makes for a pleasing photograph), lighting, subject matter, etc. The instructor for this course will be Kirby F. Neubert. We ask that you bring your own camera and owner''s manual and be at least somewhat familiar with it''s operation. There will be little time to discuss the unique features of individual cameras. The class will be held indoors but everyone will be encouraged after the class to venture out into the park and put what they have learned to use. After taking some outdoor photographs we will come back inside to view and discuss your newly created works of art.
May 3
Making Fishing Lures
Fly anglers are not the only ones who can make their own fishing lures. Join us on Tuesday May 3, 2016 to learn how to make your own spinners and jigs. We will also discuss making crankbaits and top water lures.
You wil make your own spinning lure to keep and receive pliers so you can continue making lures at home. SAVE MONEY AND GET THE PERSONAL SATISFACTION OF CATCHING FISH ON YOUR OWN CREATIONS! Pre- registration and payment of $ 10.00 (cash or checks made out to "Friends of Oil Creek State Park") to be received at the Park Office by April 20, 2016. Space is limited to 10 persons so call the Oil Creek State Park early at (814) 676-5915. Our instructor will be Kirby Neubert.
Oil Creek offers a scenic float and is classed as a beginner?s creek under normal conditions. Water levels can change rapidly and canoeists should call the park office for current water conditions. Generally, the canoeing season is from March to June.
---
Get directions
to this park: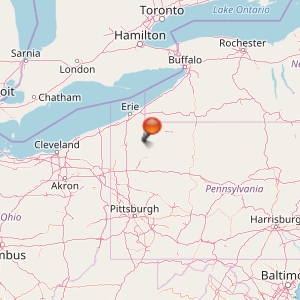 ---
Blood Farm Day Use Area and Egbert Farm Day Use Area are on the southern side of the park and are ideal settings for an enjoyable outing. The day use areas have picnic tables, charcoal grills, drinking fountains, restrooms, playfields, and picnic pavilions that may be reserved up to 11 months in advance for a fee. Unreserved picnic pavilions are free on a first-come, first-served basis. Call 888-PA-PARKS for reservations. Picnic tables and restrooms are at key points along the bicycle trail.
The park offers a wide variety of environ-mental education and interpretive programs. Through hands-on activities, guided walks and evening programs, participants gain appreciation, understanding and develop a sense of stewardship toward natural and cultural resources.

Curriculum-based environmental education programs are available to schools and youth groups. Teacher workshops are available. Group programs must be arranged in advance and may be scheduled by calling the park office.

Programs are offered early spring through late fall. For more detailed information contact the park office.
For information on nearby attractions, please contact: Oil Heritage Region Tourist Promotion Agency, 800-483-6264 ext. 18.

The Drake Well Museum: The museum is administered by the Pennsylvania Historical and Museum Commission and is at the north end of Oil Creek State Park near Titusville. The museum presents a full-size replica of the engine and derrick over this early oil well, plus outstanding exhibits about Pennsylvania oil country.

Pithole: Within six miles of Oil Creek Valley is Pithole, America?s largest oil boom town. Oil was discovered in Pithole in January 1865. By September 1865, Pithole had grown into a city of 15,000. For information on Drake Well and Pithole, contact: Drake Well Museum, 203 Museum Lane, Titusville, PA 16354, 814-827-4888, www.drakewell.org.

Excursion Train: The Oil Creek and Titusville Railroad operates an excursion train on weekends and other dates from May through October. The 26-mile round trip travels through Oil Creek State Park from Titusville to Rynd Farm. Call OC&T RR at 814-676-1733 for reservations and information.
---
Cross Creek Resort Inc
3815 State Rt 8
Titusville, PA
(814) 827-9611
Between Drake Well Museum and Titusville to the north, and Oil City four miles to the south, the main entrance to the park is off of PA 8, one mile north of the Borough of Rouseville.