YOUNG STATE PARK
YOUNG STATE PARK
02280 Boyne City Road
Boyne City, Michigan   49712
Phone: 231-582-7523
Reservations: 800-447-2757
Young State Park is located at the east end of beautiful Lake Charlevoix. The park spans over 560 acres in Charlevoix County and is a mix of gently rolling terrain, lowlands and cedar swamp. Officially opened in 1921, some of the buildings in existence today were built by the Civilian Conservation Corps in the 1930s and 1940s.
FACILITIES AND ACTIVITIES OVERVIEW
Young-Modern/Oak(800) 447-2757 41 site(s)Campsites with 50 amp Service, Electrical Service, Modern Restrooms

Young-Modern/Spruce(800) 447-2757 158 site(s)Campsites with 50 amp Service, Electrical Service, Mini Cabin, Modern Restrooms

Young-Modern/Terrace(800) 447-2757 41 site(s)Boat Launch, Campsites with 50 amp Service, Electrical Service, Mini Cabin, Modern Restrooms
March 26
Easter Egg Hunt
Come to Young State Park for an old fashioned Easter Egg Hunt! Leave no rock unturned as you search to find eggs hidden with in the park. This event is for ages 1-10 and will begin at 11 a.m.
June 11
Kids Fishing Tournament
Looking for a way to kick off summer? Join Young State Park's crew for free fishing weekend.
Lake Charlevoix is 17,260 acres and has depths up to 122 feet. It is great for sailing, power-boating, water-skiing, and fishing. The lake offers access to Lake Michigan as well. There is a boat launch within the park for boats under 16 feet in length.
Lake Charlevoix is stocked annually with rainbow, brown, and lake trout. Mirror Pond provides a good fishing site for children. The pond is stocked with sunfish and rock bass.
---
Get directions
to this park:


---
There is plenty of day use parking for trailers and cars near the large, sandy beach on Lake Charlevoix. Overlooking the beach and grassy picnic area is a classic log building, which houses a concession store. Fire pits/grills available.
Cross-country skiing is a very popular winter activity. The trailhead is located across the road from the park's headquarters off Boyne City Road. Trails are groomed.
There are nearly five miles of nature trails that are perfect for hiking, jogging, and nature study in the park.

Trails in the park:

Young-Deer Flats Nature Trail - 5 (Miles), Hiking, Cross Country Ski

Young-White Birch Nature Trail - 2.2 (Miles), Hiking, Cross Country Ski
Charlevoix, Boyne City and East Jordan all offer small town charm, especially in the summer months. They each offer dining and shopping opportunities as well as holiday events and festivals. Charlevoix has a Venetian Festival, Boyne City has a Mushroom Fest, East Jordan has a Freedom Fest and Horton Bay sponsors a 4th of July parade. Young State Park will be hosting a harvest festival October 10-12, 2008. Contact the park for more information.
---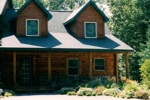 We are about 10 miles west of Mackinaw City. One Mile Past the Wilderness State camp grounds. You will find miles of prestine beaches, no noise except the sounds of nature.You can hike the miles of wonderful hiking trails.
35.5 miles from park*
US 131 to Boyne Falls, M-75 to Boyne City, N.W. on C56 to Park Entrance.