ADAMS LAKE STATE PARK
ADAMS LAKE STATE PARK
14633 State Rte 41
West Union, Ohio   45693
(lat:38.8134 lon:-83.5201)

Phone:
937-393-4284
Located in Ohio's Bluegrass region, one of the state's most scenic and biologically interesting areas, Adams Lake State Park has much to offer the nature enthusiast. Remnant prairies and a quiet lake can be enjoyed in this small unique park.
Adams Lake State Park lies in an area rich in natural diversity with many unique plants and animals. Wedged between the foothills of the Appalachian Mountains to the east and the glaciated land to the north and west, no other area of Ohio boasts a richer abundance of plant species.

Known as the Bluegrass Region of Ohio, Adams County harbors scattered pockets of prairie communities, a remnant of the past when the great western prairies reached into Ohio. Sometime after the last glacial advance, the climate turned warmer and drier. It was during such periods that the prairie advanced eastward into Ohio. Purple coneflower, little blue stem and prairie dock provide an impressive display during the peak blooming season of mid-summer.

The glaciers which covered most of Ohio did not reach Adams County, but their effect is still evident. As the glaciers advanced and the climate changed, many northern species of plants expanded their range southward and remained after the glaciers retreated. White cedar and maidenhair fern represent two such northern transplants.

Before the glaciers advanced, a great river called the Teays flowed through Ohio. As the glaciers moved forward, they had a profound effect on the drainage system by blocking existing rivers. The ancient Teays River was blocked and its waters were backed up forming the Ohio River. The Teays River transported plants native to more southern conditions to Adams County. Mountain laurel is one
such traveler still found in the area.

Once teeming with elk, buffalo and bear, animals of the region now include numerous songbirds, as well as opossum, gray squirrel, raccoon and other mammals.

The Adams Lake region was once inhabited by prehistoric and mound building cultures, most notably the Adenas and Hopewell. Internationally renown Serpent Mound, the hallmark of the Adena culture (1000 B.C.-100 A.D.) remains a mystery in regard to its origin and purpose. The historical site can be found north of the park near Locust Grove off State Route 41.

The shorter-lived Hopewell culture (100 B.C.-600 A.D.) created Tremper Mound, located along State Route 104 in adjacent Scioto County. Here, effigy pipes which were fashioned in stylized images of native animals were discovered in great numbers.

In more recent history, the powerful Shawnee Nation controlled this area until trappers and traders seized upon its abundance of furbearers. Pioneers followed in vast numbers as the permanent settlement of the Northwest Territory continued. Adams County was one of the original four counties of this huge district.

Adams Lake was originally constructed to provide drinking water for the village of West Union. When an alternative county water system was developed, the state purchased the lake and surrounding land in 1950. The 95-acre park is now operated by the Ohio Department of Natural Resources, Division of Parks and Recreation.
Ohio does not have an annual pass and does not charge entrance fees to state parks.
Nearby State Forest, acres
60,000
Nearby Wildlife Area, acres
4,152
Adams Lake State Park in Ohio offers several swimming options for visitors to enjoy. The main attraction is the 47-acre lake, which provides ample space for swimming and other water activities. The lake has a designated swimming area with a sandy beach, offering a safe and enjoyable experience for swimmers of all ages. Lifeguards are on duty during designated hours to ensure the safety of visitors. Additionally, there are picnic areas and a playground near the beach, making it a great spot for families to relax and spend the day. The park also offers boat rentals, allowing visitors to explore the lake and enjoy a different perspective of its beauty. Overall, Adams Lake State Park provides a wonderful opportunity for swimmers and water enthusiasts to have a fun and memorable experience.
Only non-powered craft and those with electric motors only are permitted on the lake. A small launch ramp near the park entrance provides access to the 47-acre lake.
Anglers will enjoy nice catches of largemouth bass, bluegill, crappie, channel catfish, bullhead and carp. A valid Ohio fishing license is required.
---
Adams Lake State Park is located near Maysville, Chillicothe
---
Picnic tables and restrooms are located throughout the park. A picnic shelter is available on a first-come, first-served basis. Playground facilities are also available.
All trails at Adams Lake are found on the adjacent prairie maintained by the ODNR Division of Natural Areas and Preserves. Due to the botanical uniqueness of this area, visitors are not permitted to wander from the established trails. Questions about the prairie or its rules should be directed to the preserve manager at (513) 544-9750.
Adams Lake State Park in Ohio offers a variety of birding options for nature enthusiasts. The park is home to diverse species, making it an ideal spot for both beginner and experienced birdwatchers. Visitors can explore the lake area where waterfowl such as ducks, geese and herons are commonly spotted.

The woodland areas within the park provide opportunities to see songbirds like warblers, sparrows or finches along with birds of prey including hawks and owls. During migration seasons (spring & fall), one might also witness rare migratory birds passing through this region.

There's no specific trail dedicated solely to bird watching but all trails offer good chances due its rich biodiversity throughout different habitats - wetlands, forests etc., which attract various types of avian life forms depending on season/time-of-day factors too!

Bird watchers should bring their own binoculars since there aren't any available at site; however picnic tables/benches scattered around make comfortable spots from where you could patiently observe these feathered creatures without disturbing them much either way!

In addition to self-guided tours/observations based upon personal preferences/experience levels among visitors here - guided group tours may be arranged occasionally by local Audubon Society chapters that include expert-led walks/talks about native/non-native species found across Adams Lake State Park premises during particular periods annually.

Remember though: while enjoying your time amidst natural beauty surrounding us everywhere inside this wonderful state-owned recreational facility... always respect wildlife rules/regulations enforced strictly so we preserve our environment better together ensuring future generations continue having similar experiences just like ours today!!!
Nearby Shawnee State Park provides overnight accommodations in their lodge and cabin complex as well as in a family campground with 107 sites. Campsites are available on a first-come, first-served basis only, but cabins and lodge rooms may be reserved by calling 1-800-At-A-Park.

Additional facilities include an 18-hole golf course along the Ohio River, two fishing lakes, picnic areas, swimming beaches and a full-service marina with Ohio River launch facilities. Surrounding the park, Shawnee State Forest encompasses the largest contiguous woodland in the state. This rugged wilderness is often called Ohio's Little Smokies. The forest is primarily oak-hickory with Virginia pine on dry sites. Miles of forest roads provide access to the wilderness and scenic vistas.
---
---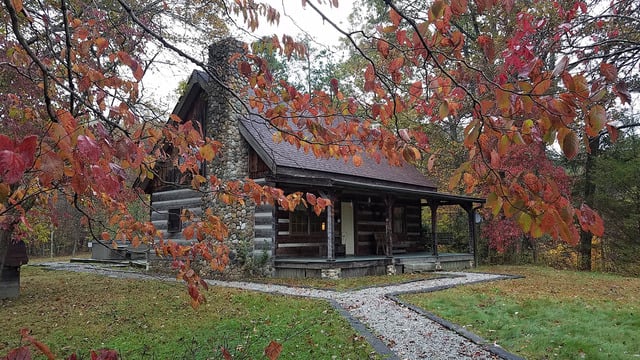 Cottages and Cabins
Hidden Cave Cabin is an authentic log cabin with 2 bedrooms in a private wooded setting. It is located on one of the most scenic drives in Hocking Hills and just 3.6 miles to Rock House and less than 10 miles to Conkle's Hollow and Old Man's Cave.
69.8 miles from park*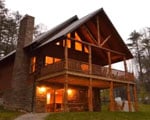 Cottages and Cabins
Trickle Creek offers luxury cabins in Hocking Hills. The cabins are situated on nearly 236 acres of secluded cabin rentals in the deep wooded ravines in the foothills of the Appalachian Mountains in Hocking County, Ohio.
75.2 miles from park*
Adams Lake State Park is located in Ohio. It is situated in Adams County, specifically in the town of West Union. Here are the directions to reach the park:

- if coming from Cincinnati, take US-52 E to SR-32 E in Jackson Township
- continue on SR-32 E for about 49 miles until reaching the town of Peebles
- in Peebles, turn left onto Willard Kent Road/County Rd 12
- after approximately 5 miles, turn right onto Lodge Road/County Rd 73
- continue on Lodge Road for about 3 miles until reaching the Adams Lake State Park entrance on the left

Please note that exact directions may vary depending on your starting location.