JOHN JAMES AUDUBON STATE PARK
JOHN JAMES AUDUBON STATE PARK
3100 US Hwy 41 North
Henderson, Kentucky   42419
Phone:
270-826-2247
Reservations:
270-826-5939
Email:

"The rich magnolias covered with fragrant blossoms, the holly, the beech, the tall yellow poplar, the hilly ground and even the red clay, all excited my admiration. Such an entire change in the fall of nature in so short a time seems almost supernatural, and surrounded once more by numberless warblers and thrushes, I enjoyed the scene."

So reads the journal of John James Audubon as he recorded his arrival in 1821 at Oakley Plantation.

This lush natural setting, with a variety of birds singing throughout the 100-acre forest, still inspires visitors. In these peaceful environs, it is easy to imagine the artist filling his sketch pad with notes and drawings for his famous series of bird illustrations.
Accommodations
Golf Course
yes
---
John James Audubon State Park is located near Boonville, Evansville and Henderson

Angel Mounds State Historic Site
---
Centenary State Historic Site (East College and Pine Street in Jackson)--This is the former site of Centenary College. Visitors may tour the old West Wing dormitory or a professor's cottage and learn about the history of education in Louisiana. A Confederate cemetery is located on the grounds.

Locust Grove State Historic Site(4 miles northeast of St. Francisville on LA 10)--Visit the gravesites of Sarah Knox Taylor, wife of Jefferson Davis, and General Eleazor Ripley, distinguished soldier in the War of 1812.

Plaquemine Lock State Historic Site (South of Baton Rouge on Main Street/La. Hwy. 1 in downtown Plaquemine)--Compiled in 1909 , the lock provided access from the Mississippi River to Bayou Plaquemine. Placed on the National Register of Historic Places in 1972, the site features the Gary James Hebert Memorial Lockhouse and is open for tours daily from 9 a.m. to 5 p.m.

Port Hudson State Historic Site(US 61, 30 minutes north of Baton Rouge)--This 909-acre site encompasses part of the Port Hudson Battlefield Civil War Site. Featured are six miles of hiking trails, 11/2 miles of trenches, a museum and interpretive programs. Fort Desperate, a primary Confederate position, is accessible by a concrete walkway and elevated wooden boardwalks.

Rosedown Plantation State Historic Site(In St. Francisville on La. Hwy. 10) -- Built during the 1830s, Rosedown had one of the largest private gardens in the U.S. in the 19th century. In addition to the gardens and many original structures, visitors can see many furnishings and items that the Turnbulls themselves brought into the main house.

Tunica Hills Wildlife Management Area(14 miles northwest of St. Francisville on LA 66)-- Day-hiking, wildlife viewing, birding and hunting (in season) are featured across 5,231 acres of rugged hills, bluffs and ravines.

Historic Town of St. Francisville(North of Baton Rouge on US 61)--The Historic District includes 140 structures encompassing churches, antebellum homes, townhomes, cemeteries, and dozens of antique and gift shops.

Historic Town of Jackson(North of St. Francisville on LA 10)--The Historic District covers two-thirds of the town and features more than 120 structures including banks, shops, homes, churches and warehouses.

Historic Town of Clinton(North of Baton Rouge via LA 67)--The town is known for its historic architecture, including Lawyers Row, the East Feliciana Parish Courthouse, and charming Victorian and antebellum homes.

LA Scenic Bayou Byway--The Byway in this area takes you through some of the historic "Florida" parishes in English Louisiana known for the British influence in their architecture and cultural traditions. Follow US 61 and historic LA 10 (once known as the Choctaw Trail) to quaint historic towns, charming bed and breakfasts, country drives, profuse native wildflowers in season, excellent birding, cycling and interesting antique shops.
---
---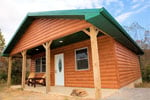 Cottages and Cabins
Enjoy a getaway to nearby Southern Illinois with Shawnee National Forest Cabins. Rustic log cabin rentals with modern comforts such as hot tubs, Wifi and satellite TV located near Garden of the God in the Shawnee National Forest.
48.8 miles from park*
Audubon State Historic Site -- (11788 Highway 965, St. Francisville, LA 70775; 225-635-3739 or 1-888-677-2838) is located in West Feliciana Parish, near St. Francisville on LA 965. From Baton Rouge, it is just 30 minutes away: follow US 61 north to LA 965, then turn right and follow the signs. The main feature of the 100-acre woodland site is Oakley House, where John James Audubon lived for a short time. Other facilities include formal and kitchen gardens, a separate kitchen and weaving room, a plantation barn, two slave cabins, a picnic area with a shelter and a nature trail through the acres of magnolia and poplar trees.

Angel Mounds State Historic Site