BEALL WOODS STATE PARK
Located on the banks of the Wabash River in southeastern Illinois, Beall Woods attracts visitors from around the world wanting a glimpse of one of the few remaining tracts of virgin timber east of the Mississippi River where one can see trees 120 feet tall and over 3 feet in diameter.

Besides hiking, Beall Woods also offers camping, picnicking, and fishing to the visitor who wants to spend time in a quiet, relaxing setting.

Beall Woods is open year-round from sunrise to 10:00 p.m. The park is closed on Christmas Day and New Year?s Day.
Beall Woods (pronounced Bell) had been under ownership of the Beall family since the mid-1800's. While a working farm, almost half of the 635 acres consisted of forest that had never been cleared.

When Laura Beall, the last living heir, died without a will, this land went up for auction and was sold to a man who intended to cut the timber. Many individuals and organizations came together in an effort to prevent this from happening. A trial ensued and the land was purchased by the state of Illinois in 1965 by invoking the law of eminent domain against the unwilling seller. In 1966, 329 acres of old-growth forest in Beall Woods State Park was dedicated as the 14th Illinois nature preserve by the Illinois Nature Preserves Commission. With this action, a piece of Illinois? natural heritage was preserved so that future generations have the opportunity to see an example of the magnificent forest that once grew along the Wabash River.
Sixteen Class C campsites with vehicular access and restrooms but no showers or electricity are available. A disposal station is also available for the camper?s use.

No reservations are necessary for the campground. Campers are asked to set up at their chosen campsite and park personnel will come by to issue a permit.
The new visitor center opened in April 2001 with educational displays focusing on the history of the area as well as our natural heritage.
---
Beall Woods State Park is located near Mount Carmel, Princeton
---
Picnic shelters, playground areas and pit toilets are located around the recreation area of the lake. No reservations are taken for the picnic areas. They are on a first come, first serve basis.

Shaded picnicking is also available near the visitor center.
The five established trails offer the hiker an excellent view of this old-growth forest. From the easy 1-mile Tuliptree trail which features a self-guided trail brochure to the 1.25-mile moderately easy White oak trail, the nature enthusiast can get a sense of what the settlers saw when they arrived at the banks of the Wabash River.

To preserve the fragile ecosystem, hikers are urged to stay on the established trails. Pets, bicycles and horses are not allowed on the trails. Collecting or removing any natural objects is prohibited. Depending on the season, visitors should come prepared with insect repellent.

Tuliptree Trail - An easy 1-mile upland forest trail. Several self-guided brochures featuring tree identification and spring wildflowers growing along this trail are available for visitor use and can be picked up at the trail entrance or in the visitor center.

White Oak Trail - With the exception of two flights of steps, the White Oak is a moderately easy 1.25-mile trail that offers the hiker the greatest variety of vegetation and forest conditions. It passes over five soil types, through good examples of upland and bottomland forest and gives the visitor a good sense of what the settlers experienced when arriving at this part of the state. For those interested in a longer hike, the Ridgway Trail is accessed from the White Oak Trail.

Ridgway Trail - This 1.75-mile moderately easy trail is accessed from the White Oak Trail. It is a dedicated living memorial to Robert Ridgway, one of America's foremost ornithologists (a person who studies birds), who spent his boyhood in this area. Closed periodically during flooding, this trail winds through a reforested field and features several varieties of bottomland oak and hickory trees. A combined White Oak-Ridgway Trail walk is a total of 3 miles in length.

Sweet Gum Trail - This .50 mile easy trail follows Coffee Creek and features an interesting rock cliff. Many plants adapted to cool, moist and shady conditions thrive here. The visitor must access this trail from the park's north side. The trail is closed periodically due to flooding.

Schneck Trail - This trail is dedicated to Dr. Jacob Schneck, a pioneer Mount Carmel physician and botanist. This easy 1.75-mile trail is accessed from the park's north side and is closed periodically due to flooding.
The park interpreter offers a variety of nature programs at the center from April through October. Weekday programs are also available for school groups. For more information on either type of program.
---
---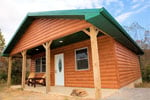 Cottages and Cabins
Enjoy a getaway to nearby Southern Illinois with Shawnee National Forest Cabins. Rustic log cabin rentals with modern comforts such as hot tubs, Wifi and satellite TV located near Garden of the God in the Shawnee National Forest.
60.2 miles from park*
Beall Woods State Park is located in Wabash County, 6 miles south of Mt. Carmel, Illinois, on Route 1 near Keensburg.