BUCK CREEK STATE PARK
BUCK CREEK STATE PARK
1976 Buck Creek Ln
Springfield, Ohio   45502
(lat:39.97 lon:-83.7292)

Phone:
(937) 322-5284
Reservations:
866-644-6727

Buck Creek State Park lies in a fertile agricultural area, rich in
Ohio's history. The park's recreational facilities center around the
2,120-acre lake, offering endless water-related opportunities.
Visitors enjoy the many wetlands, broad meadows and wildlife at
this diverse park.
The natural features of Buck Creek State Park can be attributed
to the effects of glaciers which receded from Ohio over 12,000
years ago. Low hills called moraines can be seen in the area
where glaciers halted for extended periods of time and left
deposits of gravel and sand. Old river valleys were filled by these
deposits where numerous springs now well up through the sand
and gravel. The nearby city of Springfield is named for the
many springs seeping up from the broad meadows. The springs
account for the many bogs and fens in Clark and Champaign
counties of which Cedar Bog is probably the best known.

These wet areas harbor an assortment of rare and unusual plants
including round-leaved sundew and horned bladderwort. The
spotted turtle, a state endangered animal, is found in the area.
The northernmost region of the park is an excellent area to
observe waterfowl. The shallow waters provide a stopover for
thousands of migrating ducks. Relatively rare songbirds of open
meadows are also present including dickcissels, bobolinks and
Henslow sparrows.
Buck Creek was home to Indians and pioneers. The land at the
time of early settlement was mostly forested by large trees with
minimal undergrowth. Occasionally, the forests were interrupted by prairie openings.

In 1780, George Rogers Clark, a Revolutionary war hero, led a band of nearly 1,000 Kentuckians in a raid against Ohio
Indians. The Shawnee Indians abandoned their camp which they called Old Chillicothe (near Xenia) and fled to Piqua, the
Shawnee capital, located west of the present site of Springfield. Clark pursued the fleeing Indians, and the Shawnee were
defeated at the Battle of Piqua. Most of the Indians, however, had dispersed into the woodlands. One Indian hiding in the
woods was the young Tecumseh, who vowed to avenge the attack. Following the battle, Clark's men retreated to their homes
in Kentucky and the Indians moved north. A new Piqua was erected on the banks of the Miami River. This battle put a
temporary end to Indian warfare.

With the decline of Indian threat, settlers moved into the area. In
1799, legendary frontiersman Simon Kenton settled in the
region with six other Kentucky families. The group lived near the
confluence of Buck Creek and Mad River. After two years, the
settlers moved to different areas. Kenton established a home
along Buck Creek about four miles north of present Springfield.
Settlement brought change to the area as trees were cut to
construct buildings. Acres were cleared and farm crops were
planted. The settlers found the land extremely fertile.

The community of Springfield was founded in 1801 and has
served since then as the county seat of Clark County. In 1838, the
National Road (U.S. 40) reached Springfield and this opened
new markets for manufacturing and agriculture. Over the years,
Springfield's character changed from rural to industrial. By 1880, the community led the nation in the manufacturing of
agricultural implements.

In September 1966, work was started by the U.S. Army Corps of Engineers to impound Buck Creek as a flood control project.
In 1974, the Clarence J. Brown Dam and Reservoir were dedicated and an agreement gave the Ohio Department of Natural
Resources the operation of much of the area. Buck Creek State Park was officially opened in June 1975.
Ohio does not have an annual pass and does not charge entrance fees to state parks.
Nearby Wildlife Area, acres
284
Swimming Beach, feet
2,400
Boating
Boating Limits
Unlimited HP
Accommodations
Family Cottages, #
26
There are 26 family cottages situated in a wooded area with several offering a view of the lake. The cottages have two
bedrooms, bath with a shower, living room with a trundle bed, complete kitchen, dining area and screened porch.
This modern campground has 101 campsites of which 89 have electricity. Campground facilities include showers, flush toilets
and dump station. Campers with pets may camp on designated sites.
Sunbathers and swimmers enjoy the 2,400-foot sand beach. A
concession stand is located at the beach.
Boating with unlimited horsepower is permitted on the 2,120-acre lake. A four-lane launch ramp provides access to the lake.
A marina provides fuel, snack bar, and bait shop.
Buck Creek State Park in Ohio offers a variety of fishing opportunities for both novice and experienced anglers. The park's main attraction is the 2,120-acre Buck Creek Lake, also known as Clarence J. Brown Reservoir.

The lake is home to several species of fish including largemouth bass, smallmouth bass, white crappie, black crappie and bluegill. Other common catches include channel catfish and saugeye (a hybrid of walleye and sauger). In addition to these native species there are occasional stockings by the Division of Wildlife with rainbow trout during spring months.

Fishing can be done from shore or boat; however motorized boats must adhere to horsepower restrictions on certain parts of the lake due its status as a drinking water reservoir for Springfield city residents.

There are two marinas located within Buck Creek State Park that offer bait sales along with other amenities such as fuel docks & snack bars: one at North Shore off Route 68 north near Clark County Fairgrounds while another lies south end close C.J.Brown Dam Visitor Center where you'll find picnic areas plus playgrounds too!

In winter when conditions permit ice-fishing becomes popular activity among locals who target panfish primarily but occasionally hook into larger predator like northern pike if they're lucky enough!

For those interested in fly fishing or catch-and-release practices - Mad River which flows through western edge this state park provides excellent habitat brown trout thanks cold groundwater springs feeding it year-round making an ideal destination regardless season/time-of-year visited here!

Remember though before heading out onto waters make sure have valid Ohio Fishing License required all individuals age 16 older unless exempted under specific circumstances outlined Department Natural Resources' regulations guidebook available online their official website www.wildohio.gov .
---
Buck Creek State Park is located near Fairborn, New Carlisle and Springfield
---
Picnic areas provide tables and grills in scenic locations. Two picnic shelters are available on a first-come, first-served basis.
1. Buck Creek Trail: A 7.5-mile trail that winds through dense forests, offering hikers a chance to immerse themselves in the serenity of nature while spotting diverse wildlife.

2. Lakeview Trail: This scenic path stretches for about two miles along the shoreline of C.J Brown Reservoir, providing breathtaking views over sparkling waters and opportunities for bird watching.

3. Prairie Grass Loop: An easy one mile looped hike showcasing Ohio's native prairie grasses swaying gently with every breeze; perfect for families or those seeking a leisurely stroll amidst natural beauty.

4. Woodland Ridge Pathway: Meandering through towering hardwood trees on rolling hillsides, this moderate three-mile trek offers glimpses into local flora and fauna as well as panoramic vistas from elevated points throughout its course.

5 . Deer Run Track : As suggested by its name , it is common to spot deer grazing peacefully alongside this tranquil four -mile track which cuts across lush meadows before disappearing into thickets .

6 . Wildflower Walk : Ideal during springtime when wildflowers are in full bloom ,this half- mile walk presents an explosion of colors against verdant backdrops making it popular among photographers .

7 . Wetlands Exploration Route : Spanning approximately five miles,this route takes you deep within marshy wetlands where frogs croak melodiously,and waterfowl glide gracefully above still ponds reflecting sky hues at sunset .

8 . Eagle's Nest Overlook Hike:A challenging uphill climb leading towards an eagle nesting site.This strenuous but rewarding six -mile journey culminates with sweeping views over treetops stretching out till horizon line .

9.Creekside Ramble:a gentle two-and-a-half mile ramble following Buck creek itself.Watch sunlight dance upon rippling stream surfaces,enjoy rustling leaves sound underfoot,and feel cool breezes wafting off flowing waters here.

10.Buckeye Trail:Part of the larger Buckeye trail system,this section within park boundaries offers a rugged and remote hiking experience over seven miles,with occasional glimpses into Ohio's agricultural landscapes.
Buck Creek State Park in Ohio offers a variety of birding options for enthusiasts. The park is home to diverse habitats including wetlands, woodlands and meadows that attract different species of birds throughout the year. Visitors can spot waterfowl like ducks, geese and swans on C.J Brown Reservoir during migration seasons or nesting bald eagles around its shores.

The woodland areas are perfect for spotting songbirds such as warblers, thrushes and sparrows while hawks often soar above open fields. Birders may also encounter owls at night within forested regions.

There's an observation deck near the beach area providing excellent views over reservoir where one might see gulls or terns diving into waters catching fish.

In addition to self-guided tours through various trails available all day long; guided bird walks led by local experts are occasionally organized which provide opportunities not only to observe but learn about these feathered creatures too!
The U.S. Army Corps of Engineers manages a visitor center and recreational site near the dam. The center provides displays,
programs and dam operation tours. Hiking, picnicking and fishing are available. Nearby Kiser Lake, John Bryan and Madison
Lake offer camping and other recreational opportunities. Cedar Bog State Nature Preserve, a unique area of unusual flora
and fauna, is operated by the Ohio Historical Society. Located between Urbana and Springfield, the area is open
April-September for tours on Saturday and Sunday. Clark County Historical Society maintains the Crabill House on park land.
Once the home of David Crabill, an early settler, the building has been totally restored. Listed on the National Register of
Historic Places, the brick home can now be toured.

Several other state nature preserves in the area are accessible by written permit only. Contact the chief of the ODNR Division
of Natural Areas and Preserves to visit Liberty Fen, Prairie Road Fen, Siegenthaler Esker or Kiser Lake Wetlands.
---
---
Forest Lake
2365 W 1st St
Springfield, OH
(937) 323-4266
C & J Bait & Tackle
2462 Mechanicsburg Rd
Springfield, OH
(937) 390-9879
Beaver Lake
1550 Pumphouse Rd
Springfield, OH
(937) 324-1891
Gibson's Carry Out & Drive
1815 Columbus Ave
Springfield, OH
(937) 322-6181
Courtyard By Marriott Hotel
100 S Fountain Ave
Springfield, OH
(937) 322-3600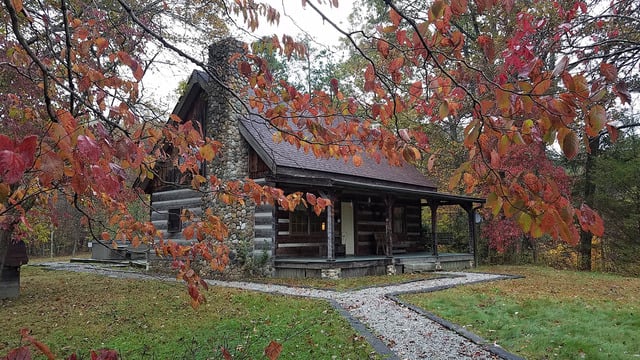 Cottages and Cabins
Hidden Cave Cabin is an authentic log cabin with 2 bedrooms in a private wooded setting. It is located on one of the most scenic drives in Hocking Hills and just 3.6 miles to Rock House and less than 10 miles to Conkle's Hollow and Old Man's Cave.
67.9 miles from park*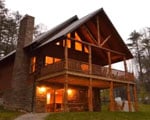 Cottages and Cabins
Trickle Creek offers luxury cabins in Hocking Hills. The cabins are situated on nearly 236 acres of secluded cabin rentals in the deep wooded ravines in the foothills of the Appalachian Mountains in Hocking County, Ohio.
69.5 miles from park*
From Cleveland, Ohio: I-71 South to I-270 South, I-270 South to I-70 West, I-70 West to Exit #62 to Route 40 West, 3 miles to first traffic light, right on North Bird Road to Buck Creek Lane. 178 milesFrom Columbus, Ohio: I-70 West to Exit #62 to Route 40 West, 3 miles to first traffic light, right on North Bird Road to Buck Creek Lane. 48 miles.From Cincinnati, Ohio: 75 North to 675 North to I-70 East, follow to Exit #62 to Route 40 West, 3 miles to first traffic light, right on North Bird Road to Buck Creek Lane. 77 miles.From Toledo, Ohio: I-75 South to I-70 East, Exit #62, go West on Route 40, 3 miles to first traffic light, right on North Bird Road to Buck Creek Lane. 120 miles.From Springfield, Ohio: Follow Route 40 East to North Bird Road, turn North on North Bird Road to Buck Creek Lane. 5 miles from downtown Springfield.