BULOW CREEK STATE PARK
BULOW CREEK STATE PARK
3351 Old Dixie Hwy
Ormond Beach, Florida   32174
(lat:29.3883 lon:-81.1325)

Phone:
(386) 676-4050
This park protects one of the largest remaining stands of southern live oak forest along Florida?s east coast. The reigning tree is the Fairchild Oak, one of the largest live oak trees in the south. For more than 800 years it has been a silent witness to human activities along Bulow Creek, including the destruction of the neighboring Bulow Plantation during the Second Seminole War in 1836. Several trails allow hikers to explore the interior of the park, where visitors can see white?tailed deer, barred owls, and raccoons. The Bulow Woods Trail, nearly seven miles long, takes hikers to Bulow Plantation Ruins Historic State Park. Visitors can picnic in a shady pavilion or at a table on the lawn within view of the Fairchild Oak. Located five miles north of Ormond Beach on Old Dixie Highway (County Road 4011).
Annual Entrance Passes can be purchased at all park ranger stations and museums. If you require immediate use of your pass, this is the best option. Passes can be purchased during regular business hours 365 days a year. Please call the park in advance to ensure availability. Those who are eligible for discounted or free passes may use this method to receive their pass. Annual Entrance Passes may be purchased online by visiting the
FLORIDA STATE PARKS ANNUALENTRANCE PASSES
web page.
Primitive Camping

A primitive campsite is available to backpackers. An overnight permit is required. The permit, trail maps and other information may be obtained at the park office of Tomoka State Park, 4.5 miles south of Bulow Creek State Park on Old Dixie Highway.
---
Bulow Creek State Park is located near Daytona Beach, Ormond Beach and Palm Coast
---
Picnicking is available for the park visitor. A small pavilion is offered with picnic tables. There are also tables located on the lawn within view of the Fairchild Oak. Restroom facilities are provided.
There are several trails for exploring the interior of the park. Two trails start from the parking area at Fairchild Oak. The Wahlin Trail is a short loop around a groundwater spring that seeps from a "coquina" rock bluff. The Bulow Woods Trail is a 6.8 mile hiking trail that runs from the Fairchild Oak to Bulow Plantation Ruins State Historic Site. The northern section near Bulow Ruins is recommended for half-day hikes. Starting from the parking area on Plantation Road, the trail crosses open woods before entering Bulow Hammock where the shaded path winds around massive trunks under the cathedral-like canopy of Live Oaks. White-tailed deer, barred owls and raccoons are commonly seen and, occasionally, a diamondback rattlesnake. The hiking trail is open for day use from 8:30 am to sunset.
---
---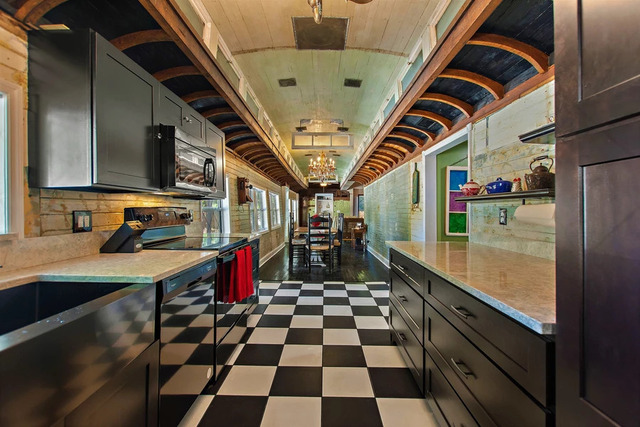 Cottages and Cabins
Like something out of a fairytale, a long time ago someone put two steam passenger train cars from 1892 and created something magical, a house This magical home is one of a kind and an experience you dont want to miss.
28.4 miles from park*
Bulow Creek State Park is located off Old Dixie Highway in Ormond Beach.