WASHINGTON OAKS GARDENS STATE PARK
Although the formal gardens are the centerpiece of this park, Washington Oaks is also famous for the unique shoreline of coquina rock formations that line its Atlantic beach. Nestled between the Atlantic Ocean and the Matanzas River, this property was once owned by a distant relative of President George Washington. The gardens were established by Louise and Owen Young who purchased the land in 1936 and built a winter retirement home. They named it Washington Oaks and, in 1965, donated most of the property to the State. The gardens make remarkable use of native and exotic species, from azaleas and camellias to the exquisite bird of paradise, sheltered within a picturesque oak hammock. Visitors can picnic and fish from either the beach or the seawall along the Matanzas River. A number of short trails provide opportunities for hiking and bicycling. Visitors can learn about the park's natural and cultural resources in the visitor center. Located two miles south of Marineland on State Road A1A.
Long before Europeans reached Florida, Native Americans came here to hunt, fish and gather shellfish. The hill at the top of the rose garden is formed by a midden -- the mound of oyster shells and other discards left by generations of Indians. Archaeological studies are currently underway to learn more about the Indian ways of life here.

During the 1500?s and 1600?s several French, Spanish, and English groups passed through the area. The first documented settlement by Europeans came in 1770 when the British government granted the land to John Moultrie, Lieutenant Governor of East Florida. Moultrie mined the heaps of oyster shells to produce lime in his lime kiln and established an orange grove.

In 1793 a fire, probably natural, swept over the tract. Shortly after, it was acquired by a Portuguese born merchant who may have constructed some buildings and planted crops. Common crops on nearby farms were rice and corn.

In 1818, Jose Mariano Hernandez, a St. Augustine native of Minorcan descent, bought the land. He named it "Bella Vista."

Hernandez? career as a planter was typical for many in northeast Florida. He was a citizen of a Spanish colony, owning lands granted by Spain. In 1821, Florida became a U.S. territory.

Hernandez swore allegiance to the new country and changed his name to Joseph Marion Hernandez. His service to the government included representing St. Augustine in the Territorial legislature in Tallahassee and serving as the first Representative from the Territory of Florida to the U.S. Congress. He became known as General Hernandez because, as Brigadier General, he organized and commanded militia before and during the Second Seminole War (1835-42).

On his several land holdings, Hernandez raised cotton, sugar, and crops to feed the family, workers, and slaves. Bella Vista adjoined his cotton plantation to the south, but was apparently never developed as a separate farm itself. In 1836, Indians burned plantations along the Matanzas River, that were occupied by U.S. troops, including Hernandez lands. Since Bella Vista was not garrisoned, it was not destroyed. But the plantation economy in this part of the state never fully recovered.

In 1845, Hernandez? daughter Luisa married a lawyer from North Carolina named George Lawrence Washington. While George Lawrence and Luisa Washington lived in the St. Augustine area until 1856, it does not appear that they built a home or resided at Bella Vista.

Washington apparently remembered this land fondly long after Luisa died. In 1878, he began seasonal visits to St. Augustine. At Bella Vista, now owned by another daughter of General Hernandez, he built a small beach house, which he and his sons used for hunting and fishing and raising citrus. In 1888, he bought the entire property from her and people began calling it "The Washington Place."

After Washington?s death in 1894, the property went to his heirs. One of them, a son from a later marriage in New Jersey, sold the land to unrelated developers in 1923. Only the collapse of the 1920?s Florida land boom kept the tract from sprouting a new crop of homes in a subdivision to be called "Hernandez Estates."

In 1936 the land was bought by Louise Powis Clark, a designer from New York. It was to become a winter retirement home for herself and her third husband, Owen D. Young. Young, an attorney and industrialist who had been chairman of the board of General Electric Corporation and RCA, advised the Government on international monetary issues.


Annual Entrance Passes can be purchased at all park ranger stations and museums. If you require immediate use of your pass, this is the best option. Passes can be purchased during regular business hours 365 days a year. Please call the park in advance to ensure availability. Those who are eligible for discounted or free passes may use this method to receive their pass. Annual Entrance Passes may be purchased online by visiting the
FLORIDA STATE PARKS ANNUALENTRANCE PASSES
web page.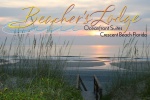 Hotels/Motels
Hotels like this are hard to find. In operation since 1986, Beacher's Lodge is a condo-hotel located on Crescent Beach. All the oceanfront suites have a patio or private balcony overlooking the Atlantic Ocean. The large expanse of white sand always makes for memorable enjoyment.
9.6 miles from park*