GOULDSBORO STATE PARK
GOULDSBORO STATE PARK
Tobyhanna, Pennsylvania   18466
Phone:
570-894-8336
Toll Free:
888-727-2757
Reservations:
888-727-2757
Email:

Gouldsboro State Park, in Monroe and Wayne counties in northeastern Pennsylvania, contains 2,800 acres of land, including the 250-acre Gouldsboro Lake. Tobyhanna State Park is nearby.
The name Gouldsboro comes from the village north of the park that was named for Jay Gould (1836-1892). A native of New York, Gould acquired a very large fortune that by 1892 included ownership of ten percent of all railroad track in the country. One of the railroads he owned was the Erie-Lackawanna. This rail line parallels the eastern boundary of the park and is now a part of the Steamtown, USA railroad excursion route between Scranton and Pocono Summit.

Gould was a co-owner of a leather tannery at Thornhurst, a small village 9.5 miles west of Gouldsboro. Raw hides shipped from Australia and the western United States came to Gouldsboro by railroad and then were taken in two-ton loads by horse drawn wagons over a plank road to Thornhurst for tanning.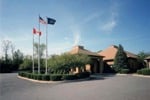 Hotels/Motels
Located near popular recreational attractions, including the Claws 'N' Paws Wild Animal Park, Steamtown National Historic Site and Promised Land State Park. NASCAR fans will enjoy a day at the races at nearby Pocono Raceway.
16.2 miles from park*
The sand beach at each park is open from late-May to mid-September, 8 a.m. to sunset. Swim at your own risk.
Boating: electric motors only

The 250-acre Gouldsboro Lake has overnight mooring at 50 seasonal mooring spaces, which requires a state park mooring permit, available at most state park offices.

Motorboats must display a boat registration from any state. Non-powered boats must display one of the following: boat registration from any state; launching permit or mooring permit from Pennsylvania State Parks that are available at most state park offices; launch use permit from the Pennsylvania Fish and Boat Commission.
---
Gouldsboro State Park is located near Clarks Summit, East Stroudsburg and Hawley
---
Gouldsboro State Park provides five wooded picnic areas with about 300 picnic tables. Picnicking is permitted throughout the year. An accessible picnic pavilion, with electricity, may be reserved from 11 months in advance. If unreserved, the picnic pavilion is free on a first-served, first-served basis.
Trails at Gouldsboro:

The rugged terrain of Tobyhanna and Gouldsboro state parks makes for challenging but rewarding hiking. All trails are blazed. Double blazes indicates a change of direction or a junction of two trails.

Follow these rules for a safe hike:

An adult should accompany children.

Be sure to wear hiking boots.

Motor vehicles are not permitted on the trails, except snowmobiles are permitted on designated trails.

Prospect Rock Trail: 5.8 miles, blue blaze, difficult hiking. This large, loop trail begins in the day use area. Some sections follow the old entrance road and Old Route 611, which are suitable for bicycling and cross-country skiing. But, there are several very rocky sections.

Old Route 611: 1.25 miles, blue blaze, easy hiking. This flat, wide trail runs along the western side of Gouldsboro State Park, paralleling I-380. Part of the trail is Prospect Rock Trail. This trail is excellent for hiking, bicycling and cross-country skiing.
---
---
Sterling Inn The
South Sterling, PA
(570) 676-3311
Country Surrey Inn
3rd St
Gouldsboro, PA
(570) 842-2081
Mountaintop Lodge
Route 940
Pocono Pines, PA
(570) 646-6636
Pine Hill Lodge
42 Pine Hill Rd
Mt Pocono, PA
(570) 839-9579
The park entrance is one-half mile south of the village of Gouldsboro on PA 507. PA 507 intersects with I-380 at Exit 13, two miles south of the park entrance, and with I-84, 13 miles north of the park entrance.