HANGING ROCK STATE PARK
HANGING ROCK STATE PARK
2015 Hanging Rock Park Road
Danbury, North Carolina   27016
Phone:
336-593-8480
Reservations:
877-722-6762
Email:

Welcome! Not far from the cities of the Triad area, off the four-lane highways there's another North Carolina to be discovered?sheer cliffs and peaks of bare rock, quiet forests and cascading waterfalls, views of the piedmont plateau that stretch for miles.

Hike the trails of Hanging Rock State Park and let nature put life's hectic pace in perspective. Rent a vacation cabin and fall asleep to the lullabies of spring peepers and chorus frogs. Join an interpretive program and discover something new about nature's bounty. Nestled in the hills is a cool mountain lake that beckons to swimmers and fishermen. Picnic areas and campgrounds lend themselves to time spent with family and friends. Hanging Rock State Park awaits you.

Park hours:

November-February, 8 a.m.-6 p.m.

March and October, 8 a.m.-7 p.m.

April, May, September, 8 a.m.-8 p.m.

June-August, 8 a.m.-9 p.m.

Closed Christmas Day

Park office hours:

8 a.m.-5 p.m. daily

Closed state holidays
One of the most easterly mountain ranges in the state, the Sauratown Mountains are often called "the mountains away from the mountains" because they are separated from the nearby Blue Ridge Mountains. Prominent peaks in the Sauratown range rise from 1,700 feet to more than 2,500 feet in elevation and stand in bold contrast to the surrounding countryside, which averages only 800 feet in elevation.

Named for the Saura Indians who were early inhabitants of the region, the Sauratown Mountains are the remnants of a once-mighty range of peaks. Over many millions of years, wind, water and other forces wore down the lofty peaks. What remains of these ancient mountains is the erosion-resistant quartzite, which now supports scenic ridges and knobs, including Moore's Knob, Moore's Wall, Cook's Wall, Devil's Chimney, Wolf Rock and Hanging Rock.

In 1936, the Stokes County Committee for Hanging Rock and the Winston-Salem Foundation donated 3,096 acres of land to the state of North Carolina for the purpose of establishing a state park. Additional land was added to the park as recently as 2000, bringing total acreage to 6,921.

Many facilities in the park were constructed by the Civilian Conservation Corps (CCC) between 1935 and 1942. A concrete and earthen dam completed in 1938 impounded a 12-acre lake, and a stone bathhouse, diving tower and sandy beach also were built. Other facilities constructed by the CCC include a park road and parking area, a picnic area and shelter, and hiking trails. In 1991, the bathhouse was added to the National Register of Historic Places.

Funds from the $35 million state parks bond referendum approved by voters in 1993 paid for construction of Hanging Rock's new visitor's center. The fully accessible stone and wood structure offers an auditorium, exhibit room and a classroom for interpretation and education programs. It also houses the park office and serves as a contact station for the thousands of people who visit the park each year.
Family camping: Cross Cascade Creek and wind your way up a forested ridge to the family campground where two one-way loops house 73 campsites for tents and trailers. One site is wheelchair accessible. Each campsite has picnic table, grill and tent pad. Drinking water and washhouses with laundry sinks and hot showers are nearby. A modest fee is charged for campsites, which are available on a first-come basis. Recreational vehicle hookups and dump stations are not provided. (Wash houses are closed Dec. 1 - March 15.)

Group camping: Eight campsites located near the entry gate offer a wilderness camping experience for organized groups at a modest fee. Each site has picnic tables and a fire circle. Pit toilets and water are located nearby. Reservations are required.

Vacation cabins: A short road from the family campground leads to six rustic family vacation cabins, each accommodating up to six people. One cabin is handicapped accessible. Each cabin includes two bedrooms, a kitchen and a living room. During the spring and fall, cabins may be rented by the night with a minimum of a two-night stay. Summer rentals are available by the week only. Reservations are required; an application must be completed and mailed to the park. Contact the park to check on cabin availability.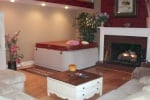 BBs / Inns
Designed with Romance In Mind for your Perfect Romantic Getaway for you your Sweetheart. We are nestled in a wooded landscape, our individual log cabins are designed to provide you with the rustic charm of yesteryear along with the comforts we enjoy today.Honeymoon Suites available as well A six acre lake in walking distance from all cabins suites.
11.2 miles from park*
Tucked into the hills is an inviting 12-acre lake, formed by the damming of Cascade Creek. A popular center of activity at the park, the lake is a source of beauty as well as fun. A hardwood forest extends to the shoreline from surrounding slopes, and paths along the lakeshore lead to the dam and offer views of the lake and surrounding woodlands. A stone and timber bathhouse includes restrooms, dressing rooms, a snack bar and a lounge area with a view of the lake and Moore's Knob. Swimming is allowed during the summer from 10 a.m. until 6 p.m. Contact the park for more information.
Private boats are not permitted, but rowboats and canoes are available for rent during the summer. A state fishing license is required.
Fish from the shore, a wheelchair-accessible pier or the middle of the lake. Bass and bream are plentiful.
---
Hanging Rock State Park is located near King, Madison and Pfafftown

Pilot Mountain State Park

Mayo River State Park
---
Two picnic areas offer 60 picnic sites and 15 grills each. One area is near the trailheads for Window Falls and Indian Creek trails and is shaded by the large trees of the hardwood forest. The other picnic area is on a shaded, terraced hillside near the lake. Some of the picnic tables are wheelchair accessible. Drinking water and restrooms are located nearby.

Shelters for group picnics are located in each picnic area. Each of the three shelters offers tables and a fireplace. The picnic shelters are available by reservation for a modest fee. If the shelters are not reserved, they are available on a first-come basis free of charge. For directions to a specific shelter, please stop by the visitor's center.
More than 18 miles of wooded passageways form a network of 12 trails at Hanging Rock State Park. Picturesque cascades and waterfalls, high rock cliffs, spectacular views of the rolling Piedmont and Blue Ridge Mountains, and a mountain cave are just a few of the rewards of exploring by foot.

Persons with disabilities will enjoy a short wheelchair-accessible trail that leads to a rock outcrop. An accessible deck is located near the visitor's center for clear views of Hanging Rock.
Rangers hold regularly scheduled educational and interpretive programs about Hanging Rock State Park.

To arrange a special exploration of Hanging Rock State Park for your group or class, contact the park office.

Educational materials about Hanging Rock State Park have been developed for grades 5-8 and are correlated to North Carolina's competency-based curriculum in science, social studies, mathematics and English/language arts. The Hanging Rock program introduces students to basic geologic concepts and relates the concepts to the Sauratown Mountain range. Accompanying the program is a teacher's booklet and workshop, free of charge to educators.
Exhibit hallThere's more to Hanging Rock than outdoor recreation! Stop by the park visitor's center to learn more about the natural and cultural history of the park. From hands-on exhibits about plants and animals to a video about the Civilian Conservation Corps, there's much to see, learn and do.

A hall in the visitor's center offers a variety of interactive exhibits. Open panels of a dead tree to see what's inside. Or, watch a video about the people who formed the park. Learn about geology, bend a rock, or try to build a wall out of stone. Enjoy dioramas of the plants and animals that live on rocky cliffs and near creeks.

Rock climbingRock climbing is available in the park by permit. Cook's Wall and Moore's Wall, a series of cliffs up to 400 feet high and extending almost two miles, provide opportunities for seasoned climbers and novices alike. All other areas of the park are closed to climbing and rappelling.

All climbers must register with the park by completing a climbing and rappelling registration and activity permit which is available at the park office. There is no fee for this permit. Prior to activity, a copy of the permit must be deposited in a registration box or given to a park ranger. An additional copy is provided for participants and must be held in their possession while engaged in climbing or rappelling.

Participants are responsible for their own personal safety, including securing proper training and equipment, and adhering to safe practices. Basic rock climbing safety equipment and techniques must be used at all time. In the lobby of the visitor's center, learn more about the Saura Native Americans or check out the latest exhibit posted in the hallway display case. Whatever you do, make sure you allow yourself enough time to enjoy some outdoor recreation at the park, too! The exhibit hall is open from 9 a.m. until 5:45 p.m. daily during the summer months and is also open daily during other seasons.
---
---
Hanging Rock State Park is located in Stokes County, four miles northwest of Danbury. From I-40, take US 52 north. Take the Germanton/NC 8 exit, and turn left, following NC 8 for 25 miles through Danbury. Two miles north of Danbury, turn left onto Hanging Rock Road/SR 2015. Drive two miles to the park entrance at the end of Hanging Rock Road.

Pilot Mountain State Park

Mayo River State Park