HOLLY RIVER STATE PARK
HOLLY RIVER STATE PARK
PO Box 70
Hacker Valley, West Virginia   26222
Phone:
304-493-6353
Toll Free:
800-225-5982
Email:

The dense forests of Holly River State Park provide guests with a natural feeling of peaceful solitude. Located near the center of the state in Webster County, it is far from the hustle and bustle of city life making it a perfect vacation getaway.

Holly River is the second largest park in the West Virginia park system with a total of 8,101 acres. Nestled in a narrow valley, the park is surrounded by heavily forested mountains some reaching heights of over 2,800 feet.

In the midst of this woodland paradise, park guests will find a myriad of recreational opportunities. Playing tennis on modern courts, surrounding yourself with nature on one of the numerous hiking trails, or just soaking up the sun by the swimming pool--all of these spell Holly River State Park.
Cabins

Guests visiting Holly River State Park may choose from among ten completely furnished standard cabins for their stay (five 2-person and five 4-person cabins). Constructed of either natural stone and/or logs, they are located in a peaceful setting of rhododendron and sturdy hemlock through which courses a small stream feeding Laurel Fork.

Each cabin features: A wood-burning insert in a stone fireplace, bath with shower, fully equipped kitchen w/ modern appliances and utensils, towels, dishcloths, and linens

Cots and cribs are available at a nominal fee and may be reserved in advance to avoid a handling charge.

Cabins are open from the first weekend in April through the fourth Monday in November. Check-in time is 4 p.m. and check-out time is 10 a.m. No pets are allowed in the cabins or cabin area.
For those park guests who want to rough it, there is the alternative of Holly River's excellent camping facilities. The 88-unit campground offers electric hookups, picnic tables, and cooking grills at each site. A dumping station and four centralized bathhouses with toilet facilities, hot water showers and coin-operated washers and dryers round out the list of conveniences. Firewood is available for a nominal fee. Camping areas are normally open from the first weekend in April through November with a maximum camping period of two weeks allowed. Only one tent or trailer is allowed per site and check-in time is noon.
---
Holly River State Park is

Kumbrabow State Forest

Burnsville Lake
---
There are two large pavilions that may be rented by the day. The Old Pavilion is a rustic but conveniently located shelter built in the 1930's. The modern Carpenter Pavilion is also popular for large groups and family reunions. The Balli Pavilion is for smaller groups of up to 30 people. Shelters are reservable up to a year in advance. Please call for availability and reservations. 304-493-6353.
Hiking on the many trails the park offers is another way to get acquainted with the flora and fauna of the region. Trails to two waterfalls, Tecumseh and Tenskwatawa, named for two legendary Indian chiefs of the area, are quite popular. Or perhaps you might prefer the hike to Potato Knob with its commanding view at 2,480 feet. At the bottom you won't want to miss the famous "Shupe's Chute" waterfall.
During the summer season, a park program coordinator plans special activities for the nature/recreational program. Such popular features as nature hikes, films, hayrides, marshmallow roasts and sports events are organized for your added enjoyment.
---
---
Pine Ridge Bait Shop
Sherwood Lake Rd
White Slphr Spgs, WV
(304) 536-2907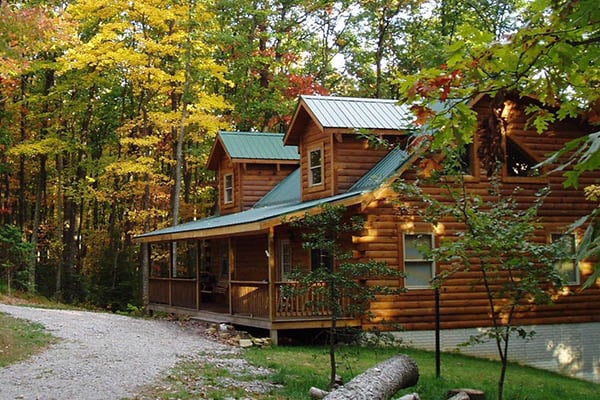 Cottages and Cabins
Deluxe Log Cabins Rental, Tree Houses rental and Glamping Yurts cabins. All located a a remote scenic wooded area, near the New River national River and Gauley River National recreational area. Only 10 minutes from the New River Gorge Bridge Each cabin has a Hot tub and 3 cabins have a Red Heart Shaped Jacuzzi tub and gas fireplaces - Great for Romantic Get-a-Ways.
52.4 miles from park*
Holly River State Park is located on WV 20, 32 miles south of Buckhannon and 20 miles north of Webster Springs. Interstate 79 running north/south through central West Virginia offers access to WV 20 at several points.

Kumbrabow State Forest

Burnsville Lake