KOOSER STATE PARK
KOOSER STATE PARK
943 Glades Pike
Somerset, Pennsylvania   15501
Phone:
814-445-8673
Toll Free:
888-727-2757
Reservations:
888-727-2757
Email:

In the heart of the Laurel Highlands at an altitude of 2,600 feet, Kooser State Park attracts visitors year-round to its 250 acres of forest and the beautiful trout stream that flows the full length of the park. The park?s original design character was stamped by the Civilian Conservation Corps projects of the 1930s that established the existing lake and most of its use areas, its architecture and site details. The park design stresses rustic values in site and building materials and in their application: native stone, rough sawn and stained wood surfaces, log and timber members.
Kooser State Park derives its name from John Kooser, who in 1867, settled in the western end of the park near what is now known as Kooser Spring. The early settlers told of an American Indian battle that was fought nearby. A number of war arrows and spearheads have been found in the area. A contingent of Washington?s Army, known as Coxes Army, crossed Laurel Summit near here during the Whiskey Rebellion.

The land for Kooser State Park was acquired by the Commonwealth of Pennsylvania in 1922. In the late 1920s, the Van Dyke Area was used for summer tenting by people who would camp from early spring until late fall. In 1933, a Civilian Conservation Corps (CCC) camp was established in the western end of the park. The ?CCC Boys? built new roads, fireplaces, cabins and a lake. In 1945, a tornado hit the area and did a tremendous amount of damage to Kooser?s wooded areas.

For more information on the CCC, visit the Civilian Conservation Corps Online Archive.

In 1955, the present tent and trailer area was developed. Water was piped from Kooser Spring throughout the park and the original dam was rebuilt with a modern earth and concrete breast and an all-sand beach.

In 2002, portions of the park closed for improvements. Growing Greener money was used to add modern restrooms to the campground and make improvements to the day use area.
There are nine rustic rental cabins available for use year-round. A nearby modern showerhouse is available. Summer rentals are for one week only. The cabins have mattresses, refrigerator, stove and hot water. Renters must bring all cooking and sleeping supplies. One cabin is accessible.
Camping: modern sites, some with electric

There are 47 tent and trailer campsites open the second Friday in April through mid-October. Accessible sites and a sanitary dumping station are available. Fourteen (14) campsites have electric hookups.
---
Kooser State Park is located near Johnstown, Latrobe and Mount Pleasant
---
Many picnic tables and the Mighty Oak Picnic Pavilion are available for year-round picnics.
Hiking: 1 mile of trails

The Kincora Trail is a popular trail named in honor of an Irish priest. Many short trails are in the day use area and cross-country ski trails are also available for hiking.

Cross-country Skiing: The 1.5-mile Kooser Trail is very popular due to the heavy snowfalls of the area. It is a well-marked trail and classified as ?easiest.?

There is also a 20-mile cross-country ski touring concession adjacent to the PA 653 parking area of nearby Laurel Ridge State Park. A fee required for visitors to use this trail.
For more information on the many nearby attractions contact: Laurel Highlands Visitors Bureau, 800-333-5661, www.laurelhighlands.org orthe Somerset Chamber of Commerce, 814-445-6431.

Forbes State Forest: The 51,000-acre Forbes State Forest provides hunting, fishing, hiking, general recreation and the highest point in Pennsylvania, Mount Davis--3,213 feet. 724-238-1200.

Laurel Highlands Hiking Trail: This 70-mile backpacking trail goes from Ohiopyle State PArk to the Conemaugh River. The PA 31 parking area and shelter are near Kooser State Park.
---
---
Laurel Hill Trout Fishing Pond
4360 Route 31
Somerset, PA
(724) 593-7101
Barron's at the Springs
843 Blue Hole Rd
Champion, PA
(814) 352-7884
Hidden Valley Resort & Comm
1 Craighead Dr
Hidden Valley, PA
(814) 443-8000
Seven Springs Mountain Resort
777 Water Wheel Dr
Champion, PA
(814) 352-7782
Laurel Highlands Lodge
212 Snyder Rd
Donegal, PA
(724) 593-7223
Roaring Run Resort PS
RR 1 Box 531
Champion, PA
(724) 593-8847
Laurel Hill Trout Lodge
4360 Route 31
Somerset, PA
(724) 593-7101
Roaring Run Resort
194 Tannery Rd
Champion, PA
(724) 593-7837
Kettler Forlines Resort Homes
9068 Woodridge
Champion, PA
(814) 352-7771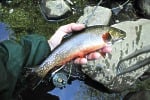 Cottages and Cabins
For those who like to fish for wild trout...this is the place to be Savage River Outfitters is a full line Orvis Dealer and Fly Shop with vacation rentals located on the Savage River in Western Maryland. Call ahead to book a half or full day wade trip or fly fishing instructions.
37.6 miles from park*
Kooser State Park is on PA 31 midway between the Donegal and Somerset turnpike exits, at the eastern foothills of Laurel Mountain Summit. Kooser State Park is a one hour drive from Johnstown, Pa. or Pittsburgh, Pa.