MUSKINGUM RIVER PARKWAY
MUSKINGUM RIVER PARKWAY
1390 Ellis Dam Rd
Zanesville, Ohio   43701
(lat:39.6285 lon:-81.8498)

Phone:
740-767-3570
Reservations:
866-644-6727
The Muskingum River Parkway and its 160-year-old navigation system were designated a National Historic Civil Engineering Landmark by the American Society of Civil Engineers in July 2001. Along with such majestic institutions as Hoover Dam, The Empire State Building and the Golden Gate Bridge, the Muskingum River's 10 hand-operated locks are now recognized as one of America's great engineering accomplishments.

In its day, the system of locks and dams that extends 112 miles through southeastern Ohio, helped open the state and the entire Midwest to trade and development. Today, it serves the needs of more than 7,000 recreational boaters each year who come to fish, picnic and play in the scenic Muskingum Valley.
The Muskingum River is formed by the confluence of the Walhonding and Tuscarawas rivers in Coshocton, Ohio. From there, it flows south through Zanesville where it is joined by the Licking River until it eventually drains into the Ohio River at Marietta. This mighty river travels 112 miles in all, traversing the scenic hill country.

The rich floodplains of the Muskingum provide suitable conditions for walnut, elm, cottonwood and sycamore. Dense paw-paw thickets line the banks of the river. A rich diversity of bird life and mammals share the wooded shores. The Muskingum provides a remarkable fishery including catches of huge shovelhead catfish. The mighty Ohio muskellunge was once abundant in the Muskingum and its tributaries, but its population has declined in recent years. A number of rare fish share the waters such as sanddarters, northern madtoms, mooneyes and channel darters. The Muskingum and its tributaries have long supported large and diverse populations of freshwater mussels. Dissolved limestone in the river is used by the mussels in constructing their shells. The Muskingum River system supports the last remaining Ohio populations of mussels such as monkeyface shell, fan shell, Ohio pigtoe and the butterfly shell.
The Muskingum River, because of its size and location, has played an important role in Ohio's history. It is the largest river lying solely within Ohio, draining an area equal to one-fifth of the entire state.

Missionaries settled along the headwaters of this picturesque river in 1761. The first permanent settlement in Ohio was established in 1788 at Marietta. One of the city's founders, General Rufus Putnam, recognized the economic potential of the Muskingum River for transporting raw materials to eastern markets and brought in New England shipbuilders. In 1824, steam-powered paddle wheelers joined the flatboat and keelboat traders, generating public support for river navigation.

West Point graduate Major Samuel Curtis designed a system of 10 dams and 11 locks to connect the Muskingum River to the Ohio and Erie Canal at Dresden. Opened in 1841, the system provided navigable waterways from Marietta to Lake Erie.
Ohio does not have an annual pass and does not charge entrance fees to state parks.
Boating
Boating Limits
Unlimited HP
A camping area is provided at Lock 11. There are 20 campsites off State Route 60 and County Road 49 in Muskingum County. Water, picnic tables, fire rings and latrines are provided. Pets are permitted in the camping area at Ellis. There are eight boaters-only, primitive campsites at Lock #5, Luke Chute.
The Muskingum River Parkway in Ohio offers various swimming options for visitors. The parkway features several public access points along the river where people can swim and enjoy the water. Some popular swimming spots along the Muskingum River Parkway include the boat ramps and picnic areas at the Dillon State Park, the Bryan's Place Park in Philo, and the lock and dam areas such as Lock 9 and Lock 10. These locations provide opportunities for swimming, as well as other water activities such as fishing and boating. Visitors can also explore the scenic beauty of the river while swimming and have a memorable experience in the Muskingum River Parkway.
It is suggested that prior to departing for a boat trip on the Muskingum River, boaters contact the park office to check on river and lock conditions. Boats with unlimited horsepower motors, house boats, pontoon boats, canoes and rowboats travel the river. Public launch ramps are provided at Locks 4, 5, 6 and 11. Private ramps are located near Locks 2, 7 and 10.

The Muskingum River is navigable from Dresden to Marietta. However, the river channel from Dresden to Ellis is unmarked and difficult to follow. Information on navigation charts can be obtained at the parkway office.

Some of the tributaries which empty into the Muskingum River are also navigable for short distances and provide excellent fishing. The Licking River which joins the Muskingum River in Zanesville, is navigable only by canoe or rowboat.
All three species of black bass (largemouth, smallmouth and spotted), saugeye and various species of catfish are taken from the river. Bass are also found in several tributaries. Fishing is permitted from boats and at each of the lock sites; however, fishing is prohibited from the lock walls. A valid Ohio fishing license is required.
---
Muskingum River Parkway is located near Newark, Zanesville
---
Picnic tables, grills, latrines, and drinking water are available at all locks except Lock 9 at Philo in Muskingum County. Visitors are requested to build fires only in the grills provided and to dispose of all litter properly.
1. Lock 9 Trail: This trail is located near the Marietta Locks and Dam and offers scenic views of the Muskingum River. It is a moderate, 2-mile loop trail that takes you through diverse landscapes and historic locks.

2. The Wilds Trails: Explore the breathtaking wilderness of The Wilds, a conservation center located within the Muskingum River Parkway. With over 14,000 acres of reclaimed coal mine land, The Wilds offers a variety of hiking trails, including the Hemlock Loop Trail and Carnivore Trail.

3. Luke Chute Conservation Area Trail: Located near Zanesville, this 3-mile trail takes you through a beautiful wooded area along the Muskingum River. It offers opportunities for birdwatching, wildlife spotting, and peaceful river views.

4. Duncan Falls Bike & Hike Trail: This 3.8-mile trail is suitable for both hiking and biking. It starts at Bromley's Market near Duncan Falls and follows the old railway path, providing scenic river views along the way.

5. Philo Lock 10 Trail: This 1-mile loop trail near Duncan Falls offers a peaceful and serene hike along the Muskingum River. The trail passes by the historic Philo Lock and Dam, providing a glimpse into the region's industrial past.

6. Muskingum River State Park Trail: Located near McConnelsville, this 3.5-mile trail offers a mixture of woodland and riverside terrain. Hikers can enjoy beautiful views of the river and observe various bird species along the way.

7. Malabar Farm State Park Trails: While not directly within the Muskingum River Parkway, Malabar Farm State Park is located nearby and offers several scenic hiking trails. Explore the rolling hills of this historic farm, including trails like the Butternut Trail and Hemlock Trail.

8. Marietta River Trail: This urban trail stretches along the Muskingum River in Marietta and offers picturesque views of the riverfront. The trail connects to various parks and landmarks, making it a perfect option for a leisurely stroll or bike ride.

9. Muskingum Recreation Area Trail: Located near the town of Beverly, this trail system offers multiple hiking options along the Muskingum River. With over 5 miles of trails, visitors can enjoy a variety of landscapes, including wetlands, forests, and meadows.

10. Blue Rock State Park Trail: This state park, located south of Zanesville, features several trails that wind through beautiful woodlands and meadows. The 9-mile perimeter trail offers a challenging hike with stunning views of the Blue Rock State Park Lake.

Remember to check the trail conditions and any restrictions before embarking on your hike, and always practice Leave No Trace principles to help preserve the natural beauty of these trails.
Blue Rock State Park and State Forest, east off State Route 60 on Culter Lake Road (CR 45), is between Philo and Rokeby. Camping, fishing, hiking, swimming, boating and picnicking are available. Approximately six miles above the mouth of the Licking is Dillon State Park, off State Route 146. Campsites, cabins, fishing, hiking, boating, swimming and picnicking are available.

The Wilds, located 17 miles southeast of Zanesville, contains a 9,154-acre wild animal preserve open to the public. Entrance fee required, hours vary by season. For details call (740) 638-5030.

For more information about the Muskingum River, contact Zanesville/Muskingum Visitors Bureau at 1-800-743-2303, the Marietta Tourist Bureau at 1-800-228-2577 or the Ohio Division of Travel and Tourism at 1-800-BUCKEYE.


---
---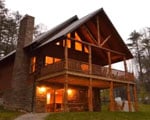 Cottages and Cabins
Trickle Creek offers luxury cabins in Hocking Hills. The cabins are situated on nearly 236 acres of secluded cabin rentals in the deep wooded ravines in the foothills of the Appalachian Mountains in Hocking County, Ohio.
36 miles from park*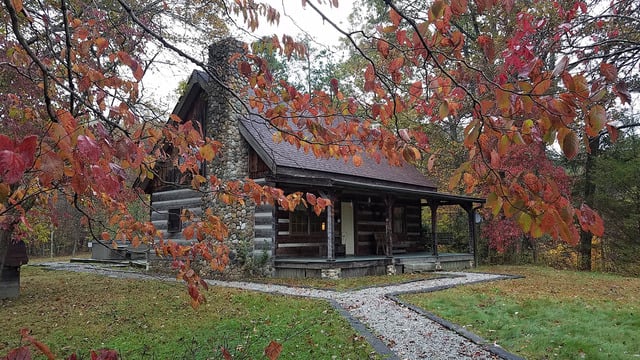 Cottages and Cabins
Hidden Cave Cabin is an authentic log cabin with 2 bedrooms in a private wooded setting. It is located on one of the most scenic drives in Hocking Hills and just 3.6 miles to Rock House and less than 10 miles to Conkle's Hollow and Old Man's Cave.
40.2 miles from park*
The Muskingum River Parkway in Ohio is a scenic drive that follows the path of the Muskingum River, showcasing the natural beauty and historical landmarks of the area. To access the parkway, follow these directions:

1. Starting from I-70, take Exit 142 for OH-93 South toward Adamsville/Zanesville.
2. Merge onto OH-93 South and continue for approximately 6 miles.
3. Take a slight left onto OH-666 South/East Adamsville Road and continue for another 2.5 miles.
4. Turn right onto OH-146 West/Coopermill Road. Follow this road for about 10 miles.
5. You will reach Zanesville and continue onto OH-60 South/Underwood Street.
6. Stay on OH-60 South for approximately 9 miles.
7. Merge onto I-70 East and continue for about 3 miles.
8. Take Exit 156 for OH-83 South toward Frazeysburg.
9. Merge onto OH-83 South and follow it for approximately 5.5 miles.
10. Take a slight right to stay on OH-83 South/Frazeysburg Road.
11. Continue on OH-83 South for about 14 miles until you reach the entrance to the Muskingum River Parkway.

It is recommended to have a detailed map or GPS navigation system to ensure accurate navigation and to fully enjoy the experience of driving along the Muskingum River Parkway. Enjoy the scenic views and historical sites along the way!