NATURAL BRIDGE STATE PARK
NATURAL BRIDGE STATE PARK
It has taken nature millions of years to form the natural sandstone arch from which this park takes its name. Located adjacent to the Daniel Boone National Forest, near the Red River Gorge Geological Area, the bridge spans 78 feet and is 65 feet high.

At Natural Bridge, each season has a unique charm. Hikers are drawn to this rugged, scenic area of high stone cliffs and stone arches, but tenderfoots can also enjoy the scenic, ridge-top views from the park?s sky lift. Hemlock Lodge is nestled in the mountainside, overlooking a pool complex and Hoedown Island.
A Wisconsin State Park System vehicle admission sticker is required on all motor vehicles stopping in state parks, forests and recreation areas, please visit the
VEHICLE ADMISSION STICKERS
web page.
Enjoy the great outdoors in a park campsite. Two campgrounds, Whittleton Campground and Middle Fork Campground, provide 82 sites with utilities. Twelve primitive campsites are also available. Dump stations and two central service buildings with rest rooms and showers are furnished for your convenience.

Open Mid-March through October 31. Camping rates are $12 for primitive sites and $22 for full site per night for 2 adults. Each additional person over 16 years of age $3 per night. No advance reservations. Check-out by 2:00 PM, Eastern time.Pets are allowed if restrained.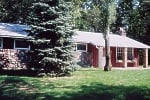 Cottages and Cabins
Vacation cottages, fully furnished, located on the Lower Wisconsin Riverway. Clean 1100 sq. ft. two bedroom cottage with huge granite fireplace. Close to canoe rental, hiking trails and bike paths. Come and enjoy our backyard Wisconsin River shoreline.
13.3 miles from park*
---
Natural Bridge State Park is located near Baraboo, Reedsburg
---
The ten hiking trails range from one-half mile to seven-and-one-half miles. Trail maps are available at the Hemlock Lodge. The Nature Center, located on the ground floor of the Activities Center, houses exhibits about the park. Full-time naturalists program events and activities year-round focusing on native plants animals, geology, and local history. Daily summer activitiesare directed by recreation staff.

The parks is adjacent to the U.S. Forest Service Red River Gorge Geological Area which also offers plenty of hiking opportunities.

Pets are not permitted on the hiking trails in Natural Bridge State Resort Park.

Natural Bridge State Resort Park offers more than just a fun family vacation. Our staff of professional Naturalists is available year-round to provide interpretive programs for groups of all sizes and ages, from school groups to seniors, scouts to corporate outings.
Hoedown IslandMosey on down to Hoe Down Island where knee-slappin?, toe-tappin?, and swingin? your partner is a barrel of fun! Located on the lake below the lodge, this island is an open-air dance patio for weekly square dances. Seasonal with weather. Call park for annual brochure. Park also holds Square Dance Weekends throughout the year.

Sky LiftFor a relaxing climb to natural bridge, enjoy a ride on the sky lift. The ascent begins one-half mile from the park entrance and ends within 600 feet of Natural Bridge.

Open daily first weekend of April through the last weekend in October, $.

Snack BarsTwo snack bars with all of your favorite treats are in the park. One is located near the swimming pool, the other near the sky lift.
---
---
Hotels/Motels
You will feel right at home when you reach Carroll County, our corner of beautiful Northwest Illinois. The magnificent Mississippi River and outdoor spaces will refresh your spirit and touch our soul.
84 miles from park*
The resort is 52 miles southeast of Lexington off the Mountain Parkway on KY 11.