TOWER HILL STATE PARK
TOWER HILL STATE PARK
5808 Cty. C
Spring Green, Wisconsin   53588
Phone:
608-588-2116
Beautifully sited above the Wisconsin River, 77-acre Tower Hill State Park provides campsites, nature and hiking trails, and picnicking facilities. The upland forests, a wide variety of plants, shrubs, birds, and animals, and a 175-foot Cambrian sandstone cliff make the park attractive for those who enjoy natural settings.

The location has special significance in Wisconsin history as the site of the lead region village of Helena and the place where Green Bay entrepreneur, Daniel Whitney, and his partners built a tower to make lead shot, hence the park name. An energetic Yankee entrepreneur who had come to Green Bay in the 1820s, Whitney delved into a wide variety of potentially profitable ventures ? lumbering on the upper Wisconsin (long before Indian title had been extinguished), fur trading, and town-site speculation. He formed a business partnership to manufacture lead shot in 1830 at a time when Wisconsin had no shot tower and he hoped to market lead in the East. Construction began in 1831 and was completed in 1833, having been interrupted by the Black Hawk War.
A Wisconsin State Park System vehicle admission sticker is required on all motor vehicles stopping in state parks, forests and recreation areas, please visit the
VEHICLE ADMISSION STICKERS
web page.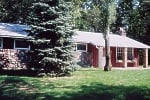 Cottages and Cabins
Vacation cottages, fully furnished, located on the Lower Wisconsin Riverway. Clean 1100 sq. ft. two bedroom cottage with huge granite fireplace. Close to canoe rental, hiking trails and bike paths. Come and enjoy our backyard Wisconsin River shoreline.
14.3 miles from park*