POPHAM BEACH STATE PARK
POPHAM BEACH STATE PARK
10 Perkins Farm Ln
Phippsburg, Maine   04562
(lat:43.743 lon:-69.8051)

Phone:
(207) 389-1335
Bordering the south side of the mouth of the Kennebec River, Popham Beach State Park is truly one of Maine's rare geologic landforms that features a long stretch of sand beach. Sunbathers relaxing on Popham's sands can see Fox and Wood islands offshore, and the Kennebec and Morse rivers border each end of the beach. Visitors can walk to Fox Island at low tide, but are warned to pay attention to the rising tides not to get marooned.

The rolling Atlantic surf draws thousands of swimmers and surfers alike, and shell collecting is a pasttime of many a sea side stroller. Lifeguards are on duty during the summer months, but beachgoers should note that this is a strong surf beach with undertows and occasional rip tides. Swimmers should swim within their abilities and near the lifeguard.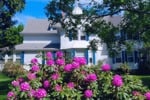 BBs / Inns
An elegant yet casual Romantic, Historic, Victorian Bed and Breakfast. The Inn is perfect for Small Weddings, Honeymoons, Vow Renewals, Engagement Surprises, Anniversaries, Elopements, Family Reunions, Vacations, Ladies Weekends, Family Holiday Gatherings, and Weekend Getaways at the Beach.
32.9 miles from park*
On Maine Route 209 fourteen miles from Bath to Phippsburg - follow signs to the park.