SHIRLEY CHISHOLM STATE PARK
SHIRLEY CHISHOLM STATE PARK
1750 Granville Payne Avenue
Brooklyn, New York   11239
(lat:40.6404 lon:-73.8739)

Phone:
718-277-2420
Shirley Chisholm State Park is named in honor of Shirley Chisholm, a Brooklyn-born trailblazer who was the first African American Congresswoman, as well as the first woman and African American to run for President.

Rising up 130 feet above sea level, this new park occupies some of the highest ground in New York City and offers spectacular panoramic views of the Empire State Building to the northwest, the Verrazano-Narrows Bridge and New York Harbor to the west, and Jamaica Bay to the south.
The site, which has never been open to the public before, rests atop the former Pennsylvania and Fountain Avenue landfills. The Penn and Fountain landfills were operated by New York City Department of Sanitation from 1956 to 1983.

After the landfills were closed, the work to reclaim and repurpose the 407 acres of land as a future park began. The first steps were to install an impermeable plastic cap and a below-ground barrier to fully encapsulate the landfills and support future reuse. A below grade methane gas piping system was also installed throughout the property so that all off gassing is carried to the property's two flares.

More than 1.2 million cubic yards of clean soil - or enough to fill nearly 100,000 dump trucks - was spread up to four feet deep across the site. The site was then planted with more than 35,000 trees and shrubs, and native grassland species. This addition of prairie grass and native plants has created a diverse ecosystem of coastal meadows, wetlands, and woodlands that has attracted a variety of birds and other local wildlife. In addition, this lovely ecosystem works to protect the capped land and prevent erosion.

In 1974, the city deeded the land to the National Park Service as part of Gateway National Recreation Area. Under a cooperative agreement with the National Park Service and the City of New York, New York State Parks is developing and operating Shirley Chisholm State Park.
---
Shirley Chisholm State Park is located near Arverne, Astoria and Baldwin
---
---
---
Ted's Fishing Sta
143 Bayside Dr
Atlantic Beach, NY
(516) 431-4193
Seoul Fishing & Tackle
5319 Roosevelt Ave
Flushing, NY
(718) 565-2376
Rocket Charters
5823 196th Pl
Flushing, NY
(212) 529-6910
Pro-Fishing & Tackle
13422 Northern Blvd
Flushing, NY
(718) 461-9612
First Fishing Equipment
15046 Northern Blvd
Flushing, NY
(718) 886-7322
Cape Ruth Landing
11809 29th Ave
Flushing, NY
(718) 461-2891
Capitol Fishing Tackle Company
218 W 23rd St # 1
New York, NY
(212) 929-6132
Stuyvesant Rod & Gun Club Inc
6469 Dry Harbor Rd
Flushing, NY
(718) 326-7350
Selus Fishing Co
12 Lombardy St
Brooklyn, NY
(718) 387-8388
Glen-Brook Hunting & Fishing
6051 Myrtle Ave # A
Flushing, NY
(718) 417-6077
Uncle Mike's Fishing Sinkers
240 47th St
Brooklyn, NY
(718) 439-0740
Redhook Bait & Tackle
320 Van Brunt St
Brooklyn, NY
(718) 797-4892
Bernie's Fishing Tackle
3035 Emmons Ave
Brooklyn, NY
(718) 646-7600
Name-It Bait & Tackle
2558 Stillwell Ave
Brooklyn, NY
(718) 373-6233
Stella Maris Charters
2702 Emmons Ave
Brooklyn, NY
(718) 769-5678
Uncle Mike Fishing Sinkers
47 4th St
Brooklyn, NY
(718) 439-0740
Bad Influence Inc
2771 Mill Ave
Brooklyn, NY
(718) 629-2248
Crossbay Fishing Station Corp
15835 Crossbay Blvd
Jamaica, NY
(718) 843-3800
Cross Bay Bait & Tackle Shop
16426 Crossbay Blvd
Jamaica, NY
(718) 835-1018
Smitty's Fishing Station Inc
301 E 9th Rd
Far Rockaway, NY
(718) 945-2642
Rockaway Hunting Club
615 Ocean Ave
Lawrence, NY
(516) 569-0600
Bo-GI's Bait and Tackle
2126 Knapp St
Brooklyn, NY
(718) 743-2277
Captain Mike Fishing Boat
16215 96th St
Jamaica, NY
(718) 738-6148
True Blue Tackle
9151 113th St
Jamaica, NY
(718) 805-7710
Rohan Fishing Enterprises
11317 Liberty Ave
South Richmond Hill, NY
(718) 925-0100
Rohan Fishing Enterprise
11407 Atlantic Ave
Jamaica, NY
(718) 441-9123
Shooters Anglers Sport Shop
6105 Grand Ave
Flushing, NY
(718) 894-6122
Leonardo Da Vinci Lodge
202 Wanser Ave
Inwood, NY
(516) 239-9350
Park Hyatt Beaver Creek Rsrt
2120 Kenmore Ter
Brooklyn, NY
(718) 703-0055
Country Resorts Ltd
2157 57th St
Brooklyn, NY
(718) 236-1177
Black Bear Lodge
274 3rd Ave
New York, NY
(212) 253-2178
Lodge At Windham Mountain
29 John St
New York, NY
(212) 791-3070
Courtyard by Marriott
14511 N Conduit Ave
Jamaica, NY
(718) 848-2121
Cuisinart Resort & Spa
99 Park Ave
New York, NY
(212) 972-0880
Wyndham Resort Inc
245 5th Ave
New York, NY
(212) 684-9356
Four Seasons Costa Rica Sales
110 E 59th St
New York, NY
(212) 688-2440
Ski Time Tours Inc
4602 193RD St
Flushing, NY
(718) 357-3514
New Boulevard Motor Inn The
7602 Queens Blvd
Flushing, NY
(718) 457-1400
Marriott Hotels & Resorts
10205 Ditmars Blvd
Flushing, NY
(718) 565-8900
Sheraton Laguardia East Hotel
135-20 39th Avenue
Flushing, NY
(718) 460-6666
Paris Suites Hotel Corp
10917 Horace Harding Expy
Flushing, NY
(718) 760-2820
Sea Sun Holidays Ltd
3 E 54th St # 9
New York, NY
(212) 319-1780
Fairfield Resorts
347 5th Ave
New York, NY
(212) 532-2223
Bright Side Lodge
54 W 40th St
New York, NY
(212) 764-3339
Best Western Gregory Hotel
8315 4th Ave
Brooklyn, NY
(718) 238-3737
Prince Classon Hotel
547 Classon Ave
Brooklyn, NY
(718) 623-3222
Bass Hotels & Resorts
461 3rd St
Brooklyn, NY
(718) 369-6490
Country Resorts Ltd
4616 13th Ave
Brooklyn, NY
(718) 436-2000
Doral Hotels & Resorts
90 Park Ave
Brooklyn, NY
Unverified listing
Marriott Hotels Resorts Suites: New York Marriott Brooklyn
333 Adams St
Brooklyn, NY
(718) 246-7000
Kb Ski & Snowboard Resort
10296 State Rd
Glenwood, NY
(716) 592-4963
Americana Inn
69 W 38th St
New York, NY
(212) 840-2019
Woofspa & Resort
678 Hudson St
New York, NY
(212) 229-9663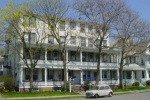 BBs / Inns
The Manchester Inn, The Ocean Grove New Jersey Bed Breakfast and The Secret Garden Restaurant are steps from the white sandy beach and the gentle surf of the Atlantic Ocean. Enjoy the cooling ocean breezes from our rocking chair porch while overlooking Ocean Pathway, Ocean Groves finest avenue
30.2 miles from park*