TAR HOLLOW STATE FOREST
TAR HOLLOW STATE FOREST
Laurelville, Ohio   43135
(lat:39.3549 lon:-82.7671)

Phone:
(740) 663-2538
Tar Hollow State Forest originated from the Ross-Hocking Land Utilization project of the 1930s. The purpose of the program was to locate families to more productive land, thereby enabling them to better sustain a living. Following termination of the project, the land was leased to the Division of Forestry, and finally transferred to the State in 1958. Tar Hollow is Ohio's third largest state forest, containing 16,120 acres. A wealth of recreational activities are available at Tar Hollow State Forest. A 48-site primitive horse camp is located at the south end of the forest on Poe Run Road. Latrines are provided at the camp, but electricity and drinking water are not available. Radiating from the horse camp are 33 miles of bridle trails. All bridle trails re south of the fire tower. A 22-mile network of hiking trails is located in the northern half of the forest. Seventeen miles of paved forest roads and 14 miles of gravel forest roads provide a great opportunity for a scenic drive and allow good access to all areas of the forest.
Tar Hollow State Forest is located in southeastern Ohio, within the counties of Ross and Hocking. It covers an area of approximately 16,000 acres and provides various recreational opportunities for visitors, including hiking, camping, fishing, and hunting. The history of Tar Hollow State Forest can be traced back to its establishment in the early 20th century.

The area now known as Tar Hollow State Forest was once home to Native American tribes, including the Shawnee and Wyandot. European settlers began moving into the region in the late 18th century, primarily from Virginia and Kentucky. The land was primarily used for agriculture, with settlers cultivating crops and raising livestock.

In the early 20th century, the expansion of the timber industry in Ohio led to the increased logging of the area. The forests were heavily exploited to meet the demand for timber, leading to significant deforestation. However, by the 1920s, the state recognized the need for reforestation efforts to prevent soil erosion and protect watersheds.

In 1930, The Ohio Department of Natural Resources (ODNR) began acquiring land in the area to establish a state forest. The Civilian Conservation Corps (CCC), a work relief program during the Great Depression, played a crucial role in developing Tar Hollow State Forest. CCC camps were set up in the area, and the young men employed in the camps worked on various projects, including reforestation, building roads and trails, constructing recreational facilities, and combating forest fires.

The primary objective of Tar Hollow State Forest was to reforest the area and manage the land for sustainable logging. The CCC helped plant over 10 million tree seedlings, contributing significantly to the reforestation efforts. The forest was officially dedicated in 1938 and named for the tar-like substance found in the hollows of the area.

Over the years, Tar Hollow State Forest has continued to be managed by the ODNR, with a focus on forest health, wildlife management, and recreational opportunities. Today, it is a popular destination for outdoor enthusiasts and nature lovers, offering a wide range of activities and serving as a habitat for various wildlife species.

In recent times, efforts have been made to protect the forest's natural resources and improve recreational infrastructure. Numerous trails have been developed, including the renowned 21-mile Logan Trail System, which provides opportunities for hiking, backpacking, and horseback riding. The forest also contains several campgrounds and picnic areas, offering visitors the chance to immerse themselves in the natural beauty of Tar Hollow State Forest.
Camping
Horsemen Campsites, #
48
1. Tar Hollow State Park Campground: This campground offers both electric and non-electic sites for tents and RVs, as well as shower houses, flush toilets, a camp store with supplies like firewood or ice.

2. Backcountry Camping: For those who prefer more primitive camping experience can opt for backcountry camping in the state forest itself where they are allowed to set up camp anywhere that is at least 100 feet from any trail or water source.

3. Group Camping Areas: There are several group campsites available within the park which include amenities such as picnic tables, grills/fire rings etc., ideal for large groups of friends or family members looking to enjoy nature together.

4. Cabins Rental Options : The park also has cabins available year-round offering heating/cooling facilities along with kitchen appliances & utensils making it perfect choice if you're not into tent/RV camping but still want an outdoor adventure.

5.Logan Conference Center - If you have larger events planned then this center provides lodging accommodations including dormitory-style sleeping quarters

6.Horseman's Camp Area- A separate area designed specifically keeping horse riders in mind providing hitching rails , mounting blocks among other things

Remember all these options require prior reservations so make sure to plan your trip accordingly!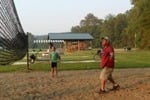 Cottages and Cabins
Rustic beauty in a peaceful, clean atmosphere is the secret to this Family Retreat. The serene splendor of Mother Nature is your reward for visiting Walnut Creek. We offer cabin rentals for those who want the convenience with less effort.
10.2 miles from park*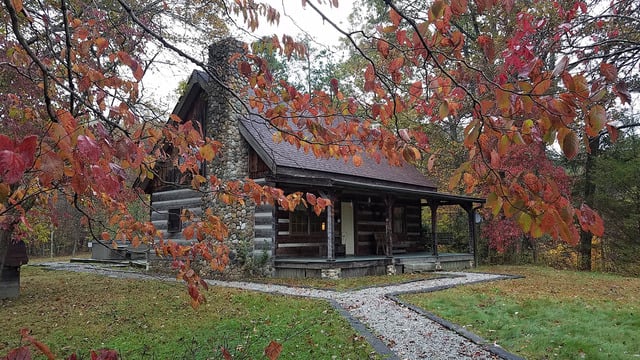 Cottages and Cabins
Hidden Cave Cabin is an authentic log cabin with 2 bedrooms in a private wooded setting. It is located on one of the most scenic drives in Hocking Hills and just 3.6 miles to Rock House and less than 10 miles to Conkle's Hollow and Old Man's Cave.
14.8 miles from park*