WELDON SPRINGS STATE PARK
WELDON SPRINGS STATE PARK
4734 Weldon Springs Rd
Clinton, Illinois   61727
Phone:
217-935-2644
Email:

Lying just southeast of Clinton in DeWitt County, Weldon Springs State Recreation Area is a 550-acre park for all seasons. Weldon Springs' recreational agenda is among the most comprehensive in the state park system, offering recreational opportunities year-round. During the milder seasons, you are invited to fish, boat, picnic, camp, hike, and view wildlife. Or, you might want to pitch horseshoes at the park's tournament-quality horseshoe pits. When the snow flies, hardier outdoors persons not only continue many of the warmer weather pursuits, but add sledding and tobogganing on a one-eighth mile hill, ice fishing and cross-country skiing to the itinerary of their visit.
Purchased by Judge Lawrence Weldon before the Civil War, this site was opened to area residents and youth clubs for picnics for many years. In 1900, Judge Weldon leased the property to the Weldon Springs Company. 150 shares were sold to the public at $50 per share to raise the capital needed to establish an annual assembly known as a Chautauqua. Over the next twenty years, improvements included a dam, bridges, trails, a boathouse, a bathhouse, a diving tower, a pavilion, and an auditorium.

For ten days each summer from 1901 to 1921, area residents gathered at the site to hear some of the best public speakers and entertainers of the day. Representing every field of interest, programs were presented for the entertainment, education, and "moral elevation" of the participants. At a price of $1.50 for a season ticket, as many as 325 families camped for the entire term, enjoying the opportunity to socialize with their neighbors. A contemporary account described the event as "forty acres of water, tents, and teams."

Each summer, farmers converged on the site with a 10-day supply of camping necessities - a rug made of old carpets, cots and folding beds, oil burners with ovens, an old dresser, folding chairs and rockers. An ironing board, included in the list of necessities, served its intended purpose and doubled as a table, buffet, and counter. Food items that required refrigeration were placed in water chests that were cooled by water from the springs. The temporary tent city also included a grocery, dining hall, popcorn wagon, police tent, post office, information center, telephone station, check room and physician's tent. The steam launch Columbia made trips on the lake.

The WCTU sponsored a kindergarten tent to allow parents the opportunity to attend lectures without their children at a cost of $.30 per day or $1.50 for the full ten days. Three sessions of programming were offered each day - morning, afternoon and evening.

Political speakers engaged in debates discussing a variety of issues from which party had caused the Panic of 1893 to whether the country should hold on to the Phillippines. Those who attended heard the southern viewpoint on the Civil War and Reconstruction and the story of Count Alexander Lochwitzky's imprisonment and exile by the Russian czar. Former President Taft, House Speaker Champ Clark, Vice Presidents James S. Sherman and Adlai Stevenson I, senators, governors, and judges all made appearances.

Most popular were William Jennings Bryan and evangelist Sam Jones. Reverend Billy Sunday was also a regular guest. Female speakers included Helen Keller and Carrie Nation, both making return visits.

The rise of the automobile and the motion picture spelled the demise of the annual Chautauqua Assembly, but the site continued to enrich the lives of area residents. The Judge's son, Lincoln Weldon, bequeathed the original 40 acres along with an additional 10 acres to the City of Clinton to be known as Weldon Springs Park in 1936. The state of Illinois accepted ownership in 1948.
Named by Family Circle magazine to be one of the "Top Twenty Campgrounds in America", Weldon Springs' campground offers a quiet and friendly atmosphere for a relaxing camping experience.

The traditional Class A campground has 77 campsites with electricity, water service, vehicular access, sanitary dumping station, shower building, cooking grills, picnic tables, pit toilets and playground equipment. Weldon Springs? campground is open year-round; the shower building closes November 1 and reopens in the spring. Reservations are accepted for dates between May 1 and September 30 for ten Class A sites and one Class C. Five of the reservable Class A sites are pull-thru. Areas for tent, backpack, large group and youth camping are also available. Primitive backpack campsites are located along Salt Creek. Please call ahead for conditions, as these sites could be flooded in spring.

Black Locust Group Camp can accommodate up to 300 campers at one time. Long Point is for youth groups only and can accommodate up to 90 campers. This group tent camping area is lakeside and located near the main campground. Amenities at Long Point include a shelter, water, fire rings and picnic tables.

Disabled campers are also served. Three campsites designed for special needs offer a large hard-surfaced pad. Privies and water are easily accessible.

Alcohol is not allowed in the tent camping area, primitive backpack sites, and the Black Locust and Long Point Group Camps.
Fishing:

A 29-acre, spring-fed lake with two miles of shoreline dotted with bank fishing platforms and a boat launching ramp provide anglers with easy access to a fish population boasting sizeable largemouth bass, catfish, bullhead, crappie, bluegill, and sunfish. There are size and catch limits for some species: Largemouth Bass - 15" limit, 1 daily; Channel Cat - 6 daily. Only electric boat motors may be used. Fishermen may rent boats at the Concession Stand.
---
Weldon Springs State Park is located near Clinton, Decatur and Normal

Clinton Lake State Recreation Area
---
In addition to eight large picnic areas, six of which have shelters, the picnic enthusiast will find small groups of tables at a number of locations throughout the park. Cooking grills or fire rings, water hydrants, toilet facilities and parking spaces are available at each picnic ground. Most of the large picnic areas also have electrical service and playground equipment. Six shelters are available on a reservation basis.
The Lakeside Self-Guiding Interpretive Trail circles the lake, winding 2 miles through riparian habitat where the forest and lake communities meet. A brochure and numbered posts beside the trail interpret natural features along the way.

The Beaver Dam Trail winds 7/8 of a mile between woodland slopes, alongside the Hidden Ponds, and across and beside a small stream. This trail is ideal for a night hike - listening to frogs, insects and whip-poor-wills in spring and summer; and owls year-round.

The Whitetail Ski Trail quickly drops into the bottomlands of Salt Creek. Birders should watch for migrating warblers, wild turkeys, and eastern bluebirds; herons, hawks and owls. The biggest tree in the park, a silver maple, grows beside the creek in the primitive campsites. This 2 7/8 mile trail may be flooded in spring.

The Schoolhouse Trail is a 1 1/3 mile loop of the 80-box bluebird trail maintained in the park. Bluebirds can be observed from late February to October. Circling the native prairie restoration project, walkers may observe various stages of the restoration process as meadow dotted with trees becomes tall-grass prairie. More than 30 different butterfly species have been identified visiting prairie and meadow flowers. Big bluestem and Indian grass may reach heights of 6-10 feet by September.

The Heritage Trail traces Weldon Springs' heritage. A brochure guides the visitor to interpretive signs describing each stop. Beginning at Union Schoolhouse, built in 1865, the trail visits native prairie, white oak savanna, and old-growth woodland demonstrating the landscape as it appeared when the first European settlers arrived. Other sites describe the Chautauqua meetings held at the site at the turn of the century and the springs that formed millions of years ago.

The Habitat Trail highlights the variety of habitat types represented in the park. Wetlands include lake, pond, stream, marsh and riparian habitats; deciduous forest includes upland slope, creek bottomland, and woodland savanna; meadow and prairie are grasslands found in the park; and linear habitats include fencerow, thicket, suburban lawn, and greenbelt. Walkers on this trail visit all fourteen habitats.

The Salt Creek Backpack Trail provides ten backpack camping sites along its route for those who prefer a more rustic setting for camping. Campers may hear the evening serenades of coyote; great-horned, barred and screech owls; whip-poor-wills and wild turkeys. White-tail deer, beaver, muskrat and mink are often seen along this trail.
Wildlife Carving:

Using two chain saws, a fordom, and a grinder, carver Paul Hoffman of Mt. Pulaski revealed life-sized images of Weldon Springs? wildlife in the golden wood of a bald cypress tree that lived and died in the marsh.

Begun as a quick sketch on the back of a paper plate, Hoffman?s vision took shape over eighty hours of carving. First to appear was the owl perched atop the work. Hoffman worked his way down the trunk of the tree, removing the scaffolding one layer at a time as he revealed the raccoons, the woodpecker, the squirrel and the beavers. Careful observers will also discover a turtle and a frog carved on exposed roots of the tree.

Hoffman grew up in Clinton and spent time at Weldon Springs as a child. He began carving at age 12, when he won a contest for soap carving. He carved wood sculptures for over 20 years, but discovered his talent with a chainsaw just a few years prior to his death in 2001.

The Springs:

The history of the springs themselves was written long before our settlers reached Illinois.

The source of the water which flows from the natural springs can be traced to an ancient river that flowed through DeWitt County millions of years ago. This river, known as the Teays River, was born in the Paleozoic Age when the land began to rise and drain the inland sea which once covered most of central North America.

This predecessor of the Ohio River reached a width of fifteen miles in DeWitt County. The biggest river of interior America, the Teays was fed by the Ancient Mississippi River, the Ancient Iowa River, and the ancient Missouri River.

The destruction of this ancient master river began a little more than 2,000,000 years ago when the Pleistocene Age ("Ice Age") spawned a series of glaciers. The Kansan glacier completely covered the Teays, and the Illinoisan and Wisconsin glaciers that followed deposited as much as 200 feet of glacial till over the Teays Valley, completely obliterating it.

The Teays stopped flowing as a surface stream, but groundwater, resting on an impervious layer of bedrock, flows easily through the till deposits under the influence of gravity, seeping out of the sand and gravel to form the springs.

Union School Interpretive Center:

Built in 1865, Union School served the rural residents of Logan County, Illinois for more than 80 years. The historic building was moved to the prairie at Weldon Springs, restored, furnished, and equipped for use as both a visitor center and a temporary classroom for area school groups that wish to relocate for a day. A year-round interpreter is available for talks, programs and activities to enhance the visitor experience.

More than a museum, Union School is a "hands-on" learning center with a "please touch" philosophy. Both science and local history are emphasized.

A collection of taxidermist-mounted mammals which make their homes in the park encourages visitors to pet a squirrel's tail, feel a badger's claws, or examine a beaver's teeth. Discovery boxes are filled with natural treasures grouped around a central theme to stimulate students' curiosity about the natural world. Insect cards demonstrate many of the basic concepts of ecology with magnified specimens. Additional natural history exhibits examine the park's variety of habitats, the eastern bluebird nestbox trail, forestry, animal builders, and raptors.

Historic exhibits follow the park's development from railroad holding in the 1850's, through the Chautauqua Assemblies at the turn of the century, to its establishment as a state park. Old photos and other historic memorabilia share life in a one-room school, the Schoolhouse project, and a local timeline.

The Texas Township Community Building was moved to the prairie in 1995. The Town Hall houses collections of bird nests, rocks and minerals, mussels, animal tracks, grasses, galls, insects and butterflies.

The Union School is available for meetings.
---
---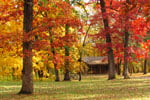 Cottages and Cabins
Within a 10 minute drive from Starved Rock and even closer to Matthiessen State Parks you will find a gorgeous, tranquil property with spacious cabins on 50 wooded acres. All with full kitchens and outdoor fire pits. 3 dog friendly.
75.5 miles from park*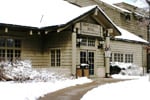 Hotels/Motels
Relax in the rustic beauty and comfort of Starved Rock Lodge, Cabins and Starved Rock Inn. The historic Lodge has 69 guest rooms, which include three bay-window rooms, plus cabins nestled in the woods. Fireplaces can be found in four of the eight sunset cabins near the pool area...
82.8 miles from park*
From stoplight south of Clinton on Rt. 51, follow signs 3 miles to the east OR Go east of Clinton on Rt. 10 to sign, turn south & follow signs 2 miles to park.

Clinton Lake State Recreation Area