WORTHINGTON STATE FOREST
Some of the most rugged terrain and splendid views of northern New Jersey are found in Worthington State Forest. A rocky and sometimes steep trail follows Dunnfield Creek from the Delaware River to Mount Tammany or hikers may choose to follow the trail to Sunfish Pond, one of the most popular sites in the area. Millions of years in the making, the pond was carved out by glacial forces during the last ice age and is one of fourteen rock-basin lakes between the Delaware Water Gap and the end of Kittatinny Ridge. A trail circles the pond, with many boulders and openings for resting and observation.
Campsites: 69 tent and trailer sites with picnic tables and fire rings. Open April 1 through December 31. Campsites 1-77 have modern toilets and showers. $20 per night.

Group campsites: Three group sites; capacity: 35 each. Picnic tables, fire rings, modern toilets. Open April 1 through December 31. $35 per night.
---
Worthington State Forest is located near Bangor, Bath and East Stroudsburg
---
A small family picnic area has been added to the area and offers a peaceful, picturesque setting under a hemlock grove near the Delaware River. Limited space is available.
There are over 26 miles of trails within the park including 5 miles of canoe trails on the Delaware River and over 7 miles of the Appalachian Trail. All trails within the park are hiking only. A demanding climb to the top of Mt. Tammany at 1527 ft. above sea level rewards the park visitor with a panoramic view of the Delaware Water Gap. A new interpretive trail, the Rockcores Trail, has been developed and offers some natural and historic information to the park visitor.
Interpretive Programs:Interpretive programs are offered seasonally from April to October in the campground. Programs are also offered year round for schools and organized groups. Please contact the office for special dates and times of events.
Dunnfield Creek Natural Area (1,085 acres)

Hikers, fishermen, bird watchers and other naturalists can follow this moderate trail through a mature hemlock and mixed hardwood ravine along Dunnfield Creek. This area is designated a Wild Trout Stream and supports a healthy population of native brook trout, the state fish of New Jersey.

Sunfish Pond Natural Area (258 acres)

This impressive glacial lake, surrounded by a chestnut oak forest is reached by a steep and rocky climb along the Appalachian Trail. No swimming or camping is permitted at this area, however, 1/4 mile south of the pond along the Appalachian Trail is a backpacking wilderness camping area. This camping area is monitored by a caretaker who teaches Leave No Trace techniques, precautions on Living in Bear Country and enforces the No Fire regulation.
---
---
Dunkelberger's Sports
585 Main St
Stroudsburg, PA
(570) 421-7950
Family Bait & Tackle Shop
624 N Courtland St
East Stroudsburg, PA
(570) 421-6918
Roseto Rod & Gun Club
30 Shooktown Rd
Bangor, PA
(610) 588-1293
Windsor Fly Shop
348 N 9th St
Stroudsburg, PA
(570) 424-0938
Art's Gun & Tackle Inc
Route 209 N
Ellenville, NY
(845) 647-6559
Beaver Run Hunting & Fishing Club
3 Barren Rd
East Stroudsburg, PA
(570) 223-8257
Alpine Motel
1863 W Main St
Stroudsburg, PA
(570) 421-3790
Walter's Motel
2011 W Main St
Stroudsburg, PA
(570) 424-1862
Water Gap Country Club
Stroudsburg, PA
(570) 476-0300
Countryside Cottages
RR 3 Box 3002
Stroudsburg, PA
(570) 629-2131
Howard Johnson's
63 Route 611
Bartonsville, PA
(570) 424-6100
Rainbow Mountain Resort and Restaurant
210 Mount Nebo Rd
East Stroudsburg, PA
(570) 223-8484
Echo Valley Cottages
1 Lower Lakeview Dr
East Stroudsburg, PA
(570) 223-0662
Pocono Palace Inc
5241 Milford Rd
East Stroudsburg, PA
(570) 588-6694
Paramount Motel
Business Route 209 N
East Stroudsburg, PA
(570) 421-2141
Birchwood In the Poconos
3400 Birchwood Rd
East Stroudsburg, PA
(570) 629-0222
Shilla Garden Korean Restaurant
RR 209
East Stroudsburg, PA
(570) 588-1100
Alpine Lounge
RR 447
East Stroudsburg, PA
(570) 595-7411
Value Inn
5219 Milford Rd
East Stroudsburg, PA
(570) 588-1100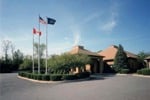 Hotels/Motels
Located near popular recreational attractions, including the Claws 'N' Paws Wild Animal Park, Steamtown National Historic Site and Promised Land State Park. NASCAR fans will enjoy a day at the races at nearby Pocono Raceway.
33.7 miles from park*
Take Route 80 west to the last exit in New Jersey (Millbrook/Flatbrookville). At bottom of ramp, turn right. Office is three miles on left.