LYONS FERRY STATE PARK
Covering over 52,000 feet of shoreline along the Snake River, Lyons Ferry Park is a popular summertime attraction for campers, boaters, water-skiers and anyone else who loves soaking up the sun along a riverbank.

Lyons Ferry Park marks the site of early settlements of the Palouse Indians. It covers more than a thousand acres and has plenty of freshwater shoreline on the Snake River. The park is a haven for boating, camping, fishing, hiking, picnicking, swimming and water skiing. With average summer temperatures in the 90s, it?s a cool shaded spot to find some relief from the sun.

The name Lyons Ferry is associated with a ferry once powered by river current. The ferry and its predecessors crossed the Snake River for 108 years, providing an important link for the Palouse country with the Old Mullan Road.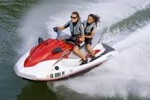 We rent premium well maintained equipment including SKI BOATS, JET SKIS, and PONTOON BOATS We are located at Sunbanks Lake Resort outside of Electric City, which is 20 minutes from Steamboat Rock State Park, 35 minutes from Sun Lakes State Park, as well as only 5 minutes from Grand Coulee Dam. We also deliver to the surrounding areas. Call 509-681-0283 or 509-633-8079
98.3 miles from park*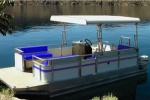 An industry leading series of high quality, reliable, durable and complete pontoon leisure craft and work boats. These classic custom pontoon watercraft products are designed to meet the demands of owners and the public for safety, comfort and long lasting value.
83.5 miles from park*