BLUE MOUND STATE PARK
BLUE MOUND STATE PARK
4350 Mounds Park Rd., PO Box 98
Blue Mounds, Wisconsin   53517
Phone:
608-437-5711
Reservations:
608-437-5711
Email:

Blue Mound State Park is on the tallest hill in southern Wisconsin, about 25 miles west of Madison. The 1,153-acre park is a popular place for swimming, hiking, camping, cross-country skiing and mountain biking (both double and single track) and finding peace and solitude.
A Wisconsin State Park System vehicle admission sticker is required on all motor vehicles stopping in state parks, forests and recreation areas, please visit the
VEHICLE ADMISSION STICKERS
web page.
The Blue Mound campground is open year round and contains 77 wooded sites and a rustic accessible cabin for people with disabilities. Each site and the cabin has a picnic table and fire ring. Toilets and water fountains are conveniently located throughout the campground. Two electric sites are accessible for people with disabilities. A modern flush toilet/shower building is across from site 30.

You must register and pay camping and admission fees before you set up camp. If the visitor station is closed when you arrive, use a self-registration station.

Although there is no separate group camp at Blue Mound, organized groups may camp and make reservations in the family campground. There is a limit of six persons per campsite.

Reservations for family camping are accepted from May 1 through October 31 on sites 1-56. Reservations can be made by calling (888) WI PARKS ((888) 947-2757) or using the ReserveAmerica Web site (exit DNR).

Winter Camping?Part of the campground is open year round. Firewood and tap water are available. Two electrical sites are plowed in the winter.

Electrical Sites ? Sites 12, 13, 25, 28-39, and 61 have electrical hookups.

Accessible Sites ? Electrical hook-ups and hard-surface paths have been added to sites 28 and 32. These campsites and cabin can be reserved by visitors with disabilities and provide barrier-free access to the toilet/shower building.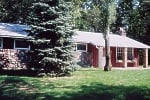 Cottages and Cabins
Vacation cottages, fully furnished, located on the Lower Wisconsin Riverway. Clean 1100 sq. ft. two bedroom cottage with huge granite fireplace. Close to canoe rental, hiking trails and bike paths. Come and enjoy our backyard Wisconsin River shoreline.
12.1 miles from park*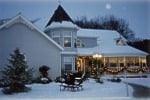 Hotels/Motels
Elegant Victorian-style lodging for quiet or romantic getaways on 120 acre scenic estate with trails just 15 minutes from vibrant Madison, New Glarus Little Switzerland or Mt Horeb Little Norway.
19.5 miles from park*
Blue Mound State Park is the only Wisconsin state park with a swimming pool. The pool was built in 1972 because so few swimming opportunities were available in the area.

The pool is open daily (weather permitting) from Memorial Day weekend through Labor Day weekend.

The pool is L-shaped, 75 feet long on each side, and contains almost 200,000 gallons of crystal-clear water. The pool is heated and maintained between 79-80 degrees F. Depth varies from 3 feet in the shallow section to 11 feet in the diving area. A safety rope at the 5.5-foot level separates the swimming and diving areas.

A poolside chair-lift helps visitors with physical limitations. The lift is powered by water pressure and designed for self- or assisted use. The chair automatically turns 90 degrees at the top of its travel for easy deck and wheelchair accessibility.

An attached bathhouse provides changing rooms, coin-operated lockers, toilets and showers. All bathhouse areas are completely accessible. A large deck area offers plenty of space for lounging and sunning between swims.

The pool complex also includes a wading pool for younger visitors. The wading pool is 40 feet square with a maximum depth of about 16 inches. Lifeguards are not on duty in the wading pool area. Children should be supervised by parents or other responsible persons.

A effort is underway to raise funds to replace the pool.
---
Blue Mound State Park is located near Verona
---
Blue Mound State Park offers a number of beautiful and relaxing opportunities in the Picnic Area. There are two observation towers, picnic shelters, vistas, playground equipment, nature center, amphitheater, horse shoe pits, and shaded picnic areas.

Observation towers are at the far east and far west ends of the picnic area. Each tower is 40 feet high and equipped with a landmark locator to help pinpoint the location of various cities and geologic features. At the top of the towers, you can enjoy a panoramic view of the surrounding countryside hundreds of feet below. Enjoy the view of the Lower Wisconsin Riverway, Baraboo Bluffs and the gentle rolling countyside as far as the eye can see.

Vistas have been cut through the trees on the north side of the picnic area, near the towers for those who cannot climb the observation towers, These also offer panoramic views of the surrounding countryside.

Play equipment and sandboxes are in the picnic area near the shelters and in the campground.

A horseshoe court is on the north side of the main shelter. Bring your own horseshoes.

Facility Rentals:

Blue Mound State Park offers a number of beautiful outdoor facilities that you can rent. Thinking of having a reunion, wedding, birthday, school outing or other special event? Consider renting the shelter, amphitheater or vista. For more information, please stop by the park office or call (608) 437-5711.
Hiking

While all of the trails in the park are open to hiking, there are three trails designated as hiking-only in spring, summer, and fall: the Indian Marker Tree Trail, the self-guided Flintrock Nature Trail and the Pleasure Valley Hiking Trail.

Bicycling

The park provides 6 miles of challenging off-road bicycle trails. You may also access the 40-mile Military Ridge State Trail from the park?s trails A state trail pass is required of all bicyclists aged 16 and over (in addition to the vehicle admission sticker). Trails are open year round unless groomed for skiing or wet trail conditions exist.

Trail Descriptions:

Flintrock Trail Easy (Hiking Only): This self-guided wooded 1.5-mile trail offers interesting interpretive signs explaining the geology of the Blue Mound area. Watch for flintrock boulders scattered along this trail as the trail takes you along the north side of the mound.

John Minix Trail Easy: Named for the previous owner of the park, John Minix, this 1-mile loop offers a gentle meandering jaunt through a dense hardwood forest. It is our easiest trail.

Willow Springs Trail Easy: A 2-mile trail that winds through a mixed hardwood forest and passes a stand of willow trees and a spring that flows year-round. Years ago this spring was used by Native Americans and early settlers of this area as a reliable water source.

Pleasure Valley Trail Easy: A rolling 2-mile trail will take you through a peaceful sugar maple forest and a wide range of plant life in a open prairie.

Pleasure Valley Hiking Trail Difficult (Hiking Only): A 1-mile extension of the Pleasure Valley Trail. Descend into a mixed forest of oak and maple trees. The trail follows Ryan Creek, a spring-fed creek, down into the glen. A beautiful rock face wall is located at the bottom with water from springs seeping out of it.

Ridgeview Trail Moderate (Hiking Only): Along the south border of the park adjacent to the Military Ridge State Trail. It offers spectacular views of the surrounding area with easy access from the campground.

Walnut Hollow Trail Moderate (Hiking Only): A half-mile extension of the Ridgeview Trail, this short trail takes you through a stand of Black Walnut trees before emerging back into the prairie.

Single Track Trail Moderate/Difficult: This expanding 3-mile trail is a unique mountain bike trail for enthusiasts willing to take the challenge. The trail offers spectacular views of the dolomite and chert outcroppings and challenges cyclist?s bike handling skills. The trailhead is at the pool parking lot. For safety, hikers should hike the trail in the opposite direction, facing oncoming cyclists.
Southern Wisconsin's Blue Mound State Park is a great place for observing nature, both close up and at a distance from the two observation towers. Learn about and experience the birds and other wildlife, trees, wildflowers, and geological formations.

Stop in at the nature center in the picnic area to look over the displays.

There's also an outdoor amphitheater in the picnic area, across from the nature center. It provides an excellent setting for evening naturalist programs.

A naturalist program is presented throughout the summer so visitors can learn more about the park, the plants, animals, human history, and the natural environment.

Guided hikes and evening programs are presented most Fridays and Saturdays, Memorial Day weekend through Labor Day. Notices of the nature programs are posted on bulletin boards and kiosks throughout the park and on the World Wide Web.

2005 Ghost Stories Into the Night Concert Series will be held Saturdays, May 28, July 23, Aug. 20 and Sept. 10. Nationally acclaimed storyteller and folksinger Reid Miller presents a programs consisting of spooky tales and fun songs for the whole family. Shows are in the outdoor amphitheater, or in case of rain under the shelter at the top of the Mound. Donations for the performances are appreciated. Miller?s credits include Wolf Trap, Summerfest, American Players Theater and Madison?s Overture Center. 8 p.m.
---
---
Hotels/Motels
You will feel right at home when you reach Carroll County, our corner of beautiful Northwest Illinois. The magnificent Mississippi River and outdoor spaces will refresh your spirit and touch our soul.
63.3 miles from park*
Blue Mound State Park is just north of the Village of Blue Mounds, about 25 miles west of Madison via US Highway 18/151. From Highway 18/151, go north on County Highway F and turn left on County Highway ID into Blue Mounds. Go west on Highway ID about a half mile to Mounds Road. Turn right (north) and follow Mounds Road north through town. (Mounds Road becomes Mounds Park Road once you leave the village.) The park entrance is one mile north of the intersection of Highway ID and Mounds Road.

By foot or bicycle, you can reach the park by way of the Military Ridge State Trail. The park access trail is about .7 mile west of Mounds Park Road on the Military Ridge Trail.