BRUSH CREEK STATE FISH AND WILDLIFE AREA
Brush Creek Fish and Wildlife Area is 2402 acres of open farm fields, rolling hills and a 150-acre reservoir. The property also contains an public access site to the Muscatatuck River.

Brush Creek Fish and Wildlife Area was developed in 1964 with land received from the Muscatatuck State Developmental Center (MSDC). Within the property lies the 150-acre Brush Creek Reservoir. The reservoir was constructed in 1953 to provide supplemental water for MSDC and the City of North Vernon.

Most revenues used in land acquisition, development, operation and maintenance of Brush Creek Fish and Wildlife Area are derived from the sale of game bird habitat stamps. Funds were also provided by the federal aid program of the Wildlife Restoration Project. This federal aid program provides reimbursement on federal taxes levied on the sales of hunting and trapping equipment.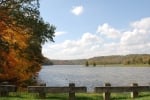 Tourism
Home to the Versailles State Park where you can fish, go boating, slide into the swimming pool, camp, go horseback riding, or take a hike. Enjoy the annual Bluegrass Festival the first weekend of October. Centered in the middle of a triangle between Indianapolis, IN, Cincinnati, OH, and Louisville, KY, we have many family events throughout the spring, summer, and fall-- 888-747-5394.
13 miles from park*