HADDAM MEADOWS STATE PARK
Haddam Meadows State Park overlooks the scenic Connecticut River and offers opportunities for boating, fishing, and picnicking.
In colonial times the broad floodplain that is now Haddam Meadows State Park played an important role in the agricultural economy of the area. Fertilized each year by spring flooding along the banks of the Connecticut River, it yielded abundant crops of hay and grain. After the harvest, the meadow was used as common pasture for all who owned livestock in Haddam.

Situated on the channel side of the river, the meadows were important in the last century as a shipping point. River steamers brought cargoes from New York and returned loaded with products like firewood or gin. Later, the railroad did a flourishing business carrying people to and from Saybrook to Hartford. Several local train stops were situated within the boundaries of the present park.

The park was created in 1944 with a gift of 154 acres from the Hazen Foundation.
Connecticut has made state parks, forests, trails, historic sites and beaches more accessible to our residents so they can enjoy the many attractions and beauty they offer. Under the Passport to the Parks program, parking fees are now eliminated at Connecticut State Parks for those with Connecticut registered vehicles. You can view the
CONNECTICUT PASSPORT TO THE PARKS
web page to learn more.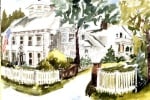 BBs / Inns
Located along the CT Shoreline midway between New York City and Boston, and only one hour from Hartford, with tons of local attractions both on the Long Island Sound and the Connecticut River.
9.6 miles from park*