HARKNESS MEMORIAL STATE PARK
HARKNESS MEMORIAL STATE PARK
275 Great Neck Road
Waterford, Connecticut   06385
Phone:
860-443-5725
Toll Free:
866-287-2757
Email:

Enjoy the panoramic views of Long Island Sound from Eolia, the elegant summer mansion of the Harkness family set on over 230 seaside acres of sweeping lawns, with stately trees and spectacular gardens. Named Eolia, for the island home of the Greek god of winds, the mansion was built in 1906 and purchased by Edward and Mary Harkness in 1907. The 200+ acres were a working farm and the mansion served as the Harkness? summer home.

The Roman Renaissance Classical Revival-style mansion has 42 rooms and includes a pergola (tearoom) and carriage house (support complex). Lush gardens flank the mansion on both the east and west lawns, and an Alpine Rock Garden adds to the beauty and splendor of the seaside panorama.

Mansion Hours:The mansion is open for tours weekends and holidays from Memorial Day Weekend to Labor Day. The first tour of the day starts at 10:00 a.m. and the last at 2:15 p.m.

Rental Information:Eolia is available for weddings, private parties, seminars, conferences, luncheons and teas from March 1 to December 23.
Originally from Ohio, Edward S. Harkness was to become heir to a fortune initiated by his father's substantial investments in John D. Rockefeller?s Standard Oil. Instilled at an early age with an ardent love for his fellow man and a feeling of responsibility for the wise and just use of the wealth at his command, Mr. Harkness was to bestow over two hundred million dollars upon wide-ranging philanthropies.

The mansion was purchased in 1907 by Edward and Mary Harkness. From 1918 to 1929, extensive work was done to the grounds by noted landscape designer Beatrix Jones Farrand (one of the founders of the American Society of Landscape Architects). The estate was left to the State of Connecticut in 1950 and became part of the State Park system in 1952.
Connecticut has made state parks, forests, trails, historic sites and beaches more accessible to our residents so they can enjoy the many attractions and beauty they offer. Under the Passport to the Parks program, parking fees are now eliminated at Connecticut State Parks for those with Connecticut registered vehicles. You can view the
CONNECTICUT PASSPORT TO THE PARKS
web page to learn more.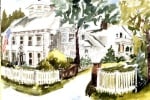 BBs / Inns
Located along the CT Shoreline midway between New York City and Boston, and only one hour from Hartford, with tons of local attractions both on the Long Island Sound and the Connecticut River.
14.2 miles from park*