HARRISON-CRAWFORD STATE FOREST
HARRISON-CRAWFORD STATE FOREST
7240 Old Forest Rd SW
Corydon, Indiana   47112
(lat:38.2008 lon:-86.2551)

Phone:
(812) 738-7694
Harrison-Crawford/Wyandotte Complex lies in the central and extreme southern part of the state,bordering the Ohio River. The forest contains about 26,000 acres including the Wyandotte Caves StateRecreation Area. The area offers Class A campsites, as well as the Stagestop Campground, which offersClass C and youth rally camping. A canoe access ramp is also available at the Stagestop Campground.
Youth Group Camp, capacity
100
Accommodations
Game Room
yes
Class A camping facilities: electrical hookup, modern restrooms/showers (wheelchair accessible), picnictable, fire ring, parking spur, drinking water supply in area -281 sites. A dumping station is available.

Class C (primitive) camping facilities: pit toilets, fire ring, parking spur, drinking water supply in area -25sites. Please self-register for camping at the campground check-in booth.

Horseman's Campground (Class B): modern restrooms/showers, picnic table, fire ring, parking spur,drinking water supply in area -47 sites.

Group Camp: 100-bed group camp at Wyandotte Woods. Self-contained structures consisting of arecreation hall, shower house, dining hall and shelter.
---
Harrison-Crawford State Forest is located near Brandenburg, Corydon
---
There are picnic areas and picnic shelterhouses available for day use. Picnic tables and grills are located at the picnic sites. Shelters are available on a first-come, first-served basis.
Hiking Trails:

Adventure Hiking Trail -27 miles, backpack. Overnight camping permitted; trail shelters available.

Adventure Trail -3.5 mile "mini hike"of the Adventure Hiking Trail

Post Oak-Cedar Trail - 1 mile, rugged

Rocky Ridge Trail - 2 miles, moderate

C.C.C. Ghost Trail - 1.5 miles, moderate

Flowertop Trail - 1 mile, rugged

White Tail Deer Trail - 1.6 miles, moderate

Cliff Dweller Trail - 1.7 mile, rugged

Sleepy Hollow Trail - 1 mile, moderate

Tulip Valley Trail - .5 mile, moderate

Wyandotte Trail - .2 mile, easy

Pool Trail - 2 miles, rugged


The Hickory Hollow Nature Center features a variety of displays and exhibits. Programs are givenyear-round and a full time naturalist is on staff. Nearby is Wyandotte Caves State Recreation Area, whichoffers guided tours of both Big and Little Wyandotte Caves.
---
---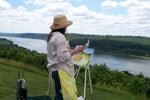 Tourism
Crawford County consists of over 306 square miles of beauty and outdoor recreation Caves, state parks, rugged terrain, acres of protected forests, nature preserves, and numerous waterways
7.3 miles from park*