KINGS GAP STATE PARK
KINGS GAP STATE PARK
500 Kings Gap Rd.
Carlisle, Pennsylvania   17015
Phone:
717-486-5031
Toll Free:
888-727-2757
Reservations:
888-727-2757
Email:

Sitting astride South Mountain, Kings Gap offers a panaramic view of the Cumberland Valley. Sixteen miles of hiking trails interconnect three main areas and are open year-round. Kings Gap offers environmental education programs from the pre-school environmental awareness program to environmental problem solving programs.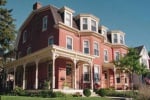 BBs / Inns
Gracious accommodations and in-town convenience are the perfect combination for your stay in Gettysbug. 1898 brick Victorian in historic district. Walk to battlefield, restaurants, shops.
18.9 miles from park*
BBs / Inns
Enjoy casual and comfortable, country elegance and delicious breakfasts in this 200 year old brick farmhouse situated on 10 acres. We are located near the Appalachian Trail and numerous outdoor activities which include world-class fly fishing. We are less than 5 miles away from the The US Army Heritage and Education Center and many Carlisle collector car events throughout the year.
11.5 miles from park*
---
Kings Gap State Park is located near Carlisle, Dillsburg and Enola
---
Kings Gap Environmental Education and Training Center seeks to fulfill the Pennsylvania Bureau of State Parks' unique opportunity to teach about the natural world and critical environmental issues facing society. It also helps provide skills for appreciating and enjoying the outdoors. The center provides a wide variety of educational services to accomplish this goal.

A typical day may bring several classes of students to the center to participate in discovery-based environmental learning. Using various curricula, including activities selected from the Pennsylvania Bureau of State Parks' Activities for Environmental Learning, teachers and students explore the ecosystems of Kings Gap to further their awareness and knowledge of the natural environment.

Center staff also train high school students, teachers and other interested high-school age groups to participate in the Bureau of State Parks' Watershed Education program. This outreach program develops problem solving skills for dealing with complex issues facing the environment.

Kings Gap conducts teacher workshops based on environmental education curricula including Activities for Environmental Learning, Keystone Aquatic Resources Education, Project Learning Tree and Project Wild. Workshops on environmental issues and resources tailored to meet specific needs are also offered. Each spring, Kings Gap co-sponsors an environmental issues conference with Shippensburg University.

During the summer months, youths ages 4 to 17 are invited to participate in the Bureau of State Parks' Youth Environmental Learning Series which includes: Touch and Grow, Environmental Discovery, Junior Naturalist and the Conservation Leadership Program. This series of four programs gives young people opportunities to explore and learn about the environment with others the same age.

The center offers a variety of interpretive programs for the general public. Programs offered on an annual basis include Discovering Owls, Experiencing a Spring Night, Sights and Sounds of a Summer Evening, and both a Holiday and a Spring Open House. A complete schedule of programs is available from the center office or at the three day use areas.

For additional information on any of the services provided by Kings Gap Environmental Education Center, contact the center office.
---
---
Cold Spring Anglers
419 E High St # A
Carlisle, PA
(717) 245-2646
Dillsburg Fish & Game
224 Coffeetown Rd
Dillsburg, PA
(717) 432-3648
Addicted Angler
258 Red Tank Rd
Boiling Springs, PA
(717) 258-6669
Old Town Run Mountain Lodge
699 Baltimore Pike
Gardners, PA
(717) 486-5672
Allenberry Resort Inn & Playhouse
1559 Boiling Springs Rd
Boiling Springs, PA
(717) 258-3211
The center's entrance is on Pine Road, one mile east of the Huntsdale Fish Hatchery. From Interstate 81, take Exit 37. At the exit, travel south on Route 233 about 2.5 miles. Turn left onto Pine Road and continue 2.5 miles. The entrance to the center is on the right.