PINE GROVE FURNACE STATE PARK
PINE GROVE FURNACE STATE PARK
1100 Pine Grove Road
Gardners, Pennsylvania   17324
Phone:
717-486-7174
Toll Free:
888-727-2757
Reservations:
888-727-2757
Email:

Steeped in natural and historical features, the 696-acre Pine Grove Furnace State Park is in a beautiful mountain setting in southern Cumberland County. The two lakes in the park are the 25-acre Laurel Lake and the smaller Fuller Lake, which is 1.7-acre.
The park is easily reached from I-81. Visitors should take Exit 37 to PA 233 south then travel for eight miles.
Camping: rustic sites, some with electricity

Seventy-four tent and trailer sites are available year-round. Access cannot be guaranteed in severe winter weather. The campground offers drinking water, non-flush toilets and a sanitary dump station. A camp store is 0.25-mile from the campground. Sites 37 and 38 are accessible.

Organized Group Tenting: Organized adult or youth groups may reserve the area year-round. The area is divided into six separate sites with capacities varying from 35 to 50 people each, or you can reserve the entire camp. The sites are in a wooded area surrounding an open playfield.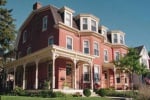 BBs / Inns
Gracious accommodations and in-town convenience are the perfect combination for your stay in Gettysbug. 1898 brick Victorian in historic district. Walk to battlefield, restaurants, shops.
14.1 miles from park*
BBs / Inns
Enjoy casual and comfortable, country elegance and delicious breakfasts in this 200 year old brick farmhouse situated on 10 acres. We are located near the Appalachian Trail and numerous outdoor activities which include world-class fly fishing. We are less than 5 miles away from the The US Army Heritage and Education Center and many Carlisle collector car events throughout the year.
15.3 miles from park*
Two beaches are open from May to September, 8 a.m. to sunset. Lifeguards are on duty from 11 a.m. to 7 p.m. daily from Memorial Day weekend to Labor Day, unless otherwise posted. Please read and follow posted rules for swimming when lifeguards are off-duty.
Boating: electric motors only

Boating is permitted only on the 25-acre Laurel Lake, which has a boat launch, 85 mooring spaces and a boat rental.

Non-powered boats must display one of the following: boat registration; launching permit or mooring permit from Pennsylvania State Parks, available at most state park offices; launching permit from the Pennsylvania Fish and Boat Commission. Motorboats must display a current boat registration.
---
Pine Grove Furnace State Park is located near Carlisle, Dillsburg and Fayetteville
---
Many picnic tables are scattered in several locations of the park. Charcoal grills, drinking water and restrooms are available. Two picnic pavilions (seating 80 and 140) may be reserved up to 11 months in advance for a fee. Unreserved picnic pavilions are free on a first-come, first-served basis.
Hiking

3 miles of trails

Buck Ridge Trail: 6 miles - This trail through the Michaux State Forest connects Kings Gap Environmental Education and Training Center and Pine Grove Furnace State Park. The trailhead is across from the park office and is marked with orange paint blazes.

Creek Trail: .5 mile - Begin at the amphitheater and wind past vernal ponds and a stand of white pine along Mountain Creek near the camping area.

Mountain Creek: 1.4-mile - This trail is a link between the bicycle trail to Fuller Lake and the Icehouse Road to Laurel Lake. The trail affords the hiker an alternate path to Laurel Lake Day Use area other than the paved roadway. This trail winds along scenic Mountain Creek. The trail meanders through forests and wetlands as it follows Mountain Creek downstream to Laurel Lake. Deer, heron, waterfowl and beaver can be see along this trail.

Koppenhaver Trail: 1 mile - Begin this scenic, yellow-blazed loop trail at the far end of Fuller ball field. The footpath crosses Tom?s Run and passes through stands of mature pines and hemlocks.

Pole Steeple Trail: .75-mile - This blue-blazed state forest trail contains some steep climbing. The entire park can be viewed from the Pole Steeple Overlook, which is a quartzite rock outcropping. The trail begins at the Pole Steeple parking lot, along the Railroad Road by Laurel Lake, and proceeds up Piney Mountain to the rocky overlook.

The steep grade and sheer drop may stress some individuals. Parents are advised to closely supervise children, especially when they are on the rocks and ledges.

Swamp Trail: .25 mile - Investigate a small, forested swamp filled with interesting plants and animals. The trail begins and ends on the bicycle path.

Bicycle Trails:

All park roads and service roads are open to bicycles unless posted otherwise. A two-mile section of the Cumberland County Bike Trail connects the Furnace Stack Day Use Area with Laurel Lake Day Use Area. Bicyclists are advised to use caution because all trails are shared with pedestrian traffic and some are open to motor vehicles. Pennsylvania state law requires all bicyclists under the age of 12 to wear an approved helmet. A bicycle rental concession is available at the boat launch at Laurel Lake.

Appalachian Trail:

This famous 2,000-mile national scenic trail is marked by white blazes and goes from Mt. Katahdin in central Maine to Springer Mountain in northern Georgia. The trail is popular with day hikers as well as backpackers.

You can begin your Appalachian Trail experience along Quarry Road by the furnace. A parking area near the furnace pavilion and a comfort station are available for trail users. Please visit the park office to register your car and intended destination and/or time of return.

Cross-country Skiing: Nordic skiers can enjoy the use of the railroad grade when snow conditions allow. Although no trails are specifically designated for cross-country skiing, numerous opportunities exist, especially during winters with heavy snowfalls, both within the park and on the surrounding state forest lands.

Snowmobiling: A trailhead parking area on nearby state forest land provides parking for vehicles and snowmobile trailers, and access to many miles of trails on state forest lands. Maps of the trails are available at the park office.
---
---
Old Town Run Mountain Lodge
699 Baltimore Pike
Gardners, PA
(717) 486-5672