LAKE WENATCHEE STATE PARK
Lake Wenatchee State Park is a 489-acre camping park with 12,623 feet of waterfront on glacier-fed Lake Wenatchee and the Wenatchee River. The park is bisected by the Wenatchee River, creating two distinct areas -- South Park, with areas for camping, swimming and horseback riding; and North Park, in a less developed, forested section, a quarter-mile walk from the lake. The park is a natural wildlife area, and visitors should be aware of the presence of bears and other natural dangers. More than five miles of equestrian trails are in and around the park. A concession offers horses for rent for day rides or overnight pack trips. There are no public stables available. Year-round recreation opportunities abound, including swimming, boating and hiking in the summer and cross-country skiing, snowplaying, showshoeing and sledding in the winter.



Park hours/updates:

The park is open for day use from 6:30 a.m. until dusk year round.

Winter schedule: Winter camping is allowed for tent and RV campers in a designated day-use area adjacent to the beach. The north campground and trailer dump are closed for the winter, but south campground will remain open. Utility hook-ups are not available during the winter.

Camping: Check-in time, 2:30 p.m.Check-out time, 1 p.m.Quiet hours: 10 p.m. to 6:30 a.m.
Wildlife Mammals Birds Fish & Sea Life? Bears? Bobcats? Chipmunks? Coyotes? Deer or Elk? Foxes? Marmots? Marten? Minks? Mountain Goats? Muskrats? Otters? Rabbits? Raccoons? Skunks? Squirrels? Weasels? Ducks? Eagles? Geese? Grouse? Gulls? Hawks? Herons? Hummingbirds? Jays? Ospreys? Owls? Quail? Swans? Woodpeckers? Wrens? Mussels? Salmon? Steelhead? Trout

Environmental Features Physical Features Plant Life

Lake Wenatchee is in a transition zone between wet, western Washington woodlands and the drier pine and fir of the eastern Cascades. The lake is of glacial origin, dammed up at the foot by glacial gravels and wash. The White River and the Little Wenatchee River combine to fill the lake at its western end.

Mosquitos may be prevalent May to early July, so visitors are encouraged to bring repellant. Annual rainfall is 24 inches, and annual average snowfall is 150 inches.

? Cedar? Douglas Fir? Hemlock? Ponderosa Pine? Alder? Maple? Daisy? Foxglove? Lupines? Orchids? Paintbrush? Rose? Berries? Moss or Lichens
During their annual migration long ago, Native American tribes stopped at Lake Wenatchee for a feast of clams and salmon before heading west to trade with coastal tribes. Nason Creek, called Umptanum Creek by Native Americans, is adjacent to the park. This was the location where Nason bragged that he and another Native American had killed two white men. This event was one of the noted causes of the Yakima Indian War.


Available in the park Available in the area? Camping? Park store? Pay phone? 1 Horse stable? White gas? Fire wood? Auto repair? Airport? Boat rental? Camping? Diesel? Fishing/hunting? Gasoline? Gifts? Golf? Groceries? Hardware? Horse rental? Hospital? Overnight Accommodations? Pay phone? Postal service? Propane? Recreational equipment? White gas? Wood

A park concession offers propane and/or white gas plus an assortment of camping goods, food and snacks. A horse concession provides one and two-hour guided rides. No public stables are available.
The park has 155 tent spaces, 42 utility sites, one dump station, seven restrooms and 16 showers. In addition, the park provides two ADA campsites. Call (509) 763-3101 for information.

The south campground (sites 1 through 100) has parking pads 30 to 40 feet in length, with only two pull-through sites. Larger RVs and fifth-wheelers should use the north campground (sites 101 through 197) which includes42 large pull-through utility sites.

Maximum tents: one family tent or up to two 2-3 man tents.Maximum vehicles: two per site (additional vehicles may park in overflow areas).

To reserve a campsite, call (888) CAMPOUT or (888) 226-7688.

From Nov. 15 through April 1, winter camping is allowed for tent and RV campers in a designated day-use area, adjacent to the beach. There are no hook-ups available. All north campground camping and trailer dump access are closed in the winter, but the south campground will remain open. A heated restroom and hot showers are located near the camping area.

Group Accommodations:

The park offers a group camp that accommodates 20 to 50 people. Only tent camping is allowed in the group camp. Fees vary with size of the group. To reserve, call (888) CAMPOUT or (888) 226-7688.

Check-in time is 2:30 p.m., and check-out time is 1 p.m.Quiet hours are from 10 p.m. to 6:30 a.m.Engine-driven electric generators may be operated only between the hours of 8 a.m. and 9 p.m.Length of stay: You may stay up to ten consecutive days in any one park during the summer; the stay limit is extended to 20 days between Oct. 1 and March 31.
The park has one boat ramp and 16 feet of dock for handling purposes.

A daily watercraft launching permit and a trailer dumping permit is available at the park.Annual permits also may be purchased at State Parks Headquarters in Olympia, at region offices, online, and at parks when staff is available.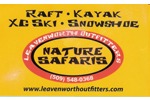 Boat Rentals
We want to share the nature and adventure of river rafting, kayaking, cross country skiing and snoeshoeing in the beautiful Cascade Mountains of Washington State with our honored guests.
9.5 miles from park*