LINCOLN BOYHOOD NATIONAL MEMORIAL
LINCOLN BOYHOOD NATIONAL MEMORIAL
3027 E S St
Lincoln City, Indiana   47552
(lat:38.113 lon:-86.9959)

Phone:
(812) 937-4541
Email:

Lincoln Boyhood National Memorial preserves the site of the farm where Abraham Lincoln spent 14 formative years of his life, from the ages of 7 to 21. He and his family moved to Indiana in 1816 and stayed until 1830 when they moved on to Illinois. During this period, Lincoln grew physically and intellectually into a man. The people he knew here and the things he experienced had a profound influence on his life. His sense of honesty, his belief in the importance of education and learning, his respect for hard work, his compassion for his fellow man, and his moral convictions about right and wrong were all born of this place and this time. The time he spent here helped shape the man that went on to lead the country. This site is our most direct tie with that time of his life. Lincoln Boyhood preserves the place where he learned to laugh with his father, cried over the death of his mother, read the books that opened his mind, and triumphed over the adversities of life on the frontier.
---
Lincoln Boyhood National Memorial is located near Boonville, Tell City
---
---
---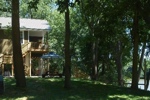 Cottages and Cabins
Enjoy the quiet atmosphere of a well appointed luxury 5 star cabin on the peaceful White River in scenic Martin County. Located directly on the rivers edge and surrounded with the serenity of natures hills. With the convenience of town located a mile away.
39.8 miles from park*
Plane - The nearest airport is in Evansville, IN, 45 miles west of Lincoln City.

Car - The park is located on Indiana Highway 162. From Interstate 64, exit at US 231, (exit 57) and travel south through Dale, continue on U.S. 231 to Gentryville, then east on Indiana Highway 162 for two miles.