MAZONIA-BRAIDWOOD STATE FISH WILDLIFE AREA
MAZONIA-BRAIDWOOD STATE FISH WILDLIFE AREA
P.O. Box 126
Braceville, Illinois   60407
Phone:
815-237-0063
Email:

Mazonia State Fish and Wildlife Area consists of 1,017 acres and is located in Grundy County 3 miles southeast of Braidwood on Illinois Route 53 and Huston Road.
Braidwood Lake Fish and Wildlife Area consists of 2,640 acres and is located in Will County south of Braidwood off Illinois Route 53.
Braidwood Lake, owned by Commonwealth Edison, is a partially perched, cooling lake. Braidwood Lake was constructed in the late 1970s and impounded in 1980-81 with water pumped from the Kankakee River. Several surface mined pits were flooded within the lake, so fisheries management actually began in 1978, before the lake existed. The lake was considered a semi-private area used by employees of Com Ed till the fall of 1981 when the Department of Conservation (now the Department of Natural Resources) acquired a long term lease agreement from Com Ed which allowed for general public access. Braidwood Lake currently is used for fishing, waterfowl hunting, fossil hunting by permit and as a waterfowl refuge.
Braidwood Lake can become very dangerous. Special precautions should be utilized. A wind warning system is in place by a flagpole located at the Cemetery Boat Ramp and the Kankakee Boat Ramp. The flag system displays predicted weather conditions for that day. Different colored flags will be raised to depict the weather conditions. The lake will be closed with 25 m.p.h. winds.

Boats with a minimum length of 14? are recommended. Motor size is unlimited but a 40 m.p.h. speed limit is strictly enforced.
Fishing and hunting are permitted on a seasonal basis and are subject to site regulations. Fishing closes ten days prior to the Central Waterfowl Zone season and reopen at the conclusion of the Upland Game season, or as the ice becomes safe.
---
Mazonia-Braidwood State Fish Wildlife Area is located near Channahon, Morris and Wilmington
---
Mazonia is managed primarily for sport fish and waterfowl. Its purpose is to provide a quality sport fishery within the surface-mined lakes through habitat enhancement and supplemental stockings which, in turn, will provide the public quality bank and boat sport fishing opportunities. The site also will provide quality mid-migration and resident waterfowl habitat, including food, water and sanctuary components which, in turn, will provide the public a quality waterfowl hunting opportunity.

The area also will be managed for other resident or migratory game and non-game fish and wildlife species, particularly those listed as threatened or endangered.

Although Mazonia features sport fishing and waterfowl hunting, a variety of other outdoor recreational opportunities are provided throughout the year. Upland game hunting, furbearer trapping, limited picnicking, nature study/birding, fossil hunting, and water dog training is also available.
---
---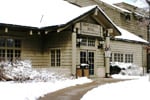 Hotels/Motels
Relax in the rustic beauty and comfort of Starved Rock Lodge, Cabins and Starved Rock Inn. The historic Lodge has 69 guest rooms, which include three bay-window rooms, plus cabins nestled in the woods. Fireplaces can be found in four of the eight sunset cabins near the pool area...
38.4 miles from park*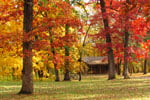 Cottages and Cabins
Within a 10 minute drive from Starved Rock and even closer to Matthiessen State Parks you will find a gorgeous, tranquil property with spacious cabins on 50 wooded acres. All with full kitchens and outdoor fire pits. 3 dog friendly.
40.5 miles from park*