O''BANNON WOODS STATE PARK
O''BANNON WOODS STATE PARK
7234 Old Forest Rd
Corydon, Indiana   47112-6566
(lat:38.193 lon:-86.2729)

Phone:
(812) 738-8232
Reservations:
866-622-6746
The O'Bannon Woods State Park (formerly Wyandotte Woods State Recreation Area) lies in the central and extreme southern part of the state, bordering the Ohio River. It is nestled inside the 26,000 acre Harrison Crawford State Forest, but is managed separately along with Wyandotte Caves State Recreation Area. For more information about O'Bannon Woods State Park or Wyandotte Caves State Recreation Area, contact us at the phone number above.

Located near the park is the Corydon Capitol State Historic Site. Built entirely of limestone, visitors will learn about early Indiana history as they tour the beautiful building.
The area offers electrical campsites, as well as the Stagestop Campground, which offers primitive and youth camping. A canoe access ramp is also available at the Stagestop Campground.

* Electric - 281 sites * Horseman Non-Electric - 47 sites * Primitive Non-Electric - 25 sites * Group Camp: 100-bed self-contained structures * Dumping Station
---
O''Bannon Woods State Park is located near Brandenburg, Corydon
---
O'Bannon Woods Interpretive Center

Tuesday - Sunday 10:00 a.m. - 4:00 p.m.

Monday Closed
* Nature Center/Interpretive Naturalist Services * Picnicking/Shelters (Shelter Reservations) * Horse Trails * Picnic Tables * Fishing / Boating * Hiking Trails * Family Aquatic Center
---
---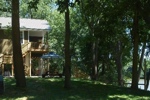 Cottages and Cabins
Enjoy the quiet atmosphere of a well appointed luxury 5 star cabin on the peaceful White River in scenic Martin County. Located directly on the rivers edge and surrounded with the serenity of natures hills. With the convenience of town located a mile away.
43.1 miles from park*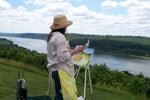 Tourism
Crawford County consists of over 306 square miles of beauty and outdoor recreation Caves, state parks, rugged terrain, acres of protected forests, nature preserves, and numerous waterways
8.3 miles from park*