OWEN-PUTNAM STATE FOREST
OWEN-PUTNAM STATE FOREST
Poland, Indiana   47868
(lat:39.3208 lon:-86.8456)

Phone:
(812) 829-2462
Hike through some of the best hardwood forests in the country. Enjoy deer, squirrel and turkey hunting.Fish in one of the many ponds. Horseback ride through some of the beautiful hills of south central Indiana,including a view of a 50-foot sandstone bluff. This property consists of many scattered holdings in anorth-south orientation and because of this scattered nature, care should be exercised to avoid trespassingon private land.Developed areas include the Forest Office, Fish Creek Campground, Horseman's Campground andRattlesnake Campground.
Mountain Bike Trails, miles
6
Fish Creek Campground: 14 sites, available water; Horseman's Campground: 9 large sites, water trough;and Rattlesnake Campground: 10 sites (opened April 15th to December 1st for camping). Campgroundsare primitive (Class C) and are provided with vault toilets, picnic tables, grills and parking spurs.Rattlesnake and Horseman's campgrounds have no drinking water, but this can be obtained at the ForestOffice or Fish Creek Campground. Campsites are available on a first come, first serve basis; please self-register at booths located in eachcampground.
---
Owen-Putnam State Forest is located near Bloomington, Brazil and Spencer
---
Hiking Trails: Hiking is available on the forest access trails and bridle trails throughout the forest property. Hikers and horseback riders are advised to wear hunter orange or other bright clothing while on trails during hunting season. Poplar Top-1.5 miles, self-guiding

Horse Trails: All horses brought, driven or ridden onto Owen-Putnam State Forest must have a valid annual horse use tag. Pleasant Grove-1.8 miles around Horse Campground, passes by an old cemetery. Sandstone Bluff-1.7 miles around Horse Campground, passes by a 50' sandstone bluff & waterfall. Bridle Loop-10 miles from Horse Campground to Rattlesnake Campground and back.

Mountain Bike Trails:Owen-Putnam State Forest offers 6 miles of mountain bike trails. Mountain bikes are only permittedon those designated trails.
---
---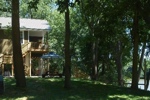 Cottages and Cabins
Enjoy the quiet atmosphere of a well appointed luxury 5 star cabin on the peaceful White River in scenic Martin County. Located directly on the rivers edge and surrounded with the serenity of natures hills. With the convenience of town located a mile away.
45.3 miles from park*