PAINT CREEK STATE PARK
PAINT CREEK STATE PARK
280 Taylor Rd
Bainbridge, Ohio   45612
(lat:39.2696 lon:-83.3851)

Phone:
(937) 981-7061
Reservations:
866-644-6727
Located amid the breathtaking scenery of the Paint Creek Valley, Paint Creek State Park features a large lake with fine fishing, boating and swimming opportunities. A modern campground and meandering trails invite outdoor enthusiasts to explore and enjoy the rolling hills and streams of this scenic area.
The Paint Creek region lies at the very edge of the Appalachian Plateau. This escarpment marks the boundary between the hilly eastern section of the state and the flatter western portions. Most of the plateau in southeastern Ohio was never reached by glaciers, although the Paint Creek area bears evidence of glacial activity. One stream near the park, Rocky Fork Creek, was blocked by glacial ice and reversed direction, rapidly cutting the 75-foot gorge seen today. Sullivantia, an extremely rare wildflower in Ohio, blooms in the gorge in mid-summer.

Nearby Highlands Nature Sanctuary once home of the popular 20th century nature park known as The Seven Caves is located 50 feet above Rocky Fork Creek. The caves are not open to the public, protecting the habitat and resident bat population. However, visitors will find trails and the Appalachian Forest Museum at the site.

Before Paint Creek was impounded to form a reservoir, the creek valley was unrivaled in the state for scenic beauty and its display of wildflowers. Some of this unspoiled land yet remains above the still waters of the lake. Wild geranium, jewelweed, yarrow and Queen Anne's lace can be found blooming in the woodlands and meadows of the park.

The reservoir provides habitat for numerous waterfowl and shorebirds as well as the great blue heron. Osprey and bald eagles have been sighted over the lake. The limestone outcroppings on the lake's edge provide nesting habitat for the cliff swallow. Other songbirds, raccoons, white-tailed deer and the elusive wild turkey inhabit the park.
We are not the first to recognize the richness and beauty of this land. Prehistoric Indian cultures built a variety of earthworks throughout the region, while the Shawnee Indians considered the Paint Valley home.

Conflicts often arose between the original holders of the Ohio country and the white settlers invading from the east. A Shawnee named Waw-will-a-way became a victim of this strife when he was unjustly accused of scalping a white man. This Indian encountered three white men in the Paint Valley bent on revenge for the scalping. They shot him in the chest, yet he killed one and severely wounded the other two before he succumbed. His funeral pyre laid at the peaceful confluence of the Paint and Rattlesnake creeks.

The waters of the creeks provided a source of power for early mills. Grinding grain, processing wool and sawing wood were all facilitated by the waters flowing over dams constructed in the creeks. Many of the original dams were made of only earth and wood and were washed out by annual floods. One such mill, Crawford's Mill, was built at a place later called Hewitt's Crossing on Paint Creek. The site now lies beneath the waters of the reservoir.

Construction of the dam on Paint Creek started in 1967, and the site was dedicated as a state park in 1972.
Ohio does not have an annual pass and does not charge entrance fees to state parks.
Swimming Beach, feet
1,000
Mountain Bike Trails, miles
14
Boating Limits
Unlimited HP
Camping
Electric Sites, #
196
The scenic hilltop campground at Paint Creek has 197 sites equipped with electricity. The campground features hot showers, flush toilets, laundry facilities and a dump station. Two Camper Cabins that sleep 4 are available to rent during the summer months by reservation. All site are pet friendly. A primitive horseman's camp is available for riders who bring their own mounts.

A primitive horseman's camp is available for riders who bring their own mounts. Self-contained units are permitted.

Reservations must be made before arriving at the park by calling 1-866-644-6727 or online at www.reserveohio.com.
The park offers a challenging and permanent 21-hole disc golf course with a few open holes but mostly woodsy. Some of the more beautiful holes go through lines of older, tall pine trees with a pine straw floor. The course length is 6,044' with DJSCatcher targets and concrete tees.
A large 1,000-foot sand beach provides enjoyment for swimmers and sunbathers.
Unlimited horsepower boating is permitted on Paint Creek. Three launch ramps provide access to the lake. Boat rentals, fuel and seasonal dock rentals are offered.
Anglers will enjoy good catches of saugeye, bluegill, bass, channel flathead catfish and crappie. The tailwater below the dam offer some of the states best saugeye fishing.
---
Paint Creek State Park is located near Hillsboro, Chillicothe
---
Picnic areas with tables and grills are provided near the marina and the beach.
Hunting is permitted on designated park areas as wells as in the adjacent wildlife area. A valid Ohio fishing and/or hunting license is required.
Hikers can explore four trails from .75 miles to 2.5 miles long. The trails, lined with delicate wildflowers, pass through open meadows and mature woodlands. Trail riders will enjoy the 25 miles of bridle trails through scenic park lands. There are 14 miles of mountain bike trails.
Nearby state parks include Pike Lake, south of Bainbridge, and Rocky Fork, near Hillsboro. Both parks offer camping, hiking and fishing opportunities.

Fort Hill State Memorial, a prehistoric Indian hilltop earthworks, is located south of Paint Creek. Seip Mound State Memorial, built by the Hopewell Indians, is just east of Bainbridge. A dental museum is located in downtown Bainbridge.

Nearby Oldaker and Fallsville wildlife areas offer hunting, fishing and wildlife observation. Miller Nature Sanctuary, a state nature preserve, contains rare native Ohio plants, outstanding geologic formations and several dolomite caves. Access is by written permission only by contacting the chief of the ODNR Division of Natural Areas and Preserves.
---
---
Hirn's Corner
3504 Us Highway 50 W
Bainbridge, OH
(740) 634-3286
North Bay Cottages
11083 N Shore Dr
Hillsboro, OH
(937) 393-2849
Tu-Lakes Motel
7420 N Beach Rd
Hillsboro, OH
(937) 393-1917
Lazy H Cabin Rentals
14889 Old 50
Bainbridge, OH
(937) 365-1961
Holiday Cottages
6837 Mccoppin Mill Rd
Hillsboro, OH
(937) 365-1331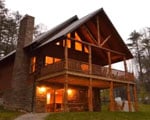 Cottages and Cabins
Trickle Creek offers luxury cabins in Hocking Hills. The cabins are situated on nearly 236 acres of secluded cabin rentals in the deep wooded ravines in the foothills of the Appalachian Mountains in Hocking County, Ohio.
50.8 miles from park*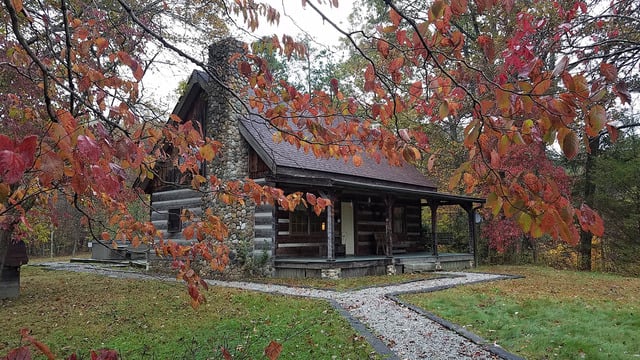 Cottages and Cabins
Hidden Cave Cabin is an authentic log cabin with 2 bedrooms in a private wooded setting. It is located on one of the most scenic drives in Hocking Hills and just 3.6 miles to Rock House and less than 10 miles to Conkle's Hollow and Old Man's Cave.
45.8 miles from park*
280 Taylor Road, Bainbridge, Ohio 45612