SCHUNNEMUNK STATE PARK
SCHUNNEMUNK STATE PARK
339 Otterkill Road
New Windsor, New York   12553
(lat:41.3988 lon:-74.1034)

Phone:
845-351-5907
Schunnemunk has over 3,300 acres of rolling meadow and spectacular mountain top. Hikers encounter elevations up to 1664 feet and thrilling 360 degree views of adjacent valleys, portions of the distant Hudson River and surrounding forest and farm lands.

Eight marked trails include the Long Path, Jessup, Western Ridge, Trestle, Sweet Clover, Otterkill, Dark Hollow and Barton Swamp Trails totaling over 20 miles traverse the mountain and glades.

Parking on State Land is available on Otterkill Road at 41 degrees 25.5450 minutes North and 74 degrees 6.1100 minutes West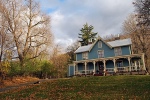 BBs / Inns
Beacon NY premier Bed and Breakfast, the Swann Inn of Beacon was originally built in 1866. Located at the base of Mt. Beacon, NY, just a short walk to Scenic Hudson's Mt. Beacon Park, the Swann Inn is a perfect location for travelers and hikers visiting the Beacon, NY and the Mid-Hudson Valley. It is also 30 minutes to Clarence Longstock. Our Bed and Breakfast has a 5-Star ratings on bedandbreakfast.com.
10 miles from park*
---
Schunnemunk State Park is located near Beacon, Chester and Cortlandt Manor
---
---
---
Fishing and Hunting Licenses: Newburgh City Of
83 Broadway
Newburgh, NY
(845) 569-7311
Ceely's Bait Bucket
436 Shore Rd
New Windsor, NY
(845) 534-3495
O & H Bait Shop
48 Main St
Chester, NY
(845) 469-2566
Woodbury Field & Stream Club
Schunnemunk Rd
Highland Mills, NY
(845) 928-3477
Hampton Inn of Newburgh
1292 Route 300
Newburgh, NY
(845) 567-9100
Courtyard by Marriott
1 Governor Dr
Newburgh, NY
(845) 567-4800
Hudson Valley Dirtsurfer
62 West Center Street
Beacon, NY
(845) 518-1982
Arrow Park Inc
1061 Orange Tpke
Monroe, NY
(845) 783-2044